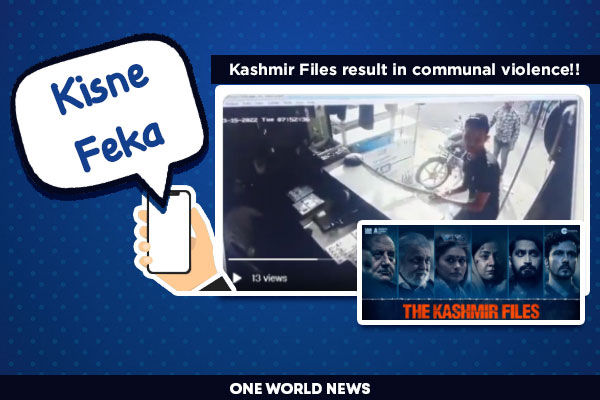 Here are four foolproof news quashing the communal claim of hate mongers!
---
Highlights:
Kashmir Files result in communal violence!!
TMC leader murder resulted arson in state!!
Temple demolished in Vijayawada!!
Mob lynched two Muslim youths in Kaushambi!!
As March is saying goodbye to us, and we are busy asking Kisne Feka? Most of the fake news was shared this week with an intention to erupt communal violence. But jab tak hum hai, unke erado mai dum kam hai!
Therefore, here are four fact-checks quashing the communal claim of hate mongers.
Kashmir Files result in communal violence!!
ये सब कश्मीर फाइल्स फिल्म देखने के बाद का सीन है!
मुसलमानों को अपनी सुरक्षा,डिफेंस के लिए हमेशा तैयार रहना चाहिए, क्योंकि आतंकी अब खुलेआम आतंक करेंगे। pic.twitter.com/oOyoBYE9yT

— Mohammad Faisal ?? (@naturalfaisal) March 22, 2022
Kisne Feka: CCTV footage shows a man thrashing people with a sword. A viral video shows two men using swords and iron rods to attack Muslim people sitting inside a shop. In defense, people inside the shop throw objects at the attackers. Hindu goons allegedly attacked a Muslim shopkeeper with a sword after watching The Kashmir Files.
Foolproof news: The viral claim is false. A tweet by News18 Gujarati in which similar footage can be seen. The caption of the tweet.
According to reports, the viral video is from Surat, Gujarat. It was a case of illegal extortion. This incident was reported from the Salabatpura police station area of Surat. In the Bhate area of Salabatpura police station, some anti-social elements demanded money from the shopkeeper for illegal recovery. When he resisted, the shopkeeper was attacked with a sword. The entire incident was recorded on CCTV. No casualty reported.
TMC leader murder resulted arson in state!!
*?️?TMC के जिहादी गुंडों ने बंगाल में 10 महिलाओं और 2 बच्चों* *समेत 12 आदिवासी हिंदुओं को जिंदा जला दिया है।* pic.twitter.com/qFfDDf2S6W

— I AM YOGI JI ?????????? (@BALAJIROADLINE) March 23, 2022
Kisne Feka: In West Bengal's Birbhum district, violence broke out after the murder of the TMC leader. Fire was set in 10 to 12 houses by a furious mob. In this horrifying incident, eight people died. On social media, a video of charred bodies is spreading virally. Several burnt bodies of children and women can be seen on the ground in the viral video. On social media, people shared this video claiming it was from the WB incident.
Foolproof news: The viral claim is false. Asian Times published a video report on February 9, 2020, based on the results. According to reports from Odisha, the incident displayed similar visuals as in the viral video titled "हाईटेंशन लाइन की चपेट में आई बस." As per reports, this led to the death of at least nine people, injuring 35. A bus traveling from Jangalpadu to Chikarada in Ganjam district, Odisha, struck an 11-kilovolt (KV) power transmission line. At least 10 people were electrocuted and burned to death in the accident.
 Temple demolished in Vijayawada!!
विजयवाड़ा में सड़क चौड़ी करने के लिए एक शिव मंदिर तोड़ा जा रहा है जबकि उसके सामने वाली मजार को हाथ तक लगाने कि हिम्मत नहीं रही है वहां के क्रिश्चन मुख्यमंत्री जगमोहन रेड्डी की यह सब तुम्हारे फूट का नतीजा है हिंदुओं pic.twitter.com/5DQDDhX4hh

— #BringPopulationControlBill (@Chawkidarsg) March 17, 2022
Kisne Feka: A video of a temple demolition is viral on social media where a JCB can be seen demolishing a temple-like structure. A mosque is visible on the other side of the same road. However, it remains unharmed. Those sharing this video claim it is from Vijayawada. This is where the Andhra Pradesh government to widen the road is demolishing a Shiva temple. The mosque remains untouched.
Read more- The Future Of Electric Vehicle: India Might Soon Replace Its Petrol And Diesel Vehicles With EVs
Foolproof news: The viral claim is false. According to a report, the temple in the viral video is Vijayeshwa Temple. It was demolished for renovation purposes, to widen the area of the temple. The article also mentioned the clip of this renovation project that is being falsely shared as demolition of the temple. Moreover, it urges devotees not to believe in false news and propaganda. Revenue officials also stated that the development work would be completed in ten months after which it will be accessible for devotees.
 Mob lynched two Muslim youths in Kaushambi!!
#FactCheck – वायरल वीडियो उत्तर प्रदेश से न होकर थाना मनावर, जनपद धार, मध्य प्रदेश से संबंधित है। @kaushambipolice द्वारा भ्रामक पोस्ट का खंडन किया गया है। कृपया बिना सत्यापन के भ्रामक पोस्ट कर अफवाह न फैलाएं।#UPPFactCheck#UPPolice https://t.co/orcWGrC8cN https://t.co/d4Q1lDKDGp pic.twitter.com/usx6JL7mZh

— UPPOLICE FACT CHECK (@UPPViralCheck) March 22, 2022
Kisne Feka: On March 21, a mob lynched two Muslim youths in Kaushambi, Uttar Pradesh over a scuffle. It was said that people abducted Zafar and Noor Alam when Zafar went to meet a girl of Mirpur village, Pipri police station. There he got into a dispute with the villagers after whom he fired in the air to spread fear in the village. They then began beating them mercilessly with sticks. In this incident, Zafar died and Noor Alam was injured. In the same backdrop, a video is going viral on social media claiming Hindu mob lynched Muslim youths in Kaushambi, UP. Throughout the video, a mob attacked a man with stones and sticks.

Read More- Khush Khabari Hai Bhyi, India test-fires BrahMos cruise missile
Foolproof news: According to the video report of One India dated 7 February 2020, the viral incident took place in Dhar, Madhya Pradesh. The villagers in Borlai of Dhar district attacked six people with sticks and stones on suspicion of child theft. Five other people were seriously injured in the attack. At 23 seconds of the video report, one can see the same footage as seen in the viral video.
According to the BBC report, it was a case of money dispute. Dhar's superintendent of police Aditya Pratap Singh told media that the victims of violence were called on the pretext of giving them money. Laborers took money in advance and did not work. Later, people pelted stones on them by saying that they are child lifters. After that, the local people chased them and started beating them with rods, sticks, and stones. One person died in this attack.
If you want to get a Foolproof of any news, simply mail it to us on ayushi.oneworldnews@gmail.com or WhatsApp it to us on 09958460807.
Liked this post?
Register at One World News to never miss out on videos, celeb interviews, and best reads.