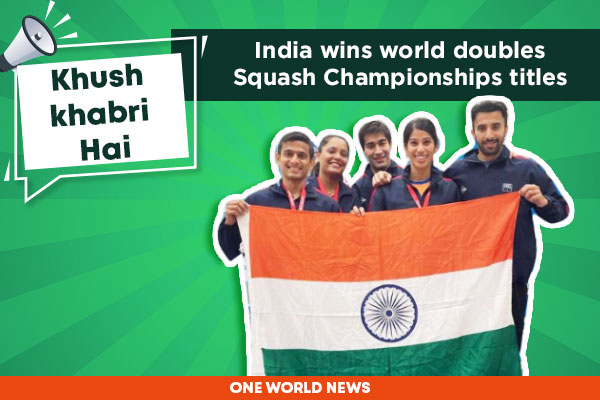 Sirf Ranbir Alia ki Shaadi hi nhi Aur Bhi hai Khush Kabhri of the week. Here is the Khush Khabri of the week you should not miss
---
Highlights:
India elected to four United Nations ECOSOC bodies
Prime Ministers' museum opens in Delhi
India wins world doubles squash championships titles 
Card-less cash withdrawal at ATMs to be launched soon 
…More
Sirf Ranbir Alia ki Shaadi hi nahi Aur Bhi hain Khush Khabri of the week. From Prime Minister inaugurating the Pradhan Mantri Sangrahalaya to India collecting medals from international Sports treasures, India saw seven major good news this week.
Here is the Khush Khabri of the week you should not miss.
Khush Khabri: India elected to four United Nations ECOSOC bodies
India's leadership at the global level again gained recognition as it was selected for four critical bodies of the UN Economic and social council.
These four bodies are the commission for social development committee on NGOs, the commission on science & technology for development and Ambassador Preeti Saran is re-elected to the committee for economic, social, and cultural rights. The economic and social council (ECOSOC) is one of the six critical organs of the UN system.
Khush Khabri: UGC allows students to pursue two full-time academic programmes simultaneously 
Happy news for the student community as UGC has given its nod to students simultaneously pursuing two full-time degree programmes.
This decision will enable students to take up two academic programmes simultaneously in physical mode either from the same or different universities. Students can also enroll themselves on two educational programmes in an online way simultaneously.
Khush Khabri: Prime Ministers' museum opens in Delhi
The Pradhan Mantri Sangrahalaya will be inaugurated on 14th April 2022

Some exclusive pics 1/n pic.twitter.com/Cw9iVr77eA

— Shehzad Jai Hind (@Shehzad_Ind) April 9, 2022
Delhi has another fantastic attraction, the Pradhan Mantri Sangrahalaya, or Museum of Prime ministers, unveiled on April 14. This is established on the teen murti Bhavan campus in New Delhi.
The museum is dedicated to all the former Prime Ministers of India. It will display rare photographs, speeches, video clips, newspapers, interviews, and original writings. It is expected to create awareness about all prime ministers and motivate youngsters about leadership.
Read More- 3 Times when Shashi Tharoor went viral for Bizarre Reasons
Khush Khabri: Card-less cash withdrawal at ATMs to be launched soon 
Reserve Bank of India has excellent news for all as it has decided to allow all banks to launch cardless cash withdrawals through ATMs. A unified payments interface (UPI) will be used for customer authorization.
The card-less cash withdrawal facility will be available across all banks and ATM networks using the UPI. The move is expected to prevent frauds such as card skimming, card cloning etc.
Khush Khabri: Telangana police launch India's first LGBTQIA protection cell
Hyderabad: 'Pride Place', a transgender (LGBTQIA+) persons protection cell, was inaugurated here on Tuesday, which will work to ensure safety and security of the trans community by helping end violence against them in the society. After inaugurating the 'Pride Place' special cell pic.twitter.com/B7qbqqKkA5

— Deccan News (@Deccan_Cable) April 13, 2022
Taking a big step toward the employment of the LGBTQIA community, the Women Safety Wing of the Telangana State Police has launched Pride Place, India's first policy-driven initiative, which is meant for persons from the LGBTQIA community.
Read More- Why Neetu Singh Chose Alia Bhatt as Bahu?
This cell intends to generate awareness about the rights of Transgender and LGBTQIA people and prevent crimes, monitor cases of offences against transgender persons and enable timely registration, investigation, and prosecution of such violations.
Khush Khabri: India wins four medals at Thailand age group swimming championships 2022
With a fantabulous performance, India won four awards at the Thailand Age Group Swimming Championships 2022, held between 5-10 April.
Chahat Arora won Gold in 50m Breaststroke and silver in 100m Breaststroke, while Bhavya Sachdev bagged a bronze in 200m freestyle and a bronze in 400m freestyle.
Read more: Good News of the week: 6 Khush Khabri that will make you super happy!
Khush Khabri: India wins world doubles squash championships titles
Scripting history India's Dipika Pallikal and Joshna Chinappa clinched the Gold Medal after outplaying England 2-1 in the Finals of the 2022 WSF World Doubles Squash Championships. In addition, Dipika Pallikal and Saurav Ghosal bagged the mixed doubles titles in the same event.
India defeated fourth-seeded English pair Adrian Waller and Alison Waters 11-6, 11-8 in the final to win the mixed doubles title. This duo became India's first-ever World Doubles squash champions.
Have a happy weekend!
Liked this post?
Register at One World News to never miss out on videos, celeb interviews, and best reads.