Editor's Pick
Justice for Biryani: Why this Iconic Indian Dish is loved so much?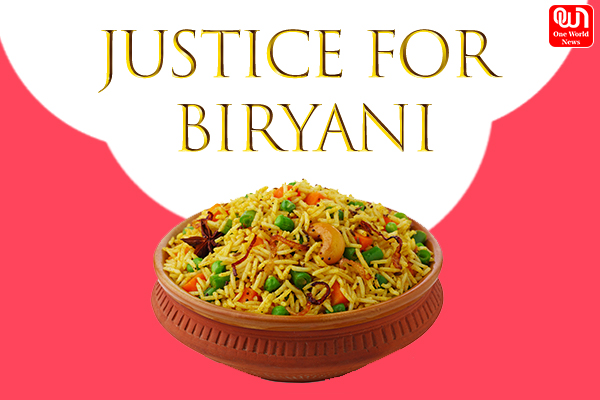 Justice for Biryani because it is not just a dish, it is an 'Emotion'
---
India runs on food. It has some best cuisines to offer, and Indians can go extra miles to have their favourite food. Well, every foodie does that, right? There are so many famous Indian dishes but Biryani has no match. It unites India, everybody loves it.  It is not a dish, it is an emotion. From past few days, #JusticeforBiryani is doing rounds on social media.  A petition on change.org has been filed to make Biryani an 'Emoticon' just like Pizza, taco and burger.  Notably, the petition was filed last week. So far, it has garnered more than 1,550 signatures.  In fact, a march was organised in Delhi to address this issue. A lot of protestors carried placards stating their love for the dish.
History of Biryani
Biryani is derived from Farsi word Birian. There are so many theories that how it made its way to India. Based on the name, and it's cooking style (Dum), a lot of people conclude that it originated from Arabia or Persia. It is a brilliantly balanced amalgamation of spices and flavours. Without any doubt, it sparks the craving in everyone. An experience of Indian cuisine is incomplete without Biryani. According to one of the theories, Biryani was brought by Turk Mongol Conqueror, Timur when he had arrived at the frontiers of Indian in 1398.  It is believed that the diet of his warriors was earthen pot rice and spices and whatever meats that were available. It was then buried in a hot pit, before serving it to warriors.
Read more: 5 crazily expensive items sold at auction that will leave you awe-struck
Why this Iconic Indian Dish is loved so much?
For Indians it is not a cuisine, it is an emotion. It is a part of every important celebration in India household. Be it weddings, birthday parties or a Sunday lunch, nothing beat the magic of Biryani.  Interestingly, there are more than 50 types of Biryani in India and abroad.  Here is a list of the 10 best Biryanis of India, take a look:
1. The Awadh Biryani– Lucknow
2. The Calcutta Biryani
3. The Sindhi Biryani
4. The Bombay Biryani
5. The Kampuri Biryani
6. The Acrot Biryani
7. The Malabar Biryani
8. The Tehri Biryani
9. The Kalyani Biryani
10. The Bhaktkli Biryani
Awadh Biryani holds a special in people's heart. It's aroma is just irresistible, and only a biryani lover can tell you the pleasure of having it.
If you also want to try it, then watch this video by India's most loved Chef Ranveer Brar.
If you are a Biryani love and want to support this campaign, you can also sign the petition! Express your love for Biryani. Do let us know your favourite Biryani in the comment section!
Have a news story, an interesting write-up or simply a suggestion? Write to us at info@oneworldnews.com