Hot Topics
Just before Bihar elections, BJP allies Nitish's JDU and Paswan's LJP not on good terms
Nitish Kumar miffed with Chirag Paswan's attacks about law and order situation in Bihar
---
Just 4 months before the Bihar elections, BJP's two allies in the state, JDU (Janta Dal-United) led by CM Nitish Kumar and Chirag Paswan-led LJP (Lok Janshakti Party) doesn't seem to be on good terms. As the time nears for the seat-sharing talks, JDU has indicated that it won't be sharing any of the 12 Bihar Legislative seats under the nomination quota. These seats are likely to have new names very soon.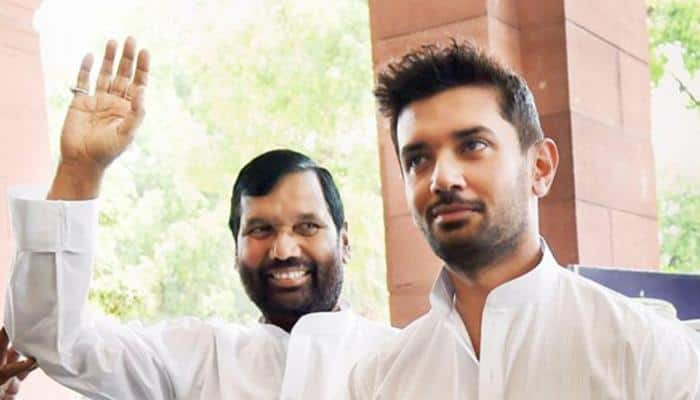 There are several reasons why Nitish Kumar-led JDU is upset with Ram Vilas Paswan's party
LJP President and son of Union Consumer Affairs, Food and Public Distribution Minister Ram Vilas Paswan, Chirag Paswan during the "Bihar first Bihari First" yatra, repeatedly attacked Nitish Kumar for law and order situation in the state.
LJP removed its Munger president Raghvendra Bharati on July 1 for saying that the NDA alliance is intact. LJP made it clear that the final call will be taken only by LJP President Chirag Paswan.
Ram Vilas Paswan too hasn't been very kind with Nitish Kumar. He had earlier said that Bihar government had not fully procured PDS grains from the Central government.
Chirag's questions on the law and order situation in the state have irked the CM Nitish Kumar who has been trying to frame his election campaign on Vikaswad rather than Laluvad. Nitish Kumar is currently serving the third term of office which he has translated into 15 years of NDA vs 15 years of RJD and LED vs Lantern (Lantern is the election symbol of RJD).
Janta Dal United has been suggesting that Chirag Paswan is getting too big for his boots and other senior LJP leaders are not happy with him. They want to use the nominations of MLC to send a political message to Chirag and LJP.
Read more: Kayne West announces bid for US Presidency and here's how tweeps reacted
Seat Sharing equations
There have been reports that BJP too can get an equal share of MLC seats but with a condition that it won't give any seats to LJP from its quota.
JDU is indicating suffocating the LJP, while BJP wants to keep LJP happy as the party can play an important role in seat negotiations of assembly elections. More the number of seats LJP gets, less the number of JDU seats become than the 141 seats it contested in 2015.
But the situation is different this time as LJP won 6 MP seats in the 2019 election, this means that they can demand 35 seats in the upcoming Bihar elections. Nitish Kumar wants to keep as many seats as he can with him so that his party can reach closer to the majority mark alone. This could help them in a conflict situation with the BJP.
Have a news story, an interesting write-up or simply a suggestion? Write to us at info@oneworldnews.com