A new 'Washable Smartphone' introduced in Japan
---
Well, there is no doubt, Japan is a country that always remains high on technology. Kyocera Corporation announced the release of the new Rafre Smartphone for Japanese service provider, KDDI Corporation. The product is a successor to the original DIGNO Rafre, which was launched in December 2015 as the world's first hand-soap-washable smart phone. This is the second washable smartphone that is introduced in Japan.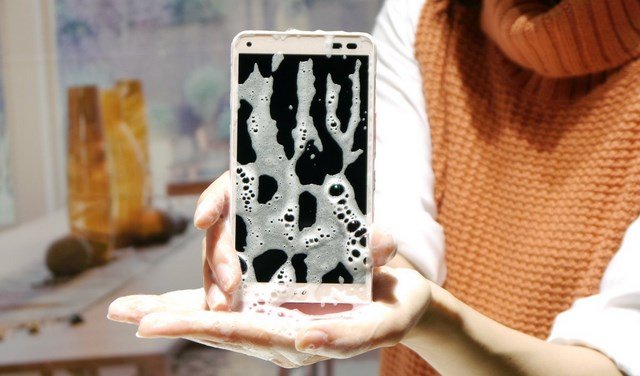 Related : 6 Smartphone Companies That Have Set A Benchmark
It just not only has resistance against foaming hand soap, the second-generation model possesses resistance to foaming body soap. This amazing product will be available from March 2017 in Japan, and it will come in three colors: Pale Pink, Clear White and Light Blue. Even colours are very much pretty.
Features of New Rafre
New Rafree is a complete package and we hope it will soon launch in India too. Like its predecessor, the new Rafre features resistance to hot water and a touch screen that can be used even when the user's hands are wet or when wearing gloves. This was the major drawback with the smartphones that they will easily get destroyed if it is touched with wet hands.
Not only this, the new handset is equipped with a special cooking app as well which will allow users to scroll through recipes, set timers and answer calls through hand gestures without having to touch the display. Isn't it cool?
Related : Smartphone Sales Dropped After Demonetisation, IPhone Worst Affected
Photos that can be taken at ease
There are no worries that you can't click good selfies or pictures with this amazing style phone. The new phone comes with Kyocera's proprietary image-processing AINOS Engine, enabling users to take clear photos in low-light conditions.
The camera is also equipped with Phase Detection AF for quick focusing, and Auto HDR which enables automated clear shooting by recreating light and shade in detail.
Using smartphones for a long time, hurt our eyes too but once again this phone has bring something unusual for us. The handset features a Blue Light Cut app for ease on the eyes and reduction of eye fatigue during prolonged usage. It has a 3000mAh battery that supports enhanced consumption.
Have a news story, an interesting write-up or simply a suggestion? Write to us at
info@oneworldnews.in