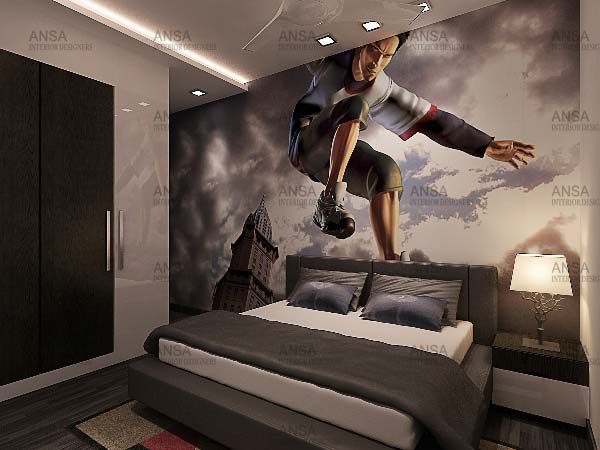 Innovative Decorating Ideas for Kids Rooms
---
Innovative Decorating Ideas for Kids Rooms:- Bored of choosing blue or pink for boys & girls, herewith we give you some sugar & spice ideas for kids' rooms.
Boys Room Décor Ideas
Safari
For a safari look, find wonderful, colorful animal wallpaper borders and fabrics at any wallpaper store. Paint the walls blue, tan, ivory, or any of the colors in your wallpaper border. Make pillows and valances from coordinating leopard-print fabrics, and find some stuffed lions and tigers for the corner. Mount a butterfly net, binoculars, or straw hat on the walls. Use colorful mat-board and frame some of your child's artwork to display. Maybe he will draw some lions!
Rustic Cabin
Almost every child loves spending time at camp or in the mountains. There are happy childhood memories of hiking, boating, fishing, or just enjoying the outdoors. Birdhouses, bears, moose, and fish might show up in wallpaper borders, in fabrics, bedding, and accessories. For a rustic room you might also choose comfy plaid patterns, flannel fabrics, and log or pine beds. Accessories might use forest themes of animals, mountain scenes, or natural materials such as pine cones, leaves, and sticks. Take another cue from camp and use a sturdy trunk to store toys. With a room this nice, who needs a vacation?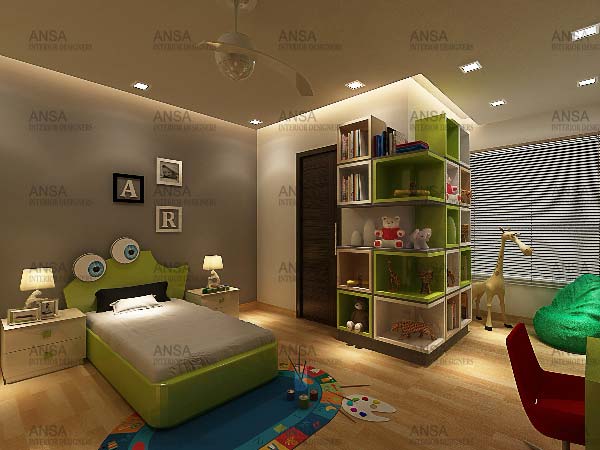 Rain Forest
You can choose a colorful jungle border, or try a jungle area rug. Soft fabric snakes and colorful stuffed birds or butterfly cutouts can add to the decor. Make pillows of animal or jungle prints and use themed accessories.
Bug's Life
From bees and ants to frogs and reptiles, creatures of nature often capture a child's attention. You can choose a Bug Off Table and Chair Set, Bug bed linens, and or frog lamp. Maybe using this theme in the bedroom will encourage your son to leave the real thing outside!
Read Here : 5 Brain-waving Quotes from the Spiritual Healer – Osho
Playhouse / Play town
This theme will provide a wonderful scheme for decorating your son's room and provide lots of wonderful playtime possibilities as well. A whimsical or the cute play town chest can be your starting point. Or, do a border in kids' designs or paint a mural of a street scene on one or more walls. Name the storefronts for family members ("Rahul's Groceries", "Priya's Puppet Theatre", "Aman's Bike Shop", "Muskan's Pet Heaven", "Amit's Video Den", or Hema's Book Nook").
Girls Room Décor Ideas
Ocean
If you live near the beach or just wish you did, create an ocean theme using watery blues for the wall, sand colors on the floor, and clouds in the sky (ceiling). Take color cues from a beach border wallpaper, art print, or piece of furniture like this colorful stool. You'll almost be able to hear the waves!
Stars
Starlight is a great theme, and you'll find many fabrics, wallpapers, and bedding with star patterns. This theme appeals to both boys and girls, and is available in many colors both bright and pastel. Wonderful theme pieces can be the "star" in a room. You might get star-shaped rubber stamps (or sponges) and dip into wall paint to create your own star border, decorate furniture, or make random stars all over the walls or ceiling. A star quilt or rug will complete the theme.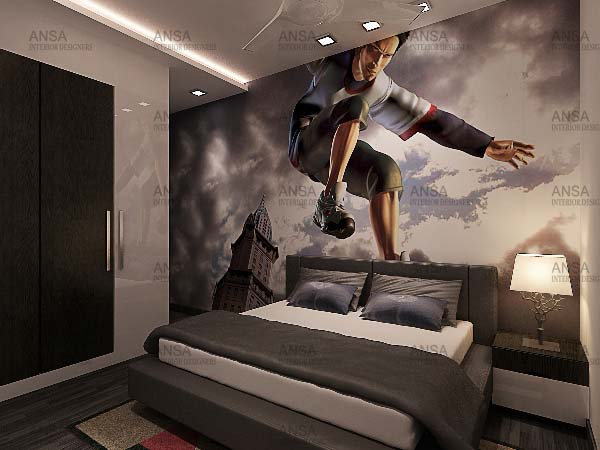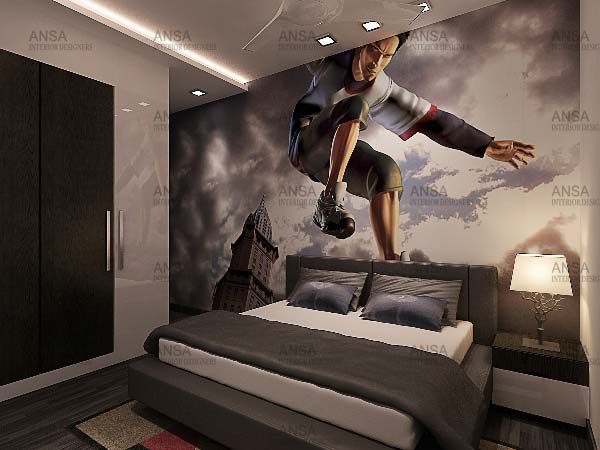 Angels, Fairies, and Elves
This universal theme will be adored by girls of any age. Angel themes could use faux painted skies and clouds, fluffy canopy beds, and soft icy pinks, blues, and lavenders. Fairy shapes are appealing with transparent wings, sparkling wands, and silvery magic dust. Try to incorporate some sparkles with glittering accents, silver paint, and magical designs.
Flower Power
Bright and bold oranges, sun yellows, lime greens, and watermelon pinks are the basis of this retro-60's look. Find colorful borders and fabrics featuring stylized simple flower shapes in hot colors, and match these with some plain fabrics for ruffles, valances, and window seat pillows. These flower shapes would be easy to enlarge on a copy machine and trace onto the walls in random patterns, then paint with wild colors matched to the fabrics.
Sunshine
Paint a mural of hills, with the sunrise peeking over the top. Use sunny yellow checked bedding and quilts, green rugs for grass, and paint the ceiling a soft sky blue. Waking up will be easy and fun using this summery look which is sure to please many a young child.
Butterflies, Bees, and Dragonflies
Anyone who has purchased gifts for girls in the last few years knows that butterflies are big! If your little one loves this look, there are many ways to incorporate it into a room. A mural of garden and butterflies is a natural, or go with a butterfly fabric for the comforter. Small painted designs can be added to chair backs, picture frames, headboards, and flit around a colorful chest of drawers as well. Use butterfly hair clips to perch on a lampshade, bulletin board, or along one edge of a curtain.
Unisex décor ideas
Cottage Style
This is a great theme if your child will be using hand-me-down furniture for their room. Think lots of white and paint all the furniture for creating a cottage style room. Then use either light colors (pink, sky blue, pale green) or set the white off against bright clear colors like grass green or marine blue. You can also use fabric patterns such as tea-stained cotton florals, or use brighter florals, ginghams, or stripes.
Cats, Dogs, and More
Cats, dogs, horses, bunnies, or other darling animals may be the perfect choice for an up-to-date boy or girl's room. Certainly your little one has a favorite–or make it a menagerie if he/she can't decide. Choose from color themes in pastels, medium tones, bright, or primary colors, and use these happy designs on furniture, borders, and accessories.
Sports
Young boys and girls who avidly participate in any sport — whether it's riding, skating, softball, swimming, or soccer — can readily identify with this decorating theme. Wallis or a wallpaper border is a perfect place to start for a color scheme and in a search for coordinating curtains and bedding. Look for innovative touches to support the theme and be sure to include display shelves to house awards, game photos, and medals.
Have a news story, an interesting write-up or simply a suggestion? Write to us at
info@oneworldnews.in