ENTERTAINMENT
Rock On! 5 Local Indian Bands Giving Us Much-Needed Music Treat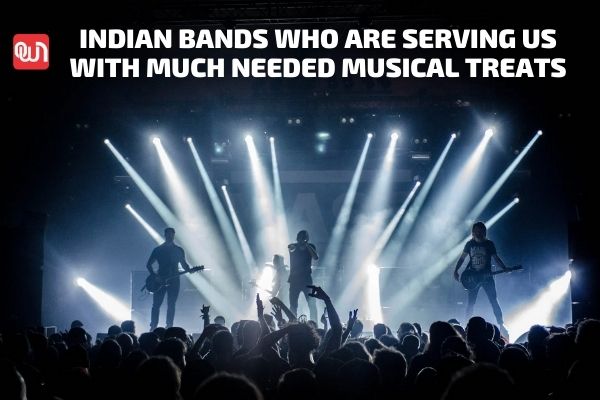 5 Local Indian Bands who can rock us on their beats. 
Check it out here!
---
"Music expresses feeling and thought, without language; it was below and before a speech, and it is above and beyond all words" – Robert G. Ingersoll.
Music is one influential art that evokes and emotes what you feel without the symphony of words or speech. It is just a connection that one develops with different notes, highs, and lows in a song, in tune, with the beats. And wondering about such music, we can wonder of some music makers, who are making us closer to such meanings of music? Where we all know those big names, who are creating beautiful music, many at the local level taking us closer to the world of music. Here are a few local Indian bands making fantastic music for us to rock.
Local Indian Bands who are who are serving musical treats to all
Antariksh
View this post on Instagram
A band founded by Varun Rajput; a former singer based out of New Delhi. Antariksh is a Hindi Rock Band which has perhaps already gripped its audience and was also rated by MTV as the one with one of the finest Hindi Rock artists. The best part is that they keep experimenting with different aesthetic genres and styles and have done more than 500 gigs in the last few years. The other members of Antariksh are Dan Thomson, Varun Rajput, Shrikant, and Joshua Peter. They are just the best for the music they create.
Read more: Javed Akhtar's Birthday: Times when he has made every Indian Proud
Faridkot
View this post on Instagram
A Delhi-based band that plays pop-rock, Faridkot is a five-piece band founded in 2008 after winning the Radio City – RC Live (Delhi). The band also made it to the finale of the Channel V Launchpad and is well known at the local level for the beautiful music it has been serving. Their recent release, 'Baat Kar,' is also a compelling composition we all have been loving.
Agnee
View this post on Instagram
A rock band based out of Pune, the band's debut album was named 'Agnee' and performed as fierce as it gets. The band has kept on releasing singles, and they have collaborated with Radio Mirchi and other music production houses for their releases. They have also been nominated for GIMA Awards for their pop-rock singles and are just a treat to listen to.
Delhi Indie Project
View this post on Instagram
Precisely a newer member of the big music family. As the name suggests, it is an Indie Rock band that can be found experimenting with different genres and styles, including Bollywood, Jazz, Rock, Blues, and more. Their recent music video, Rehnuma, is a literal treat to the ears and eyes.
Indus Creed
View this post on Instagram
Last but not the least, this band is the senior-most in the list of bands with some of the finest talents ever possible. It is lovable enough to see a band creating alternative music and cultures. The band was founded in 1985 by Uday Benegal, Mahesh Tinaikar, Zubin Balaporia, Mark Selwyn, Jayesh Gandhi, and Mark Menezes and has continued to serve music to date. It is undoubtedly one of India's longest-running bands and even among the world.
So, what are you waiting for? Check out their Insta account and get your jam sessions booked this World Music Day.
Liked this post?
Register at One World News to never miss out on videos, celeb interviews, and best reads.