Lifestyle
From Female Priest to Mangalsutra for both: How are Indian couples breaking the stereotypes?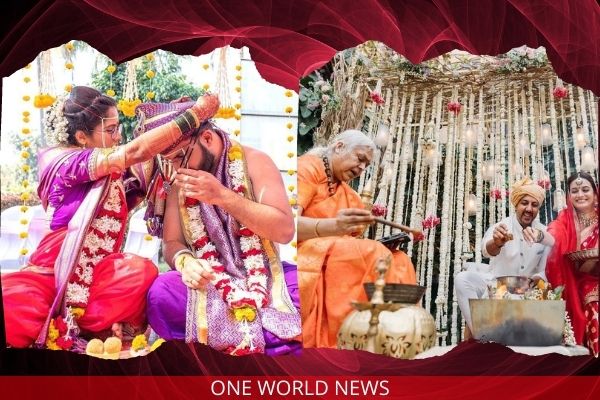 How are Indian couples breaking the stereotypes? Indeed it is refreshing to watch brides and grooms challenging the norms
---
Marriage is an integral part of Indian culture. A marriage ceremony in India is quite unlike anywhere else, a lot of rituals are involved on the D –day of the bride and groom.  Often Indians are seen spending a lot of money when it comes to weddings.  The marriage ceremony is like a  big festival where two families come together to celebrate the union. Marriage rituals in India are quite rigid. From matching Kundlis to traditional bidaai, they are fun to watch, but it is hard to challenge them.
Even in the so-called progressive times, people still follow some of the most regressive rituals. Over the years, things have changed and many Indian couples are breaking the stereotypes. From hiring a female priest to saying no to wedding gifts, here is a list of some landmark decisions taken by Indian couples. We are thankful to them for initiating the changes and we hope others follow them too.
1. Dia Mirza hired a Female Priest to perform the rituals of her wedding
Gorgeous actor Dia Mirza married Vaibhav Rekhi on February 15, 2021. Her wedding grabbed a lot of eyeballs.  Her wedding was solemnized by a female priest and there was no Kanyadaan and bidaai in her wedding which are the most important rituals of a traditional Indian wedding. Traditionally, Hindu marriages are conducted by male priests but Dia Mirza's wedding was conducted by a female priest and it was the highest point for the couple during the wedding.
2. Tanuja Patil and Shardul Kadam exchanged mangalsurta during their wedding and challenged the deep-rooted patriarchy in our society
Tanuja Patil and Shardul Kadam, a Mumbai based couple tied the knot in December 2020. Their wedding became the talk of the town and was highlighted by many. Groom Shardul Kadam who is a hardcore feminist decided to wear mangalsutra after his wedding. His decision took his parents by surprise, a few of his relatives even questioned his decision. However, that didn't stop Shardul to proudly wear mangalsuta. The best part- it wasn't just a symbolic gesture for a day. Couples, are you listening?
Read More: 'Wokeness', the Slang for Millenials' Awareness and Activism
3.No Gifts – Let us Keep it simple.
According to a report in CNBC TV 18, a couple in Assam decided not to take wedding gifts from their guests.  Wedding gifts in India are a part of the ritual. A lot of times, people spend a lot of money on wedding gifts to maintain the social status.  Bhupen Rabha and Babita Boro from Assam got married on February 1, 2019. The couple had a unique approach and their invitation card read 'Service to Mankind' and the couple asked their guests to bring old clothes and books as wedding gifts.
The books were donated to make a library and clothes were given to the needy. Well, it was one of its kind weddings. In a country, where relatives are obsessed with wedding gifts, we are sure it wasn't an easy choice to make.
4. Naam Mai Kya Rakha hai? A couple in Pune got married without revealing their surnames
In India, caste, gotra, and kundli matter a lot when it comes to marriage. Inter caste marriages in India are still taboo and often families don't allow their children to get married out of their caste. A couple in Pune decided to challenge this tradition and got married without revealing their surnames. Sachin Asha Subash and Sharvari Surekha Arun got married on the occasion of Republic Day and took their vows based on the tenants of the Indian Constitution. Isn't that interesting?
Liked this post?
Register at One World News to never miss out on videos, celeb interviews, and best reads.