India is a Foodie country; explore the enriched flavors of India
---
India is best known for its herbs and delicious dishes as India is a foodie country. India is the nation which is very vibrant and diverse, and every state has its own enriched taste. So, if you have travelled to different parts of India, then you must witness the different foods and different people too. India is a delicious country. To give you a better insight into the food scene of the nation, below is a listing of a few Indian states and their special dishes, so that when you are in the country next, you can focus on trying out the best local cuisines!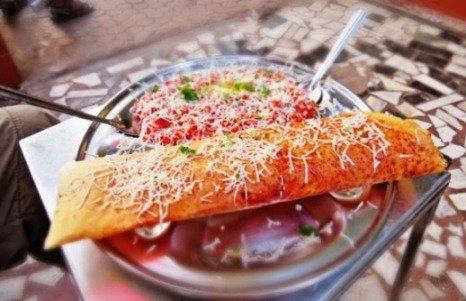 Related : KNOW YOUR PASTA
Here is the list, take a look!
Punjab: Makke ke roti sarso ka saag
Yes,Punjab is famous for their food that is full of 'ghee'. This northern state is especially popular for its amazing local cuisine that is relished throughout the country. Try the makke ki rotiand sarson da saag, which is a popular combination of a Punjabi flat-bread and gravy made of mustard leaves and spices.
Gujarat
What comes to your mind when you hear this state's name, Dhokla isn't it?
Traditional Gujarati food is famous for its distinctive flavor that maintains an interesting balance between spices and sweetness. Try the dhokla, which is a well-known snack or breakfast item that is both healthy and delicious. You can even try thepla.
Maharashtra
Maharashtra is best place for foodies to explore. People are crazy for Maharashtra dishes. The most cherished is the vada pav,which is a potato fritter stuffed between bread buns, served with a spicy chutney and green chilies. Other prominent dishes that are delicious enough includes from this region include, pav-bhaji, shrikhand,thalipeeth, puran poli and modak.
Bihar
One can easily find unique dishes in Bihar. You can explore various kinds of dishes that will surely make you fall in love. The problem is people don't know enough about the typical cuisine of Bihar even though it is excessively rich in taste. The most admired and delicious dish of the state is litti and chokha, which consists of roasted wheat balls, stuffed with a special filling and mashed potatoes with distinct flavors. Also, worth trying are the sattu parathas, jhal murhi, khaja and tilkut.
Related : BURGER KING TO CARL's Jr.!
Rajasthan
Rajasthan thaali has a lot of food in it. You will surely love its taste. Rajasthan is not only famous for its old palaces; it is famous for its delicious foods too. One of the most delicious dishes is daal-baati, which consists of hard balls made of wheat flour and additives fried in ghee, and a special daal made of different types of pulses. It is usually served with churma, a sweet dish prepared by crushing baatis and adding ghee and sugar. Also, try the pyaaz kachori, malai ghewar, gatte ki sabzi andkalakand.
6. West Bengal
Bengalis are the sweetest people and their dishes are sweet too. We just can't get over the taste of rashogulla. We must say that Bengal is just the right state for those, who have a sweet tooth or those who love fish. One popular dish is the doi machh, which is Bengali fish curry with rice. Other well-known delicacies include the sandesh, daab jhingri (a special mustard prawn curry),rasgulla and mishti doi.
7. Sikkim
You might be not aware of Sikhim's dishes but if you will have one you will surely love it. One of the must-try famous dishes in Sikkim is the phagshapa, made of strips of dried pork fat cooked with turnips, radishes, and chilies. How we can forget momos. Also, thukpa, gundruk and sael rotiare are quite popular in this region.
8. Tamil Nadu
Dosa this is what first comes to our mind after thinking about state Tamil Nadu. The taste of India cannot be complete without a mention of the dosa and idli. A wide range of dosas available around the region—but the most popular is themasala dosa, which is served with coconut chutney. Also, one must try the idlis, appam, rasam, chettinad chicken and pongal when in this state.
Have a news story, an interesting write-up or simply a suggestion? Write to us at
info@oneworldnews.in