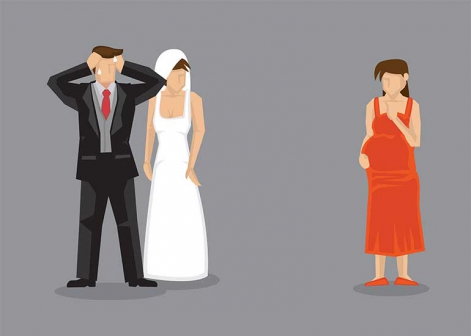 During the lockdown time, the Internet became the survival for many and it wasn't just for 'work' as folks were using it to boost their love life as well
---
Today, the entire world is going through a hard time as the Coronavirus (COVID-19) crisis has hit many countries which have directly affected the economy of the richest and most powerful nations. Even though the lockdown has been lifted in most countries, office-goers are still working from home.
During the lockdown time, the Internet became the survival for many and it wasn't just for 'work' as folks were using it to boost their love life as well. 
According to several dating websites, married spouses around the world are turning to dating websites to stir up their monotonous life. 
Rise of the lockdown affairs
Gleeden which is a French dating app for extramarital affairs has revealed that this lockdown turned Indian couples into adulterers. A rise of 70 per cent was seen in its subscription in India amidst lockdown. The data shows that around 1 lakh 35 thousand couples from Bengaluru have registered on the site, the highest for any city in the country where 43,200 are women ('looking for fun and excitement' outside their marriage) and 91,800 are men. 
Now, in simple words, what accounts as cheating is, if you're doing anything which involves sexual or emotional intimacy with someone from the opposite gender consistently, without your partner knowing is termed as cheating nay betrayal.
Read more: "Dooriyaan bhi hai Jaroori": Relationship at the time of lockdown
Relationship during crisis
We are all aware of the fact that relationships are not perfect and have read countless pieces on relationships during corona but the truth is relationships are hard even without a pandemic hovering over your head. So, those who can't even try and attempt to be faithful to their partners need to take a good look in the mirror and evaluate the nature of their relationship. It all comes down to a simple thing: how much you love your partner. Isn't it? 
Betraying your partner during a crisis is more brutal.  It is not even counted as a mistake, it's more of saying or feeling like that you doesn't give a thing about anyone but yourself and will never remain faithful to any relationship. 
"Power of the Internet which became a life saviour for the couples working out a long-distance relationship or the ones who got married over a Facetime call, who would have known that the same technology has also brought something ugly in many during this lockdown period by having some quick romantic affair!.
"From watching porn to visiting dating sites that lead to or meant exclusively for extra-marital affairs, it is clear as crystal that couples today are more interested in taking everything for granted. Besides, if someone is signing up to such apps, which specifically offers extra-marital dating, then evidently there is not much to talk about", says Bengaluru based Psychologist and relationship advisor Sindhu Vasant. 
Crossing limits
"It is natural for people to get bored during such times when you have to stay at home 24/7, yet they can utilise this lockdown time to spend more meaningful time with their partner rather than indulging on Skype and Facetime affairs with cheats having video sex sessions with new partners."
"According to experts, as soon as the situation gets normal, there will be a huge rise in the number of physical affairs. The crisis is kind of a huge wake-up call for anyone specially who is in an unhappy relationship – as it is exposing all the deep dark fault-lines in failing relationships and making people realise that they need to start afresh", Vasanth added.
Ways to spend meaningful time with your partner during the lockdown
Try to do things together:

Why not take advantage of social distancing and utilize the indoor time to feel the closeness with your partner. You can cook meals together, play games, watch movies or build a new hobby as it will keep your relationship healthy and strong. Also, don't forget to give each other some space.

Cut them some slack

: Ignore their bad habits if there is any. This may sound hard but try to keep your frustration in check.

Lower your expectations:

Your partner may piss you off too much and maybe not do things as per planned but it will really help you if you will not expect too much from them but then eventually things will fall in place. 
Have a news story, an interesting write-up or simply a suggestion? Write to us at info@oneworldnews.com