Lifestyle
Home decor ideas for Ganesh Utsav 2021
Here are some home décor ideas for this Ganesh Utsav 2021 
---
Ganesh Utsav 2021 popularly known as Ganesh Chaturthi or Vinayak Chaturthi is round the corner. People have already started preparing for the auspicious occasion. Everybody wants to decorate their pooja mandap with unique ideas.
Some are finding eco-friendly solutions for decorations while some are trying to make it look more aesthetic. And what about those who still muddle up with a plethora of ideas but are not able to find the right décor for their pooja room.
So, giving rest to your thoughts we brought some home décor ideas for this Ganesh Utsav 2021 that will enhance the joy of your festival.
Spruce-up your pooja room
Before commencing any decoration, it is essential to spruce up and clean the space first. If possible, clean the entire house with the pooja room. Remove the unnecessary items and shift the furniture to make it spacious. If there is any paint chipping away, fix it before the decoration.
Dusting and cleaning will make everything look new and sparkling.
Use What is At Your Disposal
If you want to reuse something for last year's decoration, go for it. If you want to step out from shopping then we will provide you with some creative ideas
You can decorate mandap with colourful sarees, vases. This will turn into pocket-friendly savings and add a regal look to the room.
Go green
Natural greenery is the best home décor for any festival or any special occasion. With an aesthetic look, it also infuses freshness to your home. Several plants could help you to enhance the inner beauty of your home.
These plants include Azalea, weeping fig, areca palm with many indoor climber plants like pothos (commonly known as money plant), morning glory, English ivy, and many more.
You can accessorize it with stylish planters according to the available space.
Ornamental Ganesh idols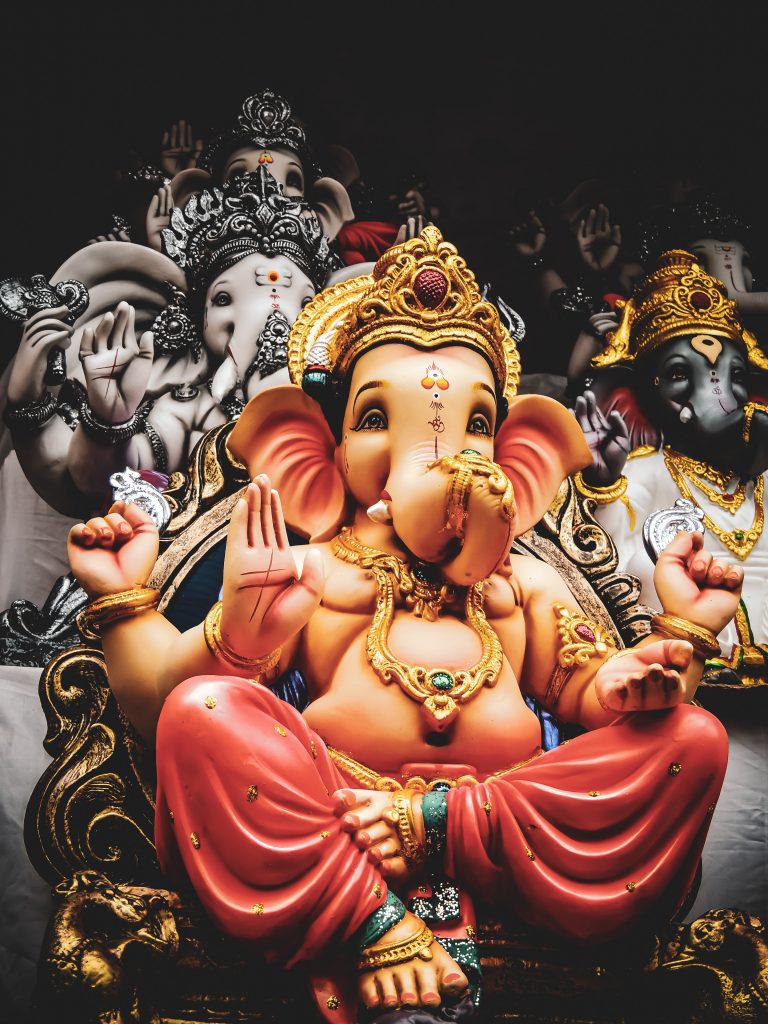 As soon as Vinayak Chaturthi approaches, people throng bazaars to bring Bappa home. Ganesh idols are available in many sizes, shapes, and styles. But it is also sensible to choose an ornamental Ganpati. It will bring an appealing and soothing aura to your home.
Decorative placement and Pooja chowki Ganpati sthapana
An ornamental Ganesh placed on a decorative or designer chowki will always enhance the aura of Vinayak. After selecting a beautiful chowki, you can keep it on a round table mat. Choose a mat that compliments your Bappa, chowki, or mandap.
Floral decoration
Flowers are an integral part of any pooja. They bring a festive spirit with freshness and fragrance. You can decorate pooja mandap with fresh flowers like Marigolds, Carnations, Red Hibiscus, Hydrangeas, Mogra, and some other long-lasting flowers.
Choose colourful flowers that complement your Ganesh idols and the rest of the decorations. You can arrange them as flower strings and in floral torans.
You can also make rangoli from flowers near the mandap or at the home entrance.
Light up the space
Illuminating the space with lights will always complete your décor. You can use diyas, candles, and fancy lights to make the mandap brighter and more vibrant. You can also colourfully light or simple yellow-coloured lights that will also do wonders to your decoration.
Placing a Diya stand will add an extra element to your decoration.
Decorate walls
Sometimes people like to choose simple decorations over fancy ones. Therefore, instead of going for traditional decorative ideas like frills, garlands or balloons you can choose wall paintings. Unique and aesthetic Ganesh wall frames will infuse a spiritual vibe. It will also embellish the decoration of your pooja sthal at the right spot.
How are you welcoming Bappa this Ganesh Chaturthi? Comment down below your unique idea for Ganesh Utsav 2021.
Liked this post?


Register at One World News to never miss out on videos, celeb interviews, and best reads.