Lifestyle
5 Vibrant Holi Events happening in Delhi that shouldn't be missed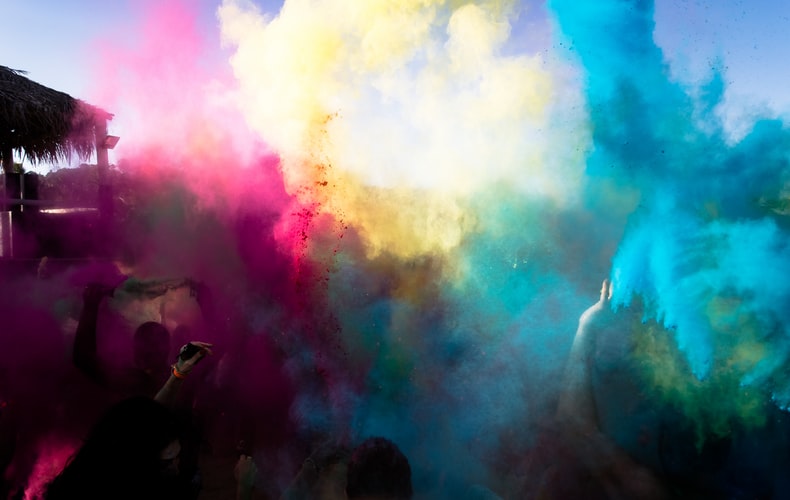 Celebrate this Holi in DILLIWALA Andaz!
---
The most colorful festival of the year is back with all the fun and frolic. With kids turning into colourful hooligans and elders going crazy, it's the known fact that Delhi gets a little rowdy during Holi. Exceptional thing about Delhi's Holi is its loud music and exbullient ambience. Even if you aren't in a mood for colours and celebrations, Delhiites will surely sweep you off your feet. Best way to celebrate Holi is to visit club or any events happening near you, in this way you can chill with your family and can also make new friends at the same time.
Here are some of the Holi events happening in Delhi where you can enjoy the vibrant colours with a "Dilli twist."
1. Supermoon Holi
This event is featuring an all-female line-up of jaggenaut artist like Jasmine Sandlas, Hari Sukhmani, DJ Barkha who will have terrific live performances and create the perfect party vibe.
Venue: Garden of Five Senses, Saket.
Price: 999 onward.
Date: 8th March (Sunday)
2. Holishit 2020
Holishit happens every year. And that's what you will say while walking in. The event will have live performances by renowned musicians like Parmish Verma etc.
Venue: F-20 , Dwarka Link Road, Samalka
Price: 1000 onward.
Date:  10th March (Tuesday)
Read more: Holi aa gyi: 5 Dishes that you shouldn't be missing!
3. Imperfecto Holi Music festival
If you are looking for some intimate gathering to chill instead of loud and pompous celebrations, then Imperfecto Music Festival is just for you. Have your time enjoying inside a pub with splashes of colour.
Venue: M2K Corporate Park Shopping Plaza, Pearl Ln, Mayfield Garden, Sector 51, Gurugram.
Price: 500 onward.
Date: 8th March (Sunday)
4. Holi Moo Festival 2020
This is one of the most happening Holi parties in the city. It sees beautiful crowd , amazing management and attractive activities. This year Holi Moo festival is back with power packed artist line-up playing 6 hours of non-stop bangers. This event will be total fun with all the drinks and loud music. (Doesn't this excites you already?)
Venue: Asiad Tower, Khel Gaon, Near Sirifort.
Price: 2500
Date: 10th March. (Tuesday)
5. Unite – The Land of Colours
One of the biggest Holi events in Delhi is going to take place at JLN stadium. On this day, stadium is teeming with the all colours of Holi. The Rain dance , Dhol Dhamaka and the Bhangra party creates the perfect vibe which is required.
Venue: JLN Stadium.
Price: 699 for those above 15 years of age.
            500 for children between 10-15 years.
Date: 10th March (Tuesday)
Have a news story, an interesting write-up or simply a suggestion? Write to us at info@oneworldnews.com