Lifestyle
Bitter is Better: Add 'Amla Juice' in your diet for 5 amazing health benefits
Weather is changing & adding Amla Juice in your diet can boost your immunity
---
One term that we hear continuously during the corona outbreak is –'Immunity'.  Several guidelines and advises are issued for us to boost immunity. But we know boosting immunity is not an overnight job. You need to take a balanced diet. A diet which is full of nutrients, vitamins and essential minerals that are important for your physical well –being.
Baby steps are required to build strong immunity.  2020 has turned out to be a very difficult year for all of us in terms of health. The corona crisis is still not over. In that case, it is time to include food items in our diet which can boost our immunity. One such fruit is Indian Gooseberry, which is commonly known as Amla.
Amla and its benefits
As the weather is changing, it is a good idea to add Amla in your diet. It is loaded with essential minerals and vitamins that are integral for our body's well -being. It is also indispensable in preventing and managing some of the most common and widespread diseases.
We reached out to Preety Tayagi, Founder of My 22 BMI. Talking about the benefits of Amla she said,  Along with being an extremely rich source of Vitamin C, Amla is a storehouse of phytonutrients, minerals and antioxidants. Vitamin C helps in collagen production which stimulates healthy skin cells development and making one look youthful.
The phytonutrients and minerals provide enough goods amp circulation stimulating strong hair growth. AmlaReetha and Shikakai have been a long-trusted way of ensuring healthy hair.  Amla is highly alkaline in nature and has many non-inflammatory properties for better digestive health and better overall health. The amount of vitamin C in Amla remains unaffected, be it in whichever form to be consumed. Boiled, dried, fresh, sweetened anything, vitamin C doesn't diminish."
How you can consume it?
It can be consumed in enormous ways.  You can eat in raw, juiced, powdered or simply add in an array of pickles, jams or dips- including amla in your diet guarantees good health by all means. It is an excellent source of Vitamin C, hence it helps in boosting immunity and keeps your metabolism in check.  It also contains a range of Polyphenols that are known to fight against the development of cancer cells. As per Ayurveda, amla juice balances all three doshas of the body – Vata, Kapha, Pitta
Read more: These benefits of eating eggs will surprise you: Experts Take
(It can manage all your doshas)
Here a few amazing benefits of Amla Juice:
1. It slows down the ageing process. Vitamin C is a natural antioxidant and helps in keeping your hair and skin healthy.  Amla juice slows down the ageing process by producing the collagen needed for younger skin.
2. It manages diabetes. These days diabetes is a common disease, thanks to our unhealthy lifestyle. In that case, regular intake of amla juice can manage diabetes and help in treating respiratory ailments like Asthma.
3. It is excellent for liver function. If you take it empty stomach, it will flush out the toxins from the body.
4. Amla is also loaded with amino acid and proteins. It promotes hair growth and reduces hair fall. If you are facing hair fall problem, add amla to your diet and see the difference.
5. Fighting marks on the skin? Dab cotton into Amla Juice and apply on your face. Applying it regularly on your face and slowly they will fade away. It will leave your skin smooth and subtle.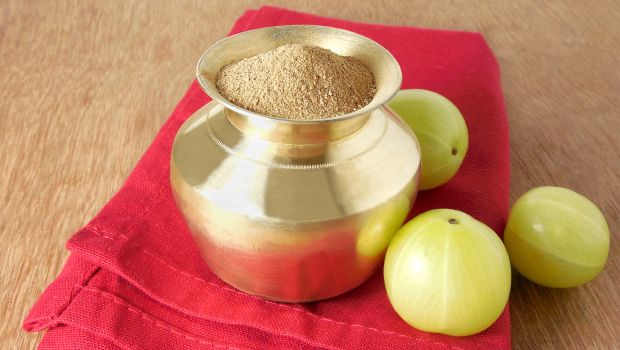 (Say Hi to good hair)
How to prepare Amla Juice? 
1. Take 4-5 Amla ( gooseberry) Wash them properly
2.Chop them roughly
3. Add pepper, jeera and Salt
4. You can also add lemon juice, mint leaves for taste.
5. Blend it!
Take a look here: 
https://www.youtube.com/watch?v=hF6KXVUo6Rk
The right time to drink it
Drink it in the morning empty stomach. It will keep your energy levels high throughout the day and will flush out all the toxins from the body.
Have a news story, an interesting write-up or simply a suggestion? Write to us at info@oneworldnews.com