JOYOUS NEWS
Haven't Been to These Beaches, Then You Haven't Really Been to Goa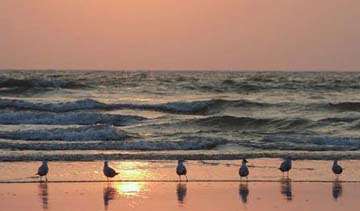 Haven't Been to These Beaches, Then You Haven't Really Been to Goa
Goa is a wonderful place for people to visit from all over the world. Its magnificent beaches are its main attractions along with thebeautiful surroundings and varied water sports options it has to offer.
Recently, I visited the so called ''Popular Beaches'' of Goa namely Calangute, Baga and Miramar.Well, if your idea of holiday is visiting commercialized and crowded places, blowing off your money and garbage, then these are the ideal beaches for you, and you may not wish to go any further reading the article.
But, for those who are totally of the opposite kind and love pure, serene atmosphere with waves crashing down and touching your feet, the beaches of South Goa have a lot to offer.
So, here is a list of few beaches in South Goa that you absolutely must visit when you travel to Goa.
• Agonda Beach
76 kms from the state capital Panjim, this beach is easily one of the best beaches of Goa. The plus point of this beach is the calmness and tranquility that an individual attains, which is different from all other beaches in Goa. The adventure lovers will love this place due to the huge waves that hit this beach which is scary for the general population. Also, this place has got lot to offer in terms of good food: Dunhill and Blue planet café to name a few.
• Palolem Beach
74 kms from the capital Panjim, it is one of the most popular beaches of South Goa. It is one of the most picturesque beaches and do not be shocked if you lose your senses for a couple of minutes by its splendid beauty. The beach is lively and is full of crowd on weekends. Other than that, it is more or less similar to Angoda.
• Cola Beach
It's a 15 minute drive from Angoda. The charm and magnificence of this place will make visiting it again rather irresistible. One distinctive feature that separates Cola beach from the others is the fresh water lagoon right next to the sea.
• Mobor Beach
50 kms from panjim. Again, like most beaches of South Goa, it is quiet and clean, mostly visited by foreigners or guests staying in high end hotels nearby like The Leela, Holiday Inn and Royal Haathi Mahal. It is an excellent place to jog or walk around near the shoreline in the morning.
So if you are heading to Goa with someone special or you are a nature admirer and need privacy, tranquility, peace and a relaxing atmosphere, head straight to South Goa.