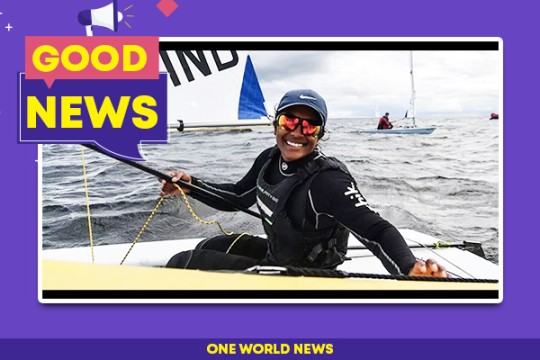 Here is the good news of the week that will make your weekend fantastic 
---
Our daily dose of positivity has arrived. Here we are dispatching a freshly curated bundle of uplifting and good news. 
Here is the good news of the week
Good news: India to host first-ever world Yogasana championship!
India is a great supporter of yoga and will host the 1st ever Yogasana World Championship in June 2022. 
NYSF President Udit Seth mentioned this in his address at the opening ceremony of India's first Physical National Yogasana Sports Championships in Bhubaneshwar. 
Good news:
Sailor Nethra Kumanan wins gold in Spain!
Nethra Kumanan, a Tokyo Olympian won gold in the laser radial event of the Gran Canaria Sailing Championships with her powerful performance in Spain.
She won 3 races and finished 3rd and 4th in the remaining two races. The competition was held between 20 participants from 3 countries including 3 Olympians.   
Black Friday Sale 2021 Available In India, Check Out The Best Offers!
Good news:
Indian Navy receives 'Vela', the fourth submarine of the project-75!
The Indian Navy received the 4th 'Scorpene' class submarine under Project-75 from MDL (Mazagon Dock Shipbuilders Limited).
This is named INS Vela and it would soon be commissioned into the Navy and boost its capability. Kalvari, Khanderi, and Karanj are the other three delivered submarines of the 'Scorpene' class. 
Good news:
Srinagar gets a place in UNESCO's network of creative cities!
A proud moment for India as Jammu and Kashmir's Srinagar made it into the list of UNESCO creative cities network (UCCN).
This network has 295 reaching 90 countries that invest in culture and creativity crafts and folk art, design, film, gastronomy, literature, media arts, and music to advance sustainable urban development. Mumbai and Hyderabad entered this list in October 2019. 
Good news:
Super 60: Tribal students reach IITs, NITs!
In 2019, the then Integrated Tribal Development Agency Officer Saikanth Varma came up with Super-60.
He handpicked 60 students in districts Gurukulams and tribal welfare colleges and developed amenities on par with corporate colleges to groom tribal students for entrance tests.
At least 40 students from the Super-60 special campus secured seats in prestigious NITs and IITs and others also got admissions in reputed engineering colleges. 
Good news:
Clothes for a rupee!
Four college friends–Melisha Noronha, Vinod Prem Lobo, Nitin Kumar and Vignesh, have launched Imagine Clothes Bank, a store for the #underprivileged to pick any #garment at Re 1. Such a great #initiative! pic.twitter.com/GzsgkB02rc

— Ketto (@ketto) November 5, 2021
An NGO, Imagine Trust, has started a clothes bank in Bangalore. The bank started in September 2021 and is giving away clothes at ₹1 each.
Melisha Noronha, her mother Gladys, her husband Vinod Lobo, and two of her friends, Vignesh and Nitin Kumar, started the Trust in 2013.
They came up with the idea of starting a cloth bank during the peak of the pandemic this yea. The cloth bank had benefited at least 560 families so far. 
Good news:
For the first time, Jammu and Kashmir has a commission for the protection of child rights!
Jammu and Kashmir is going to have a Commission for Protection of Child Rights (SCPCRSs).
The commission will undertake formal investigations where concern was raised either by children or by a concerned person on their behalf. 
Good news: India's Forex reserves increase from $1.9 Bn to $642 Bn!
India's forex reserves had witnessed a massive hike. It increased by USD 642.019 billion for the week ended October 29.
Foreign currency assets increased by 1.363 billion to USD 578.462 billion for the reporting week. 
Good news: 12 high-altitude villages of Ladakh get 24×7 piped water connection!
The Indian government's Jal Jeevan Mission (JJM) scheme added another feather to its cap as government engineers and contractors connected 12 villages in Ladakh with 24×7 piped water connections. 
Good news: Bahrain approves emergency use of COVAXIN
Bahrain has approved the emergency use of India's indigenously developed Covid-19 vaccination, COVAXIN which is developed by Bharat Biotech Recently Switzerland also gave their approval to the Covid-19 vaccine. 
Have a fantastic weekend!
Liked this post?


Register at One World News to never miss out on videos, celeb interviews, and best reads.