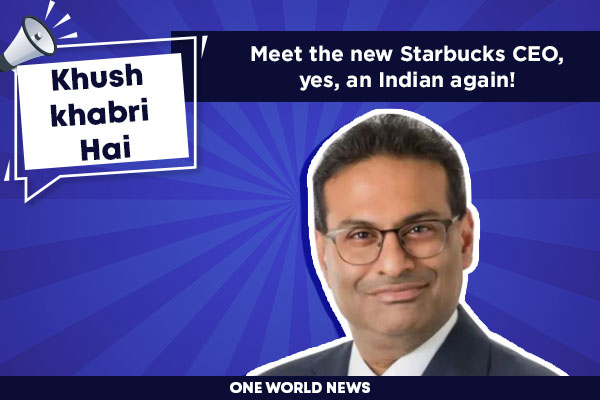 Here are 6 Good news from our Khush Khabri series
---
Highlights:
Hindus & Muslims celebrate Ganesh Chaturthi Together
India becomes 5th largest economy
Meet the new Starbucks CEO, yes, an Indian again!
Scroll for more…
From India becoming the 5th largest economy to STARBUCKS getting a new India-origin CEO, nation is giving us major good news goals.
Here are 6 good news from our Khush Khabri series
Harmony on display! Hindus & Muslims celebrate Ganesh Chaturthi Together
#mandya #Karnataka Hindu and Muslims together celebrates #GaneshChaturthi at Kere angala area.

When "Thappa" people fighting for so called "HR".. these people once again proving peace and #Harmony pic.twitter.com/oZnMJ4OtVB

— Madhu M (@MadhunaikBunty) August 31, 2022
Karnataka's Mandya district showcased a picture where Muslims and Hindus came together to celebrate the Ganesh Chaturthi.
Setting an example of communal Harmony, people installed an idol of Lord Ganesh and decorated the pandal with garlands and flowers. The 10-day event was conducted with great pomp as offering pooja and distribution of prasad were in full swing to celebrate the festival with enthusiasm.
A local resident, Mohammad Zakir, said they have celebrated the festival for the last 17 years. Through this tradition, they want to give out the message of communal Harmony, reported Hindustan Times.
Good news: India becomes 5th largest economy
In a significant development, India has surpassed the United Kingdom to become the fifth-largest economy globally, as per a report by Bloomberg.
The report comes just two days after the government released the GDP data for the first quarter. The Indian economy grew at 13.5% year on year.
Khush Khabri: Meet the new Starbucks CEO, yes, an Indian again!
View this post on Instagram
Indians are indeed ruling every sector globally. Indian-origin Laxman Narasimhan has been appointed as the new CEO of Starbucks. He has replaced Howard Schultz. Narasimhan will join the office on October 1, 2022. He will work with the interim CEO, Howard Schultz, till April 2023.
Laxman Narasimhan had previously been in Reckitt as a CEO. He was the CCO of PepsiCo. He has also worked as a senior partner at McKinsey & Company.
Good news: 3 white tiger cubs were born at Delhi ZOO
We welcome our new guests. Three white tiger cubs born in Delhi zoo @NzpDelhi #tigercubs #whitetiger #cubs. @ntca_india @CZA_Delhi @moefcc @BengalSafari @PnhzPark @ddevifs pic.twitter.com/nwz5zl90eS

— Delhi Zoo (@NzpDelhi) September 1, 2022
After seven years, Delhi Zoo welcomed three white tiger cubs on August 24. The three adorable cubs were born to a white tigress named 'Sita.' Vijay, a 7-year-old white tiger, is their father. The Delhi Zoo has two pairs of white tigers and four Royal Bengal tigers, including one male and three females.
Khush Khabri: Movie tickets at flat ₹75
On September 16, celebrating National Cinema Day, theatres all over India will offer tickets at a flat rate of 75.
The one-day-only discount will be offered at over 4,000 theatres, including major chains like PVR and Cinepolis.
Movie theatre owners and operators hope the one-day discount will encourage more people to return to theatres struggling to compete with the convenience of streaming services like Netflix and Amazon Prime.
BCCI Bought Neeraj Chopra's Javelin at e-auction; the amount will shock you!
View this post on Instagram
The Indian cricket board bought Neeraj Chopra's javelin, part of Prime Minister Narendra Modi's mementos e-auctioned in 2021, for Rs 1.5 crore. The BCCI also bought an Angavastra, autographed by the Indian Paralympic contingent, for Rs 1 crore.
Recently, Chopra donated the spear he used to win the Olympic gold in Tokyo to the Lausanne-based Olympic Museum. During the auction last year, 1348 mementos, including sports collectibles, were put in for the e-auction. A total of 8600 bids were received.
Which Khush Khabri made your day?
Liked this post?
Register at One World News to never miss out on videos, celeb interviews, and best reads.