Kaam Ki Baat
Introducing India's Next President! 6 Good News of the Week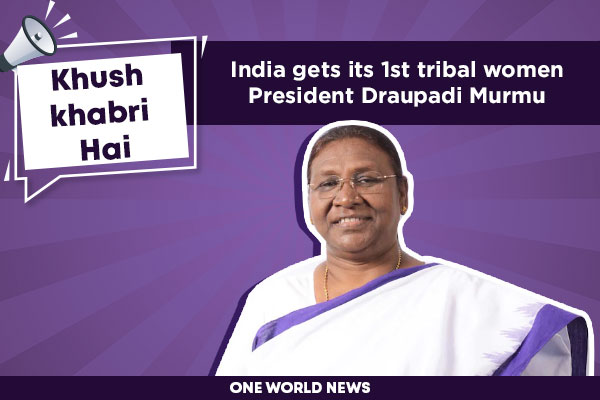 Here are 6 Good News from our Khush Khabri Series
---
Highlights:
India gets its 1st tribal women president Draupadi Murmu
P.V. Sindhu wins Singapore open title
India gets its 105th unicorn
Scroll for more…
From India proudly introducing India 1st tribal women president Draupadi Murmu to P. V. Sindhu's Heroic win in Singapore Open, One World News is proud to deliver 6 good news from our Khush Khabri series this week.
Good news: India gets its 1st tribal women president Draupadi Murmu
Sixty-four years old, Mrs. Draupadi Murmu became India's 1st tribal woman to be president of India. Murmur won the elections with about 645 votes in her favour. She will succeed Ram Nath Kovind to become the country's 15th president and 2md woman to become the president.
Mrs. Murmu is the youngest to reach this prestigious position and will be the 1st president to be born after independence.
View this post on Instagram
Khush Khabri: India tops the shooting world cup medal table with 15 medals
With its shooters' fantabulous performanceo, India topped the medal table in the World Cup shooting in Changwon, Korea. India concluded its journey with 15 medals in its basket.
Sanjeev Rajput, Aishwary Pratap Singh Tomar, and Chain Singh bagged a silver medal in Men's 50m rifle 3 Positions Team event. India won 5 gold, six silver, and four bronze at this event.
Junior world champion Aishwary Pratap Singh Tomar wins gold medal in Men's 50m Rifle 3 Positions (3P) event in ongoing International Shooting Sport Federation (ISSF) World Cup in Changwon, Korea.#ISSFWorldCup pic.twitter.com/gXuauf4sm4

— All India Radio News (@airnewsalerts) July 16, 2022
Good news: Mairaj Khan wins India's 1st ever men's skeet gold at ISSF world cup
Scripting history and bringing glory to the motherland, India shooter Mairaj Ahmed khan clinched India's 1st ever ISSF World Cup gold medal in men's skeet at Changwon, South Korea.
In the 40-shot final, Mairaj scored 37 to outplay South Korea's Kim minus (36) and Britain's ben Llewellin (26).
. @MPNaveenJindal has been a great help,specially in these covid times. Our Indian sports auth had given up on me but he had faith in me & helped me out in this odd situation. As all can witness it's been a Historic Win & First ever GoldMedal for India in Shotgun Skeet Discipline pic.twitter.com/tNmBSf58S0

— Mairaj Ahmad Khan (@MairajKhanOLY) July 19, 2022
Khush Khabri: P.V. Sindhu wins Singapore open title
India's pride P.V. Sindhu bagged her Singapore Open Super 500 trophies after defeating China's Wang Zhi Yi in an intense women's singles final. Sindhu registered a victory over Wang Zhi in 21-9, 11-21, 21-15, which is her 1st title in Singapore.
Read more: Cheers to Health! Drinks to Immunize You This Monsoon
Two times Olympic medal winner also won 2 super 300 crowns in Syed Modi international and Swiss open this season.
View this post on Instagram
Good news: UAE, the US to invest $2.3 billion in India
Foreign investment in India marked a momentum as the United Arab Emirates has decided to invest $2 billion in India to establish integrated food parks. The United States has shown interest in India's development projects as it has pledged to invest $330 million in a hybrid renewable energy project in Dwarka, Gujarat. These investments are announced under the framework of I2U2.
Upcoming food parks will deploy innovative climate technologies to reduce food waste, conserve fresh water and employ renewable energy sources. The hybrid renewable energy project will assist India as a global supply chain hub in the renewable space.
Khush Khabri: India gets its 105th unicorn
India's favourable business environment significantly impacted as the nation got its 105th unicorn. Blockchain start-up 5ire has raised $100 million in series A funding from UK-based conglomerate SRAM & MRAM. This move increased its valuation to $1.5 billion and grabbed a position for the company on the list of India's unicorns.
Earlier, OneCard, a mobile 1st credit card firm, recently became the 104th unicorn in India as it raised $100 million.
Read more: Signals Schools: A School Bus No Child Wants to miss!
Lifesaver! Organs, a brain-dead woman, saves 5 lives. Including 2 jawans
Organ donation by a brain-dead young woman saved the life of five people, including two serving Army soldiers in Command Hospital Southern Command (CHSC) in Pune. Viable organs such as kidneys were transplanted into two serving soldiers of the Indian Army, and eyes were preserved at the eye bank of CH(SC)-Armed forces medical college complex and liver was given to a patient at Ruby Hall Clinic in Pune.
Happy weekend!
Liked this post?
Register at One World News to never miss out on videos, celeb interviews, and best reads.