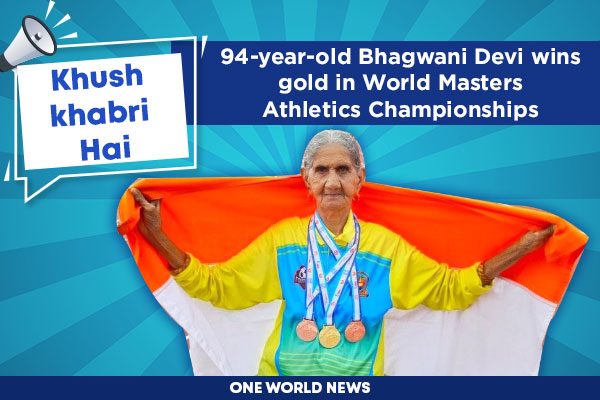 Here are 6 Good News of the week from Khush Khabri series
---
Highlights:
India to get its 1st ever underwater train
1st of its kind canopy bridge to give safe passage to animals
Scroll for more…
From extending the timings of the Supreme Court to 1 hour to India's becoming world's 8th most desired country to relocate here are 6 good news of the week from Khush Khabri series.
Good news: India to get its 1st ever underwater train
India is gearing to unveil its first-ever underwater train. This train will operate under a river, with Kolkata's futuristic metro. It will cover a river distance of 16.34 km east-west corridor. It will start functioning in early 2023. The new train will cover a larger distance from sector 5 to Howrah, under the Hooghly River, in just 27 minutes. There will be twin tunnels down the width of the river.
Khush Khabri: India becomes the world's 8th most desired country to relocate
India has grabbed the 8th position on the list of desired countries to relocate. As per the study conducted by Comparethemarket Australia, an Australia-based price comparison website India is the world's 8th most desired country to relocate to.
For this list, the study has analysed the Google search data. Canada is in the 1st position on this list. It also includes Bangladesh, Bhutan, Finland, Ivory Coast, Libya, Niger, and the United Arab Emirates.
Good news: 94-year-old Bhagwani Devi wins gold in World Masters Athletics Championships
94-year-old Bhagwani Devi Dagar won a gold and 2 bronze for India at the World Masters Athletics championships 2022 in Finland, yesterday pic.twitter.com/JRPZrBDSAK

— ANI (@ANI) July 11, 2022
At the World Masters Athletics Championships held in Tampere, Finland India's Bhagwani Devi Dagar won the gold medal in the 100m spirit by clocking 24.74 seconds, she also won a bronze medal in shot put.
Read more: TDS Full Form and Everything Else You Need to Know Before Filing Tax Returns
World Masters Athletics Championships is an event for athletes (track and field) aged 35 years and over. Another veteran, MJ Jacob clinched 2 bronze medals at the event.
Khush Khabri: 1st of its kind canopy bridge to give safe passage to animals
In a unique initiative for the protection of animals. A first-of-its-kind canopy bridge is established on Barsuan ghati road. This intends to provide safe passage to monkeys and other wild animals living in the adjoining forests. Bonai forest division in collaboration with Steel Authority of India Ltd (SAIL) has built this bridge.
One will find this bridge at the height of 100 feet hanging on the road with dense forests on both sides. It will enable animals to safely move across the bridge without encountering vehicular traffic on the road passing below.
Good news: Ahmedabad, Kerala among Time Magazine's list of World's Greatest Places of 2022
It is a proud moment for Ahmedabad and Kerala as they have made places on TIME Magazine's list of the world's greatest places of 2022.
Read more: Comfort Women – An Ugly Past Denied by Shinzo Abe
These two are recognized among the 50 extraordinary destinations to explore around the world by TIME. Other places on the list are IRAs Al Khaimah, UAE: Park City, Utah, Seoul: Great Barrier Reef, Australia: The Arctic, Valencia, Spain, Trans Bhutan Trail, Bhutan, etc.
Khush Khabri: If kids can go to school at 7 am, SC can start functioning at 9 am: Justice UU Lalit
"If children can go to school at seven in the morning, why cannot judges and lawyers start their day at 9 am", said Supreme Court judge Justice UU Lalit.
The bench also comprising justices Sudhanshu Dhulia and S. Ravindra Bhat began hearing cases at 9.30 a.m. Senior advocate Mukul Rohatgi, who was appearing before the bench in a matter, appreciated the court taking up the matters an hour early.
Usually, Supreme Court benches assemble at 10.30 a.m. on weekdays and take a lunch break at 1 p.m. and re-assemble at 2 p.m. and the judges hear cases till 4 p.m.
Have a happy weekend!
Liked this post?
Register at One World News to never miss out on videos, celeb interviews, and best reads.