Hot Topics
Golden Temple Mob Lynching : Timeline of such events in past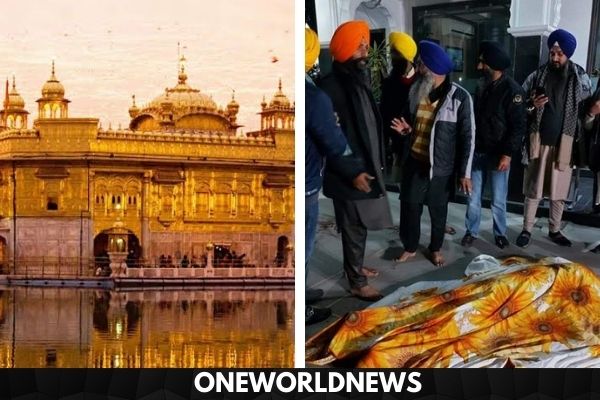 Here is the timeline of the Golden Temple Mob Lynching incident
---
Golden Temple Mob Lynching incident: On 18 December 2021, a shocking event took place within the premises of Golden Temple in Amritsar, Punjab. A man who allegedly attempted to desecrate the Guru Granth Sahib was killed by a mob present inside the Gurudwara.
What happened in the Golden Temple Mob Lynching incident?
During the evening prayers, a man was seen jumping over the railing of the sanctum Santorum inside the golden temple and trying to touch the sword and holy books. He was stopped and dragged out by those present and finally beaten to death. A Punjabi TV channel that telecasts the proceedings from the temple live caught an attempt to sacrilege. An FIR was filed, listing two charges under section 295 of IPC (defiling place of worship) and section 307 (attempt to murder).
The FIR does not mention that the man was later killed in an altercation. Police are trying to identify the man and are checking CCTV footage to ascertain details.
The man, about 20 to 25 years of age had a yellow cloth on his head, jumped the fence. The people inside held him and escorted him out to the corridor where there was a violent altercation and he died," said Parminder Singh Bhandal, Deputy Commissioner of Amritsar Police.
Netas smell conspiracy in Golden Temple Mob Lynching incident
The incident has sparked political tensions in Punjab ahead of assembly polls.
On December 19, Punjab CM Charanjit Singh Channi took a visit to the Golden Temple. Channi visited the premises to take the assessment of the situation after a man was lynched by the angry mob for an alleged sacrilege attempt. Along with Punjab Deputy CM Sikhjinder Singh Randhawa paid obeisance at the shrine.
Paid obeisance at Sri Harmandir Sahib and prayed for the welfare of Punjab & Punjabis. pic.twitter.com/AQTzsvPswX

— Charanjit S Channi (@CHARANJITCHANNI) December 19, 2021
While addressing the media, DCP Badal said, "A Special Investigation Team (SIT) under Amritsar's Deputy Commissioner of Police (law and Order) is constituted. SIT has to present an investigation report within 2 days. CM Channi also expressed his concern on Twitter and wrote, 'Will thoroughly probe matter',
"Whenever anyone has looked at Sri Harmandir Sahib with an evil eye, Sikhs have given them a befitting reply and they will continue to do so," said Giani Harpreet Singh Akal Takht Sahib Jathedar CM Parkash Singh Badal.
Former CM Parkash Singh Badal also comments on the incident. He said, "The incident inside the golden temple is exceedingly painful and extremely condemnable. This is unbearable and could be a big conspiracy. It is very important to unmask this conspiracy. I appeal to the central government that a central agency investigate this matter."
BJP national spokesperson demands CBI probe into this incident "I want the Channi government to immediately hand over the matter to CBI. The identification of the man, his motive, and behind this need to be ascertained," said RP Singh. He also appealed to the people of Punjab to put pressure on the government to hand over the case to the CBI. So that the guilty can be punished at the earliest.
I strongly condemn the attempt to desecrate Sri Guru Granth Sahib in Darbar Sahib,I also demand @CHARANJITCHANNI Govt. to immediately handover the case to CBI so that truth should be known,unlike
Bargari, culprits of which are still roaming free.@SGPCAmritsar @ANI @akaalchannel pic.twitter.com/tYje4FgHBS

— R P Singh: National Spokesperson BJP (@rpsinghkhalsa) December 18, 2021
Former Punjab CM Captain Amarinder Singh tweeted about the horrific incident. The tweet reads, "Strongly condemn the horrific incident of attempted sacrilege of Sri Guru Granth Sahib Ji at Darbar Sahib. Government must get to the bottom of what led this man to act in such a despicable manner!"
Delhi CM Arvind Kejriwal senses a big conspiracy in the Golden Temple Mob Lynching. He said that an Incident very unfortunate could be a big conspiracy. Strongly condemn the incident.
आज श्री दरबार साहिब में हुई बेअदबी की घटना बेहद दुखदायी है। सब लोग सदमे में हैं। ये बहुत बड़ी साज़िश हो सकती है। दोषियों को सख़्त से सख़्त सजा मिले।

ਪ੍ਰਮਾਤਮਾ ਪੰਜਾਬ ਅਤੇ ਪੰਜਾਬੀਆਂ ਦੇ ਸਿਰ ਤੇ ਮਿਹਰ ਭਰਿਆ ਹੱਥ ਰੱਖੇ…..
ਨਾਨਕ ਨਾਮ ਚੜਦੀ ਕਲਾ ਤੇਰੇ ਭਾਣੇ ਸਰਬੱਤ ਦਾ ਭਲਾ

— Arvind Kejriwal (@ArvindKejriwal) December 18, 2021
Another Mob Lynching incident reported in Punjab
However, the Lynching did not stop here. Soon after the Golden Temple Mob Lynching incident, another man was lynched in Punjab over an alleged sacrilege attempt. As per reports, the man was allegedly disrespectful towards Nishan Sahib (Sikh flag). The incident happened in Nizampur village, Kapurthala. However, the police narrated an entirely different story. Harkamalpreet Singh Khakh, Senior Superintendent of Police reportedly said that the man who was beaten to death had entered the Gurdwara premises for theft and not for sacrilege, as claimed by villagers.
Liked this post?
Register at One World News to never miss out on videos, celeb interviews, and best reads.