Women Talk
Inspiring Stories
From Tamasha to Thappad, Meet Naila Grewal, One of The Great Contemporary Talents in the Entertainment Industry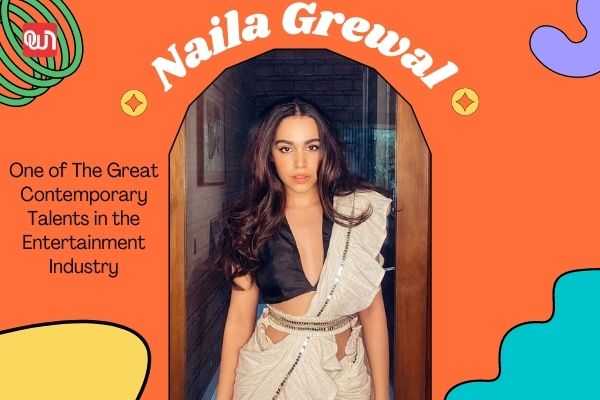 "The arts flourish in an open-minded and free environment, regulations must not encroach this." – Naila Grewal
---

An actor in the Indian Film Industry, who was the first seen in the Film Tamasha, and is best known for her performance in Thappad is a star in herself. Her formative years were spent in Delhi where she completed her education at The British School and then went on to pursue an undergraduate degree at Lady Shri Ram College For Women, Delhi University followed by my postgraduate diploma from the Indian Institute of Mass Communication. "Carving out what would have been, a natural career in journalism and mass communication, all along a penchant for theatre, media, and dance kept me involved through mind, body, and soul. For someone who doesn't come from a lineage of performers, the decision to completely shift focus is a difficult one. I am grateful for the opportunities that slowly nudged me along and I'm humbled by the people who have trusted my talent and work. It has been a steady process of feeling more and more ready for a future in acting and performing." Said Naila, talking about her journey so far as an actor.
We had a quick chat with her and here is what she said –
Q1. Tell us a bit about your background, what inspired you to be here, which was your first break as an actor?
My earliest memory is of being completely enchanted by the moving display of a television screen, the sound of music, and being transported by stories. I really believe that it is in these earliest experiences that we catch a glimpse into our future. As I negotiated my future, it is on stage that I found myself flourish – whether it be through dance or theatre. It has always been my natural habitat, a feeling akin to returning "home". I was extremely lucky to have the privilege to study theatre at school. This was my first experience with all things acting and performance. My first stint with the camera came later when I happened to work with the famed director, Imtiaz Ali in Tamasha (2015). A great first step!
Do it not for the glitz, glamour, and fame, because in actuality, it is about perseverance, integrity and honesty.
Read more: Meet Srishti Bose, A visual artist and co-founder of an internet art gallery, The Unography Mag
Q2. What would you like to say about the recent orders for the government body to regulate the content of OTT platforms? As a creator, as an artist, what are your opinion about that?
Art is a reflection of society but also a source of informing and guiding society. It is important for the arts to be free such as to bring about change and develop the way people think. With that said, perhaps the onus of content should lie with the organizations running OTT platforms to have a set of approved guidelines that are generic, fair, and liberal. This way, all content is measured against the same yardstick, without only a specific type of content being considered problematic. The arts flourish in an open-minded and free environment, so regulations must not encroach this.
Q3. What is the one biggest stereotype that you have heard of in the filmmaking industry?
This would definitely be the quintessential "Film Star". My experience thus far has shown me that the persona of the film star is but only a mirage. Every single performer is made through persistence, perseverance, and honesty to their craft. The glisten of this glossy exterior often distorts the challenges, alienating and de-humanizing the person behind the facade.
Q5. What have you been working on these days?
I have been in talks about some interesting projects to begin in the near future. So that's exciting! I am excited by these opportunities as they will help me showcase my strengths but also explore my own capacity as an actor! Along with this, I feel an artist is always on the job, where the job is to observe and be mindful of our mortal world such as to bring that in front of the camera or on stage. This is a continuing pursuit.
Q6. What would you like to say if we ask you about your dream project? What project is your dream project to date?
As a performer, I am open to a range of work that is meaningful and where I can find a creative outlet. Instead of one dream project, my dream is to find multiple and varied opportunities to perform continuously. I am here for the long haul. I am here to learn. I am here to grow. Whatever my next project is, I will consider and value it as part of this dream.
Have a news story, an interesting write-up or simply a suggestion? Write to us at info@oneworldnews.com