Hot Topics
Forcing Partner to Send 'NUDES' is Sexual Abuse : Don't Press Send if you dont want to!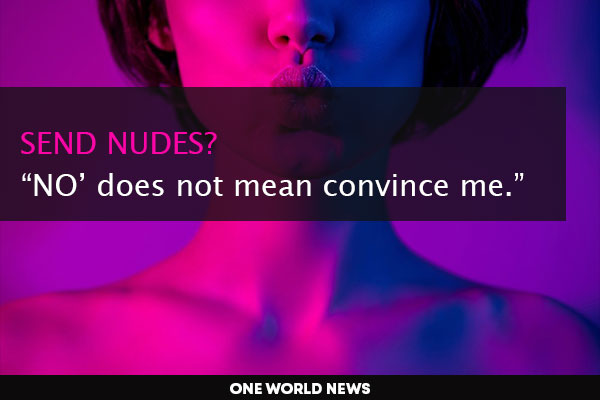 Forcing Partner to Send 'NUDES': Here is what you can do if your partner is asking for nudes via guilt tripping 
---
Has your partner ever asked for nudes? Are they forcing you to send nudes, but you were not quite sure what to do? As per a survey, Nearly, 90% of people have sexted before. Sexting includes everything from steamy texts to nude videos. It might work in good ways, especially for those who are in long-distance relationships. But there are a few things that might go wrong. And do you know forcing partner to send Nudes is a sexual abuse?
We are not questioning the intention of your partner but there are chances that your messages are  being shared with somebody else, intentionally or unintentionally. In many cases, a partner is forced to send nudes via threatening to end the relationship, guilt-tripping, or using wordplay like, You Do Not Trust Me, Hahh?
Trust us, forcing partner to send nudes by guilt-tripping them is sexual abuse! Repeated requests from one's partner even when one has already said no is what coercion looks like. And this terms to sexual coercion. 

Sexual coercion
Sexual coercion is a subtle form of violence and is often implicit, confusing, and deeply distressing. It is even difficult to identify it as an assault in romantic and sexual relationships because, in the end, it feels consensual, which it definitely was not.
It is never coercion when the decision comes from the person voluntarily, but it is always coercion when one is pressured into making that decision. Women are significantly more likely to be victimized by sexual coercion than men.
Read more: Sniffing out love: Secret of your partner's allure lies in their smell and sweat
Various researches have shown a direct link between sexual coercion and mental health. It is often in hindsight that one realizes that they have been victims of intimate partner aggression which ultimately leaves them with frustration and trauma.
Today, young women are strong and intelligent enough to identify and stand up against sexual offenses. However, many still fall short of taking a strong stand for themselves when these abuses come from someone they love and care for.
Under the Protection of Children from Sexual Offences Act, 2012 (POCSO), it is illegal for anyone if they are under 18 themselves, to send nude photos of a minor. Yes, even if it is consensual and are dating. Under the law, it is considered child pornography.
What to do if your partner forces you to send nudes? 
As long as these activities are done consensually and you are confident about your privacy, there is absolutely nothing wrong. But before that, go through these tips before replying to that message.
1. Evaluate trust
If your partner is asking for your nude photos, then the first thing you have to do is to evaluate the level of trust you have with the person you are going to share them with. Because the odds of your nude photos being seen by somebody else other than that one person you intended are pretty high.One study found that 23% of people who received a nude photo shared it with somebody else. On average it is shared with 3.17 friends.   
Therefore, before sending make sure they keep your private messages private forever. 
2. Trust your gut
If your gut feeling restrains you from doing so, go ahead and say nope to their request. Remember, you do not owe anybody any explanation or pictures of your body. If they keep pushing you and ignore the boundaries, then that is a major red flag.
Read more: Best Man Responsibilities: Before, during & after wedding responsibilities
3. Use an encrypted app
To be honest, there are no 100% safe ways to send nudes photos. Instead, focus on reducing that risk with a few key strategies like using an encrypted app. And no, Instagram, Snapchat, do not meet the standard. Even when you take a photo with your phone's camera, that file might include data that could compromise your privacy, like your GPS location.
4. Photograph strategically
You do not have to send full frontal nudes. Position yourself so that identifiable body markings like tattoos or moles are not visible. Leave out your face and use a neutral background.
Read more: How to introduce Sex Toys in Your Relationship? The key is to talk!
5. Talk about boundaries and expectations
Before you send anybody a sext you have to have a conversation about boundaries and expectations.
Do the photos need to be deleted? And if so, when?
What types of messages are you cool with sending?
Come up with a plan and stick to it.
Hope these tips will help you to handle the late-night requests that come your way. A genuine and healthy relationship is one where boundaries are respected. However, it is still so hard for people to understand that NO means NO.
Liked this post?
Register at One World News to never miss out on videos, celeb interviews, and best reads.