SOCIAL NEWS
Few things you need to know about Fortune Magazine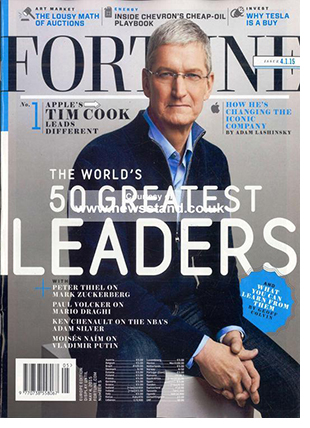 Here is all you should know about Fortune Magazine
Fortune is a worldwide business magazine, published and owned by the Time Inc. Here is all you need to know about Fortune Magazine.
It's headquarter is situated in the New York City. This publication mainly competes with Forbesand Bloomberg Business-week in the race of national business magazine category and extricated itself with long and intense feature articles.
The magazine is best known for the 'Fortune 500', in which it provides rankings to the companies on the basis of their revenue. This ranking is published annually since 1955.
Henry thought of naming the magazine Power but he later on changed it to Fortune.
History of Fortune
Fortune was officially founded by Henry Luce in 1929, 87 years ago; however it was first published in 1930, 86 years ago. Copies of the magazines first issue costed 1USD, because no one had decided the selling price of the magazine; before anything could take place the first edition was printed.
When people saw the magazine on sale they thought it must be having content which might be worth reading. Initially there were 30,000 subscribers who had signed to receive the first edition of 'Fortune.'
It was the time when Business magazines were published in huge numbers with black and with statistics.
TheFortune entered the market with its creamy paper which made it an over sized magazine.
Fortune was also appreciated for its photography; it engulfed the work of Margaret Bourke-White, Ansel Adams among many others.
Magazines became an exceptional phase of Luce's media realm; after the success of Timein 1923 and Fortune in 1930, Luce further launched Life in 1936 and Sports Illustrated in 1954.
Since its launch in 1930 to 1978, Fortunemagazine was published monthly. But in January 1978, it began publishing once in every two weeks. Later in October 2009, mentioning downturn of advertising revenue and circulation, Fortune began publishing once in every three weeks.
In June, after the Time Inc. turned off from its corporate partner, Fortune launched its official website Fortune.com, promising to provide an aggregate of short takes on the breaking news to smart analysis of moving-market events in the international corporate world.
Fortune.com is a rapid business news site that delivers access, analysis, and opinion in every possible format.
Fortune magazine regularly publishes the ranked lists