Lifestyle
Create magic with fedora hats the right way in 2022!
How to style Fedora Hats the right way? Take Styling Tips
---
Highlights:

How to style Fedora Style? 
Special Tips to style it 
Read  more engaging stories on Home Page 
Years back, no individual of status or style would leave their homes without wearing headwear. In today's world, if you take a look at iconic headwear, you will see fedora hats emerging as legendary pieces.
However, most individuals are not aware of wearing it and style themselves the perfect way. If you want to test your style headwear and experiment with your look, you can try out fedora hats.
If you don't know, fedora hats are a specific kind of headwear with basic features. It may make an individual distinct from the crowd. If you are a man of style, you can experiment with different fedora hats to create versatility and appeal. The list of fedora hats is never-ending, from the wide brim to the narrow brim. Since the 1920s, the modern fedora hat has remained a favorite in the fashion industry. Even today, the wardrobe is incomplete without a classic fedora hat. Whether fashion-forward or not, this distinct piece of attire is integral to a gentlemen's appeal.
Read More- Wondering if it's okay to sleep with socks on? Find your answer inside
Understand details of a fedora hat
It is more than a simple question. The term fedora is very different from its historical use in modern times. Colloquially, most individuals use the word fedora for describing any felt hat. However, it is not correct. Fedora hats are a typical type of headwear with some general and specific characteristics that are discrete from others. It is a consolidation of a particular style of hat woven and created differently.
The soft felt headwear with an indented crown of 4 to 6 inches and a soft brim of 2 to 4 inches wide has a distinct appeal. The pinched crown and the intersection of the top is another fascinating feature of fedora hats. The sides of the hat crown and pinched appeal are a hallmark of fedora hats. Fedora hats are also known as snap brims. Moreover, these are available in different styles, sizes, colors, and patterns. The typical features of fedora hats include the following:  
The crown: The top surface of the headwear or the crown gets shaped in multiple ways. The classic fedora hat has a distinct appeal from center crease to diamond. The teardrop crown is a typical feature of traditional fedora hats.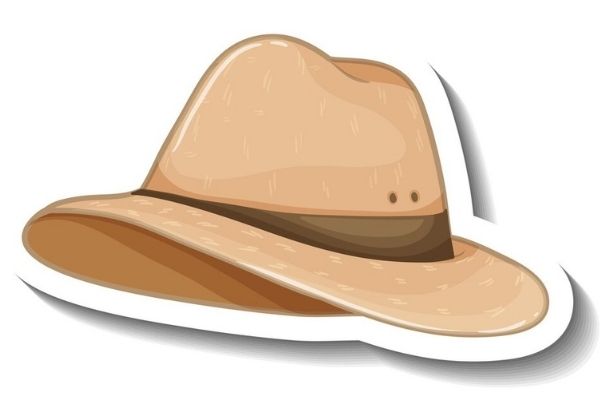 •    The brim: The brim of fedora hats gets created in multiple finishes, widths, and positions. The brim edge may be cut or left unfinished. At times, these get trimmed, sewn, and finished with a distinct advantage. Hence, you have different variants of fedora brim to help you with a different look. You have several categories of fedora hats, from the narrow brim to the wide brim, to create a vintage style. Moreover, you may wear a fedora hat angled up, down, or straight. You have to adjust the brim according to your taste and personality.
•    The pinch: The sharpness and location of the pinch vary from one fedora to the other. You have soft fractions and some sharp ones. These provide a different appeal to the wearer.
Read more- Is it Ok to Nap in the Afternoon? Know What Ayurveda Says About It
•    The material: Fedora hats are available in different materials from felt, wool, leather, and straw. Although the felt fedora hat is classic headwear, the materials list never ends. You have various materials popping up in this section, from wool to cashmere to rabbit fur.
•    Decoration: Fedora hats have minimal decoration with ribbon or fabric band tide across the brim. Moreover, different categories of fedoras come with feathers as a unique decoration. These are positioned above the bow to give a vintage appeal and classic look.
If you look at the basic definition of a fedora hat, you will see that the shape and style of fedora hats is an amalgamation of different features. Some are straw, some get woven, whereas others are wool. Although many people confuse fedora hats with Panama hats, these are different categories. Both these are desirable and classic styles, but they have a thin line of demarcation.
How to style your outfit with a fedora hat? 
Since you have so much knowledge about fedora hats, you must be thinking about outfit ideas. First of all, you must be aware of your sense of taste and personality. If you prefer fashion and want to create an edgy look, you must mix and match different headwear. If you style yourself with mens fedora hats, you can pair them with classic menswear, which helps you with a degree of formality.
Fedora hats go well with a pair of well-fitted suits and a tie. If you want to grab adequate attention to your headwear, you have to keep your attire minimal. Along with this, you may look at the Internet for additional guidelines and outfit ideas.
Since fedora hats are a statement piece, you have to pay attention to the rest of the ensemble. You have to keep it balanced, and for this, you have to try out a couple of tips.
• Fedora hats look good with a pair of well-fitted jeans. Overcoat and blazer also look good with a fedora hat. Moreover, you can wear it with jackets for a sports look.
• If you want to keep your look classic, you can go for a black fedora hat for the vintage appeal. It pairs well with classic clothes like a double-breasted suit, vests, and leather gloves.
• Fedora hats are an all-season accessory. You can wear it in the summer, winter, and autumn. In summer, you can go for a straw fedora hat whereas, in the winter, you can go for wool.
Conclusion 
These are a few vital points you must bear in mind when styling with fedora hats. To create a rugged and classic look, you have to accessorize mindfully. Along with this, you have to ensure that you draw attention towards your headwear. For this, you have to purchase a fedora hat which is well fitted and of solid color. You may research and develop attractive ideas for wearing fedora hats with different outfits. Similarly, you may purchase a fur fedora hat that is an all-season because it will be your genuine styling accessory.
Liked this post?
Register at One World News to never miss out on videos, celeb interviews, and best reads.