Hot Topics
Scripted Fake News Went Viral With A Communal Spin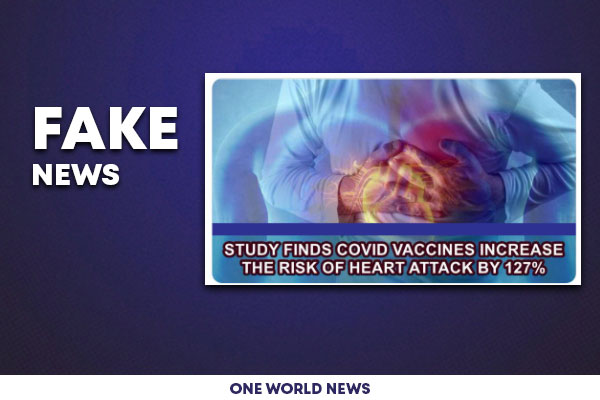 Here are the fake news of the week.
---
We commence every week with busting fake news, misleading content and false claims. However, last week, several images and video clips went viral which were scripted but circulated with a communal spin.
Here are the fake news of the week.
Another case of Love Jihad!
Fake news: A video is being shared widely on social media, which claimed that a minor Hindu girl was trying to elope with a Muslim man. Social media users were alluding to the incident as Love Jihad.
Fact-check: Here is a fact-check on this claim. The video is a scripted one, made for "awareness" purposes. This incident is not the reality.
COVID-19 vaccines increase the risk of a heart attack!
Study finds Covid Vaccines increase the risk of Heart Attack by 127%

A new scientific study suggests the mRNA Covid-19 injections increase the risk of suffering a heart attack by at least 127%https://t.co/j9DypizrBb

'SAFE AND EFFECTIVE' @DocVatsa ?????????☹️ pic.twitter.com/7ATwMRPjpx

— #SherDilKejriwal????? (@anisaz9_basit) December 4, 2021
Fake news: A paper published in the American Heart Association (AHA) journal Circulation was shared as an evidence that a study has found evidence that mRNA COVID-19 vaccines such as Pfizer and Moderna increase a person's risk of a heart attack.
Fact-check: The paper has not been peer-reviewed and the AHA has published an 'expression of concern'. It stated that the text may not be reliable and that a 'suitable correction' was needed.
Muslim men spiking a birthday cake on two girls!
#गजवा_ए_हिन्द वाले जिहादियों से सावधान::
ये जिहादी ?आपके दोस्त है तो देख लो जिहाद कैसे करते है।?
बेहोश करके सेक्स क्लिप निकालते है फिर लड़कियों को बनाते है सेक्स स्लेवरी, धर्म परिवर्तन और जो आप सपने में भी नही सोच सकते।#जागो_हिन्दुओ_एकजुट_हो_जाओ
बहुत देर हो जाए उससे पहले जागो pic.twitter.com/Ej6W9XlkQc

— ??कल्याणी_पुष्पा?? (@P_Katyayan) December 14, 2021
Fake news: A video of men rescuing kids from child trafficking is viral on social media where two men can be seen recording a video of a woman carrying a child, and the child is crying. When the man interrogates the woman who the child is, the woman replies that the kid is her son, and she drags the child forcibly. After finding the woman suspicious, the man keeps on questioning and eventually the woman admits that the boy is not his son and she kidnaps the children for trafficking and to make them beg. While sharing this video on social media, people gave this a communal colour and claimed that a Muslim woman kidnapped the children from a park.
Fact-check: The viral claim is false. On observing the video, a description is mentioned at the beginning of this video for a few seconds. It reads in English, "The content made in this video should be considered for entertainment purposes only. The information contained herein is not intended to be a source of advice or credit analysis concerning the information presented, any action you take inspiring from the video is strictly at your own risk, and we will not be liable for any losses or damages in connection with the use of information available in this video.
Investing is always subjected to market risk. This is the viewer's responsibility to verify their facts before investing." On searching the extended version of it on the Facebook page named 'Maddy Ki Duniya'. In the about section of this page, it is written 'Pranks and Expose.
SP leaders assaulting UP police!
Fake news: A video of a brawl, in which a man is seen slapping a cop, is being shared on social media with a claim that it shows two Samajwadi Party leaders assaulting a police officer in Uttar Pradesh. The video shows SP MLA Salim Haider from Mukhtarganj slapping a cop in UP.
Popular TV Celebrities who found Love again after heartbreak
Fact-check: The video is from Lucknow and has nothing to do with the Samajwadi Party. Furthermore, both the names of the MLA and constituency were made up.
Kangana celebrates Vijay Diwas with BSF!
Fake news: India celebrates 50 years of the country's historic victory against Pakistan as on 16 December 1971, Bangladesh got liberated, and India played a major role in that liberation war. In this context, a set of photos showing actress Kangana Ranaut with BSF jawans went viral on social media. It claimed that the Bollywood star celebrated Vijay Diwas with Army officials.
Fact-check: This claim is fake. According to the reports of India Express, These images are from Kangana's visit to BSF Frontier Headquarters in Jammu to promote her film Rangoon in 2017. Moreover, there were no such reports that Ranaut joined Jawans on the 50th Vijay Diwas.
Liked this post?
Register at One World News to never miss out on videos, celeb interviews, and best reads.