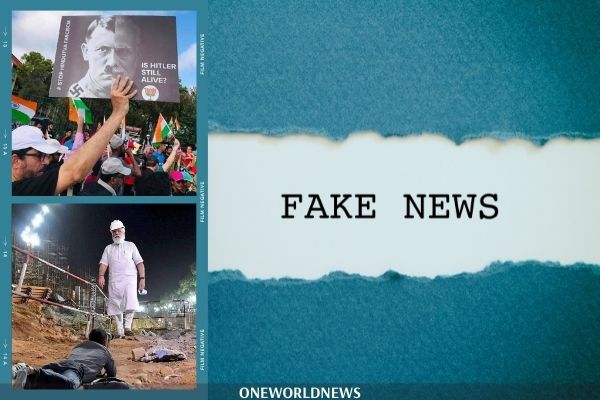 Here are some fake news that grabbed our attention
---
Here are some fake news that grabbed our attentionCirculation of fake news on social media platforms has become a new normal for most of us but what remains a task is to identify what is real and what is fake news. Here are a few most widely circulated news stories recently that turned out to be fake and misleading.
Here are some fake news that grabbed our attention. We debunked it with a fact-checked
Protest Against Modi during US visit!
अमेरिका में जितने लोग अंदर थे (भाड़े के टट्टू).. उससे ज्यादा बाहर सड़कों पे मोदी के खिलाफ नारे लगा रहे थे.. ✊

लेकिन भारतीय मीडिया ने बिल्कुल भी नहीं दिखाया..
लेकिन दूसरी जितनी भी मीडिया थी उन सबने कवरेज किया..
अब अंदाज लगाया जा सकता है कि भारतीय मीडिया कितनी गिर चुकी है
??? pic.twitter.com/MnJbbwDgwI

— Shilpa Bodkhe – प्रा.शिल्पा बोडखे (@BodkheShilpa) September 23, 2019
Fake news
In light of PM Modi's recent US visit, several WhatsApp forwards and posts have been curated that have gone viral. Two photos of Anti-Modi demonstrators holding placards comparing Prime Minister Modi with Adolf Hitler went viral on social Media.
Some posts claimed that Anti-Modi protests were held in the United States during Modi's recent visit.
Fact
The viral pictures showing Anti-Modi posters are from 2019 and not related to PM Modi's recent United States visit.
NYT: Modi, Last, Best Hope Of Earth!
This newspaper is exclusively printed by those who believe that the correct spelling of strength is STREANH !!!#SETPEMBER pic.twitter.com/gQk8pIrnZD

— Sadaf Jafar (@sadafjafar) September 26, 2021
Fake news
The New York Times front page image was shared widely which features Indian PM Narendra Modi and captioned it "Last, Best Hope Of Earth". It was said to be dated on 26 September 2021.
Fact
The image is fake and The New York Times did not post this article. Moreover, the spelling of September is wrong and the small caption that reads, "His highness, Modi ji is signing on a blank A4 paper to bless our country. Har har Modi." also makes it obvious that it is edited.
Dr. Subramanian Swamy joins the Opposition!
Congratulations @Swamy39 Ji for your officially Joining pic.twitter.com/MDsrH4F0AY

— Tajinder Pal Singh Bagga (@TajinderBagga) September 25, 2021
Fake news
A photo from a media briefing held by Opposition leaders was shared on social media. It claimed that Bhartiya Janta Party leader Subramanian Swamy attended the meeting and has joined the opposition.
Fact
Congress leader Manish Chatarth clarified India Today that the man in the brown Jacket is him and not Dr Swamy.
Dalveer Bhandari elected as ICJ Chief thanked Modi!
अन्तर्राष्ट्रीय न्यायालय का मुख्य न्यायाधीश भारतीय चुना गया भारत की शानदार जीत !!! PMमोदी की चाणक्य कूटनीति।
विश्व पटल पर ब्रिटेन की हार।
कैसे पीएम मोदीजी ने दुनिया भर में संबंध विकसित किए हैं।न्यायमूर्ति दलवीर भंडारी को अंतर्राष्ट्रीय न्यायालय के मुख्य न्यायाधीश केरूप मेंचुना pic.twitter.com/9XLkucdVqS

— Nagendra Nath (@BJPNagendraji) September 15, 2021
Fake news
BJP Bihar General Secretary (Organisation) Nagendra Nath Tripathi claimed in a tweet that former Supreme Court judge Dalveer Bhandari is elected as the Chief Justice of the International Court of Justice (ICJ). He lauded PM Modi for the achievement, claiming that his hard work has nurtured good relations with countries across the world.
Fact
According to the ICJ website, there is no Chief Justice post. The court has 15 member judges along with a president and vice president who each serve for three-year terms. In February 2018, Bhandari was re-elected as a member judge for a nine-year team.
Shahrukh credits Muslims for his success!
Fake News
An article purportedly published by Jansatta claims that Bollywood actor Shahrukh Khan credited Muslims for his success in the industry. The article is being shared on social media with a communal narrative.
Fact
While going through the viral screen grab on social media, we came across a clarification issued by the official Twitter handle of Jansatta. The handle posted the viral screengrab on Twitter and wrote in Hindi, reads, "Some people are sharing this on social media in the name of Jansatta, but let us tell you that it is entirely fake. No such news has come to the public."
Tell us in the comments, which news surprised you the most.
Liked this post?


Register at One World News to never miss out on videos, celeb interviews, and best reads.