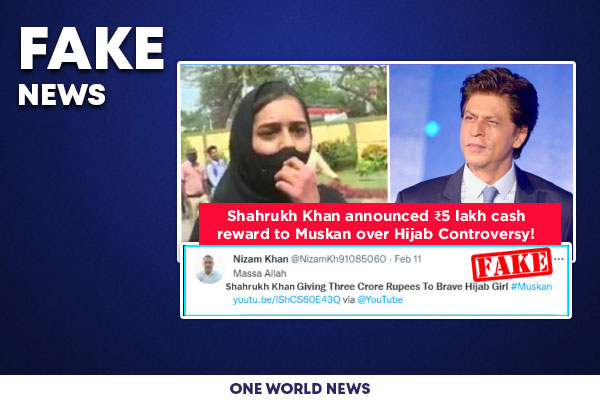 Here are 3 fake news that went viral with a communal spin as well as over politics.
---
Highlights:
Tiku Talsania adopts Islam!
BJP will lose in UP and Uttarakhand, said Shivraj Singh??
Shahrukh Khan announced ₹5 lakh cash reward to Muskan over Hijab Controversy!
Fake news is one of the most discussed topics in political communication. The word fake news Is not only used to describe disinformation, it is widely used as a tool to create religious tensions in the country. In the same line, there are the 3 fake news that went viral this week.
Tiku Talsania adopts Islam!
انڈیا کے معروف کامیڈین ٹِکو تلسانیہ, ڈاکٹر ذاکر نائیک کے ہاتھوں کلمہ پڑھ کر کے دائرہ اسلام میں داخل ہوگئے. #TikuTalsania #ZakirNaik #Islam pic.twitter.com/HzqVmwH8AQ

— ??Karachi News Media Group?? (@KHINewsGroup) February 12, 2022
Fake news: An image of Bollywood actor and comedian Tiku Talsania in a skull cap (Muslim) with a long beard has gone viral on social media. Actor Tiku Talsania is alleged to have embraced Islam.
Read More- Does Banning Burqa & Hijab in educational institutes count as disruption of freedom of religion?
Fact-checked: The viral claim is false. In a recent video interview with Shemaroo, Tiku Talsania was spotted with a clean shave and simply a moustache.
The fact check group at India Today contacted Tiku Talsania about the viral claim. The pictures were taken during the shooting of one of his BBC shows, in which he plays a deaf character. He will appear in an episode of the show wearing a Muslim outfit. This show will come on YouTube.
BJP will lose in UP and Uttarakhand, said Shivraj Singh??
उत्तराखंड से प्रचार करके लोटे मध्यप्रदेश के मुख्यमंत्री शिवराज सिंह ने बताई उत्तराखंड के भाजपा की हकीकत बोले उत्तराखंड से भाजपा तो गई #उत्तराखंड_से_भाजपा_तो_गई pic.twitter.com/xPOCqpNXc6

— Harish Rawat (@harishrawatcmuk) February 11, 2022
 Fake news: Social media users have gone crazy over a video of Shivraj Singh Chouhan conversing with a group of people. Viral posts on social media claim that Chief Minister Chouhan said that the Bharatiya Janata Party would lose in Uttar Pradesh and Uttarakhand.
The viral video was also tweeted by Harish Rawat, former Chief Minister of Uttarakhand, and the official Twitter account of the Congress party.
Read More- What are The Challenges Associated with Business Loan Eligibility in India?
Fact-checked: The viral claim is false. He said that BJP is going to win in both states. Zee News wrote about the incident stating that Shivraj Singh was stating that there was no doubt about BJP's victory in UP. Chouhan also stated that BJP is also present in Uttarakhand… However, yes there is a little competition in Uttarakhand. " Several news outlets report that Shivraj Singh Chouhan answered some questions during his visit to his village, Jait a few days ago.
Shivraj Singh reacted strongly to Harish Rawat's tweet with the viral claim, according to a News18 Hindi report. In his words, "Congress is a party of liars, and Harish Rawat and Congress leaders have had hallucinations."
Shahrukh Khan announced ₹5 lakh cash reward to Muskan over Hijab Controversy!
Fake news: As a response to the Hijab controversy, a video has gone viral showing a group of Hindu students chanting the slogan 'Jai Shree Ram' and hackling a Muslim girl. She is a second-year commerce student at PES University, Bangalore, identified as Muskan Khan. The Bollywood actor Shah Rukh Khan has reportedly given Rs 5 crore to Muskan, according to a claim on social media. Similar claims were made for Salman Khan and Aamir Khan as well. The caption of the video reads, "Salman Khan Giving Three Crore Rupees to Brave Hijab Girl Muskan."
Fact-checked: So far, no Bollywood actor has made such claims. Therefore, it was nothing more than a clickbait video. No evidence or official statement was mentioned. In the last 10 seconds, the voiceover said Sulieman Khan rather than Shah Rukh Khan.
According to Times of India news report dated February 9, 2022, Jamiat Ulema-e-Hind has decided to give 5 lakh rupees to Muskan for bravely facing the mob of Hindu students who were protesting against the Hijab and chanting the 'Allah-hu-Akbar' slogan in response to the 'Jai Sri Ram' slogan chanted by the mob.
If you have any news that you believe needs to be fact-checked, please email us on ayushi.oneworldnews@gmail.com.
Liked this post?
Register at One World News to never miss out on videos, celeb interviews, and best reads.