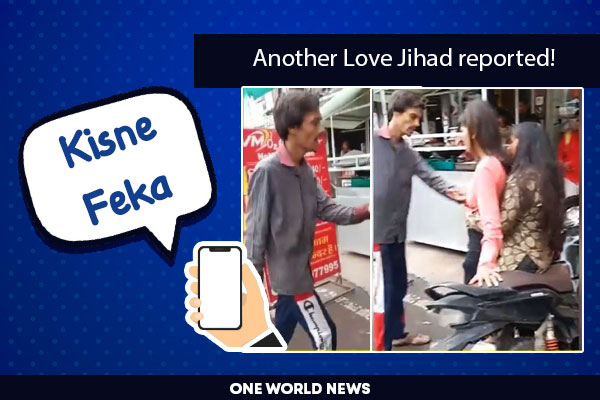 Here are 4 fake news from the columns of kisne feka
Highlights:
 Muslims protests for appointing 'Brahmin' district collector
Another Love Jihad reported!
Scroll for more…
From the Government of India's 5G spectrum loss to Love jihad outrage on social media over fake news, we need to have our facts checked ASAP.
Here are 4 fake news from the columns of kisne feka
GOI had suffered a loss of ₹ 2.8 lakh crore in the 5G spectrum auction!
Fake news: A screenshot of 'Times Business' mentioning a record loss in a 5G spectrum auction is going viral on social media.
5G स्कैम पर पूरे देश की मीडिया चुप …
कोई डिबेट, कोई शोर, कोई चर्चा नहीं!

क्योंकि कई सारे 000 इनके मुंह में ठूंस कर इन्हें चुप करा रखा है ! pic.twitter.com/BIXQBXlzE0

— Pankhuri Pathak पंखुड़ी पाठक پنکھڑی (@pankhuripathak) August 3, 2022
While targeting Bharatiya Janata Party, many Congress leaders and accounts associated with the congress party shared this newspaper clip and claimed that the Government of India had suffered a loss of Rs 2.8 lakh crore in the auction of the 5G spectrum.
Foolproof: The viral claim is false. In the newspaper clip, the amount written in the heading has 14 zeros after 28 i.e., this amount is 28000 lakh crore rupees. Whereas in the sub-heading, the amount of loss was stated to be ₹ 2.8 lakh crore.
Moreover, this news was nowhere on the Times Business website.
 Muslims protest for appointing 'Brahmin' district collector!
Kisne Feka: A video showing a protest march carried out in Alleppey, Kerala is viral with the claim that it shows Muslims objecting to the appointment of a 'Brahmin' as a district collector.
In Allepy Kerala ystrday, Muslims opposing the new Brahmin IAS collector, took out a procession,

MSM cunningly avoided this and highlighted ABVP in Karnataka.

Listen to the slogans. pic.twitter.com/95HHYd2hJu

— Indu Makkal Katchi (Offl) 🇮🇳 (@Indumakalktchi) August 1, 2022
Foolproof: The viral claim is false. According to a report in The Hindu, thousands of people from Muslim organizations participated in the protests organized by Kerala Muslim Jamaat. The protestors demanded action against the appointment of Sriram Venkitaraman as the Alleppey district collector. Venkitaraman is reportedly the main accused in the death of journalist K.M. Basheer in a drunk driving car accident 3 years ago. This protest has nothing to do with the collector's caste or religion.
Read more: Not Just History- Your Science Books Also Need Revision, 5 Ancient Indian Scientists & Their Discoveries
 Another Love Jih
ad reported! 
Fake news: A video of a man intimidating the girls with a knife is going viral on social media. Indore is mentioned as the place for the incident. People claimed that the man in the video is from the Muslim community, and it was a matter of "Love Jihad".
यह देखो लव जिहादी हिंदू बच्चियों को केसे डरा धमका कर अपने जाल में फंसाते है😡अगर किसी भी बच्ची को कोई भी इस प्रकार से धमकाए तो डरने की जरूरत नही है तुरंत अपने घर वालो को जानकारी देकर पुलिस में रिपोर्ट दर्ज कराए*तो यह लोग अपने मकसद में कामयाब नही हो पाएंगे😡 pic.twitter.com/9FTTZ9Xnio

— योगी योगेश अग्रवाल (धर्मसेना) (@yogeshDharmSena) July 27, 2022
Food proof: The viral claim is false. In a report of Naidunia dated July 26, the viral incident is from Indore, where a person named Piyush aka Shanu wanted to marry a girl and was pressurizing her. However, the girl refused, after which the young man started threatening the girl with a knife.
 Shia woman-Sunni man: Union leads to the death of Mohammed Fazil!
Kisne feka: On July 28th, a Muslim man identified as Mohammed Fazil, a resident of Mangalpete near Surathkal, Mangalore, was hacked to death by 4 assailants. On July 29, OpIndia, in their report, mentioned that preliminary investigations led by the Police revealed that the deceased was murdered because he was in love with a Shia woman, whereas Mohammed Fazil practised Sunni Islam.
Read more: Drink Beer without any Fear: 7 Amazing Health Benefits of Drinking Beer
Foolproof: The viral claim is false. According to a report in The News Minute dated August 2, 2022, Shashi Kumar, the Mangalore police commissioner, said that the 6 people arrested in this case were identified as Mohan (26), Suhas Shetty (29), Girdhar (23), Srinivas (23), Abhishek (21), and Deekshith (21). The names of the accused suggest that they were from the Hindu community. Mangalore police also arrested Ajith Crasta; the owner of the car used in the murder.
Shashi Kumar told the media that a Preliminary investigation reveals that the accused were planning to kill Fazil on 26 July. The accused made a list of roughly 7 people but ultimately opted to kill Faizal after keeping a close eye on him on the day of the incident.
It is to be noted that none of the media reports mentioned any Shia-Sunni or love angle in this case.
Are you looking for foolproof news? Mail it to us at ayushi.oneworldnews@gmail.com or WhatsApp on 09958460807.
Liked this post?
Register at One World News to never miss out on videos, celeb interviews, and best reads.