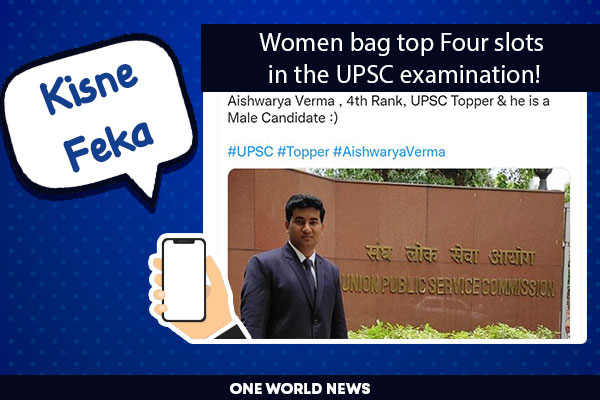 Here the top fake news of the week went viral related to current issues
---
Highlights:
Women bag top Four slots in the UPSC examination!
He is Sidhu Moosewala Murderer, Goldy Brar!
Scroll for more…
The 2021 civil services examination results were announced on May 30, 2020. A total of 685 candidates cleared the UPSC exam this year. Shruti Sharma, a resident of Bijnor, Uttar Pradesh, has topped this examination. Meanwhile, several fake news related to the UPSC exam went viral.
Therefore, we are debunking some of them we came across during the first week of June.
Women bag top Four slots in the UPSC examination!
Aishwarya Verma , 4th Rank, UPSC Topper & he is a Male Candidate 🙂#UPSC #Topper #AishwaryaVerma pic.twitter.com/YIrWgOqTkR

— Anil Kumar (@anilontwiitter) May 30, 2022
Kisne Feka: All women are the first four rank holders for the Union Public Service Commission (UPSC 2021) exam.
The viral claim and found to be false. The fourth rank holder is a male candidate.
Foolproof: According to the TOI report, Aishwarya Verma, who secured the fourth rank in UPSC 2021 exam, is a male candidate. The report's title reads, "Ujjain's Aishwarya Verma is UPSC topper among men." According to the report, Aishwarya Verma is from Ujjain, Madhya Pradesh, and currently lives with his banker father in Bareilly, Uttar Pradesh.
Read More- Laptop Buying Guide: 5 things to see when you are buying a laptop
 However, the first three slots were definitely bagged by women candidates. 
Who is real Shruti Sharma? 
It is not just happiness but a moment of the whole life which has been captured in the picture. This feeling is forever recorded in life. There was every hope of success but it is very pleasant to come first.

Pic of the day#UPSCResults pic.twitter.com/guNzDkDwxt

— Civil Service Toppers (@CivilServices_) May 31, 2022
Fake news: A Twitter account with the name 'Shruti Sharma IAS' has over 16,000 followers. One of the tweets reads, "With the blessings of my parents and the almighty, I have topped UPSC. I thank you all."
Over 30,000 people liked and retweeted the tweet.
She thanked all for her achievement in another tweet, which included photos.
Foolproof: All such accounts are fake. Sharma's Official Twitter Account Is '@shrutisharma986[am1] '. Although Sharma has a Twitter account, she isn't very active on the microblogging site and hasn't posted anything since she cleared the UPSC exam.
After Sharma cleared the civil services exam, she rose to fame on Twitter, resulting in several imposter accounts.
Several accounts on Instagram, too, are impersonating themselves as the 2021 UPSC topper. 
He is Sidhu Moosewala Murderer, Goldy Brar!
इस फोटो में जो भगवंत मान के साथ खड़ा Goldy Brar है इसी ने सिद्धू मूसेवाला की हत्या की जिम्मेदारी ली है अब सवाल ये की किसके कहने पर मूसेवाला की सुरक्षा हटाई pic.twitter.com/h53J7BzIiE

— e s jadon (@esjadon4) May 29, 2022
Kisne Feka: A photo of Punjab CM Bhagwant Mann with a businessman from Punjab called Goldy Brar has gone viral, with people misidentifying the latter as the Canadian gangster involved in the killing of Sidhu Moose Wala.
Foolproof: The viral image is not of Gangster Goldy Brar, who took responsibility for Killing Sidhu Moosewala. Both are two different people.  
Read more: Why people born in June are known as Social Butterflies?
BJP workers were banned from entering the police station!
भाजपा कार्यकर्ताओं की "दलाली" और गुंडई से त्रस्त होकर आखिरकार थाना प्रभारी को "भाजपा कार्यकर्ताओं का थाने में आना मना है" लिखा हुआ पोस्टर लगवाना पड़ा ,

इससे साबित होता है कि भाजपा नेता/कार्यकर्ता पुलिस प्रशासन पर हावी होकर गुंडई ,दलाली कर रहे थे ,

योगी जी ! आपके सामने सबूत है? pic.twitter.com/iQ4bRtPBrr

— SamajwadiPartyMedia (@MediaCellSP) May 27, 2022
Fake news: The Samajwadi Party's media cell has tweeted an image of a police station with a group of men holding a banner that reads, "BJP workers are prohibited from entering this police station by Police station-in charge Sant Saran Singh."
Akhilesh Yadav also tweeted the image. Hooliganism by BJP workers allegedly led to the police station keeper installing the poster outside their station.
Foolproof:  The viral claim is false. In an AajTak report posted on May 27, a woman named Pooja alleged that her deceased husband's shop was illegally occupied by her brother-in-law. She filed a formal complaint with the police. The police allegedly misbehaved with her following, and the crowd consisting of BJP workers gathered in front of the police station. A former district minister of the BJP's Yuva Morcha, Kuldeep, told the reporter that the woman's brother-in-law illegally took control of the shop after her husband died. Some people supported the woman's brother-in-law present outside the police station. A banner was displayed outside the police station during the demonstration.
Liked this post?
Register at One World News to never miss out on videos, celeb interviews, and best reads.