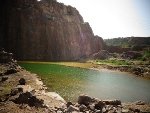 Exploring the unexplored parts of Haryana
Strangers in the morning…Friends by evening
If you plan for an outing, what's the first thing that comes to your mind? It must be with 'Whom to go?' Can you plan an outing with a stranger? This group did and it was a wonderful experience for all.
A group of eighteen strangers planned to meet at a spot and then arrive to a destination unknown. Sounds strange? The group 'Single Men & Women' is a part of America's well-known website (www.meetup.com). The purpose of this website is to bring together people from all over the nation who share common interests under one roof. I was invited by a friend who is a part of this group since a year now and has been to many meet-ups before. But for me, it was a new concept and altogether, a new experience to enjoy with people I hardly knew. These groups are meant for people who are either alone or have no partners to hang around with. So, such people join these groups, make new friends having same interests and fulfill all their hidden desires. The admin was himself an introvert sometime back and hardly had any friends in his life. So, he thought to create a group where all singles or introverts could be comfortable.
People of the meet-up group
There are approximately one thousand people in this group whose admin, Jimmy Garg, decided to have an adventurous outing to PaniKot Lake, located in the Sirohi district of Haryana. However, the route to the destination was unknown and even the local residents were clueless about the exact way. But this only added to more fun and adventure.Since I had never heard about this place and there was hardly any information about it on Google, I was a little apprehensive about it and its safety as it was in the middle of a village and near to a wildlife sanctuary (Asola Bhatti).
After we got down from the bus, for a moment, I thought the bus had magically brought me to New Zealand and the sight of 'strangers' around gave me the same feeling. The blue, green and brown water with hills around cannot be imagined to be amidst the rural part of the country. As per the local residents, the location has been targeted for shooting of many Bollywood movies. The recent being a ninety seconds song of the movie, Kill Dil.
Landscapic beauty of Haryana
The lake is divided into two zones. The space till where the rocks are visible is the safe zone where you can pose or swim. However, the place from where the water turns blue indicates that the water below is around twenty to forty feet deep and not at all safe for non-swimmers. The lake is surrounded by hills on all sides. You can have a picnic near the lakes or on the rocks. Besides, the place is also very good for trekking. But whether you are partying or swimming, you will be under a constant watch of the villagers. They will intrude in your privacy and you will be stared down all the way. So, if you want to enjoy, just ignore them and live the moment!
Best place to hangout on weekends
The meet-up team who in the morning hardly interacted was seen swimming and eating together. The 'Truth & Dare' game added more to the fun. We got to know each other closely. On completing another successful trip, the organizer Jimmy said, "Though we have organized many meet-up in coffee shops or discos, this was the first one outside Delhi. I am glad that people liked the idea and are becoming friendly. Seeing the success of the event, we are looking forward to more such trips and meet-ups outside the city." One of the members of the group, Vidhi Mathur is organizing the next trip on 27th September, 2014 which would be a paragliding trip to Himachal Pradesh.
The group saw participation from West Bengal, Bihar, Andhra Pradesh, Haryana, Punjab and a cute guy from North West China. People, who were a little uncomfortable, took time to adjust. However, with the introduction round, games and singing, people started interacting and mingling with each other. One can say, we started our journey as strangers and at the day of the day, we earned many new friends. It was a thrilling experience overall.
Picture Courtesy : Avalokita Pandey, OneWorldNews
Have a news story, an interesting write-up or simply a suggestion? Write to us at info@oneworldnews.in