Lifestyle
16 Somvar Vrat, Don't forget to Please Shiv -Shaki This Sawan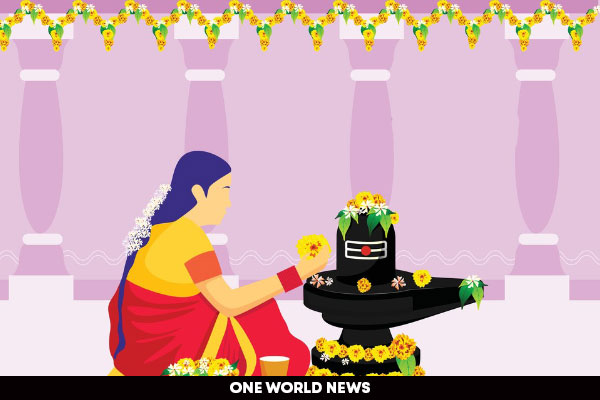 Here is all the information you want to know about 16 Somvar Vrat.
---
Highlights:
Why is Monday considered a Shubh Day?
The story behind 16 Somvar Vrat
What makes Monday the most suitable day to worship him?
Read the reasons below…
The 16 Somvar Vrat are fast observed on Mondays and are dedicated to Hindu God Shiva. Lord Shiva is the cosmic teacher of wisdom and destroyer of all evils in the universe. He showers his compassionate blessings on activities undertaken on Monday.
Why is Monday considered a Shubh Day?
Monday is suitable for entering a new house and making marital arrangements. It is also recommended as an ideal day for significant investments. Fast, commonly known as Upvas, is scheduled from sunrise and ends at sunset. Devotees preferably worship almighty Lord Shiva and Goddess Parvati on this auspicious day.
The fasting on Monday in the month of Shravan is advised and considered propitious. It is believed that this fasting fulfils one's desires and blesses them with wisdom. This fast is famous for being observed by unmarried women to get an ideal husband.
Few stories are associated with the origin of this fasting, particularly on Mondays. But here are some prominent tales related to 16 Somvar Vrat.
When is Sawan month beginning?
This year, the month of Sawan will begin on July 14 and end on August 12. There will be 4 Mondays in the month, and the first Monday of Sawan will fall on July 18.
First day of Sawan month – July 14, Thursday
Sawan Somwar Vrat – July 18, Monday
Sawan Somwar Vrat – July 25, Monday
Sawan Somwar Vrat – August 1, Monday
Sawan Somwar Vrat – August 8, Monday
Last day of Sawan month – August 12, Friday
The story behind 16 Somvar Vrat
This story is related to a priest who was the devotee of Lord Shiva. According to Shiva Purana, once on Monday evening, Shiv and Parvati played Chausar in a temple near Amravati River, and a priest entered. When the female deity asked the priest to predict the winner of the game, the poor Brahmin took Shiva's name. But the prediction went wrong, and Parvati cursed him to suffer from Vitiligo as he took Mahadev's name just to please him.
However, the priest was a divine worshiper of Lord Shiva and was advised to fast for sixteen Mondays worshiping both Shiv and Parvati. This will help him to get rid of his Vitiligo, and his all wishes will be fulfilled.
Here, Som means Moon, who was married to 27 princesses of king Daksha. But Chandra (the Moon) was biased towards one of his wives Rohini and loved her more. After getting constant complaints from the other daughter about Chandra's high-handedness, Daksha cursed his son-in-law. It said that he would gradually lose his existence.
After this, Som rushed to Lord Brahma to rescue him from Daksha's curse. He suggested the former worship Lord Shiva and please him with his devotion. Since the curse had already shown its effects, Mahadev couldn't relieve him entirely from the curse but promised that he would retain his powers gradually. From that point, the concept of Purnima (Full Moon) and Amavasya (no moon) took birth. As Mahadev rescues Chandra, he is known as Somnath or Chandra Shekhar.
There is another tale of a poor Brahmin who gained wealth when he observed the Monday fast.
And another story of a wealthy merchant begetting a son after a long wait. It includes his son's subsequent death and rebirth through the grace of Shiva and Parvati.
What makes Monday the most suitable day to worship him? Read the reasons below!
Shiva is considered a straightforward, heated God filled with innocence and compassion even towards Asurs and demons.
He is the God of love. He had always shown immense love to his wife Gauri and later Parvati. That's why he is worshiped by newly married couples. And also considered a saviour if anybody is facing difficulty in their married life.
Mahadev is free from worldly pleasures. He will never be pleased by expensive offerings. Instead, being happy with their kind and pure devotion towards him would be easy.
Thus, by keeping fast on Monday, Mahadev's grace remains on all of us.
Liked this post?
Register at One World News to never miss out on videos, celeb interviews, and best read