RELIGION
Essence of Govardhan Pooja celebrations
Do you know why Goverdhan Pooja is done?
---
It's Essence
Govardhan Pooja also referred to as Annakut Puja is celebrated a day after Diwali in the kartik month.
It is celebrated by the Hindus as the remembrance of the day when Lord Krishna defeated God Indra.
Sometimes there could be a day gap between Diwali and Govardhan Puja. Govardhan Puja is celebrated by making food from cereals such as wheat, curry of gram flour, rice and leafy vegetables and offered to the Lord Krishna.
This year, Govardhan Pooja in India will be celebrated by 31st October, Monday. In places like Maharashtra it is called Bali Pratipada or Bali Padva.
This day also marks the victory of Vamana (Lord Vishnu's incarnation) over demon the King Bali, who was blessed by the Lord Vamana to be powerful. This day in the Shukla Paksha Pratipada is also celebrated as the New Year by Gujarati.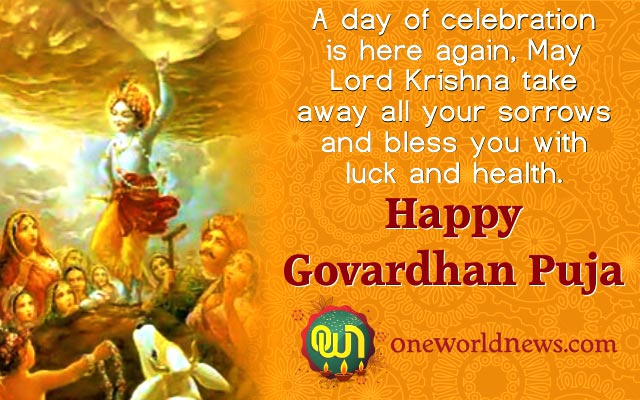 Read Here : Wish you a very very Happy Govardhan Puja
This day observes the history of Govardhan Parbat which saved many lives from the biting rain. People of Gokul who used to worship God of rain, God Indra were convinced by Lord Krishna to change their opinions and told them to worship the Annakut hill or Govardhan Parbat. Krishna emphasized that Govardhan Parvat is the real God who nurtures and saves their lives from drastic conditions.
When Gokul people started worshipping the mountain instead of God Indra, he(Indra) became raged.
It started raining heavily in Gokul. At that time, Lord Krishna saved their lives by lifting the Govardhan hill at his little finger and sheilded people from the live-taking rain storm.
That is when the over-proud Indra accepted his defeat. The day is now celebrated as Govardhan Puja as a worship for Govardhan Parbat.
In Gokul and Mathura, people celebrate this festival with great enthusiasm and joy. People offer Puja and do Parikrama of the Govardhan hill.
People also create a form of Govardhan Dhari Ji through cow dung and adorn it with the flowers and worship.
A variety of Bhog(Food) to presented to the Lord Krishna Idols which are bathed in the milk and clothed with new clothes and jewelry.
This day is celebrated throughout the country. Temples of Lord Krishna are decorated, several events are organised, and free food is distributed. It is other occasion to seek blessings from the Lord Krishna.
Have a news story, an interesting write-up or simply a suggestion? Write to us at
info@oneworldnews.in