ENTERTAINMENT
RanAlia Got Expensive Gifts from Exes, Entertainment updates You Shouldn't Miss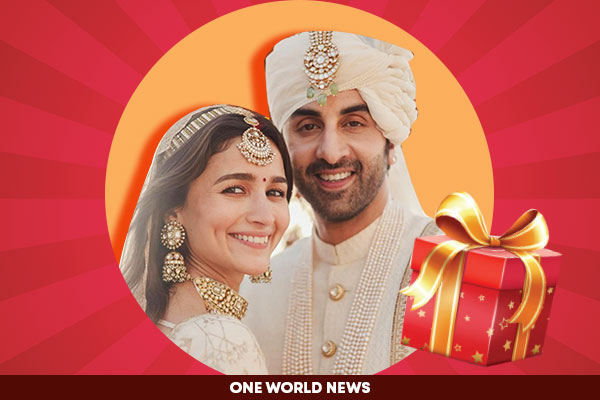 Here is the 4-entertainment updates of the week that you should not miss.
---
Highlights:
What does Alia-Ranbir get for their wedding gift?
One more Celeb wedding on-cards?
Mystery no more! Meet Malti Marie Chopra Jonas
It is a baby boy!
Where Bollywood is buzzy and busy in Shaadi, some celebrate their future superstars, aka star kids. Therefore, here is the 4-entertainment update of the week that you should not miss.
Entertainment update: What Alia-Ranbir got for their wedding gift?
Since Alia-Ranbir made their wedding official, people want to know every minute detail about the star couple. In the same line, fans are eager to know what Alia and Ranbir received as a wedding gift from their exes.
As per the reports, Alia's Jeele Zara co-star Katrina Kaif has gifted her a platinum bracelet.
Read More- Alia-Ranbir took four Pheras: What does it mean, we asked our Astrologer!
Reportedly, Deepika Padukone gifted luxurious and expensive watches from a brand she is endorsing.
Supportedly, Siddharth Malhotra had given Alia a branded bag.
Varun Dhawan has gifted Alia branded sandals.
Desi girl Priyanka Chopra has sent a diamond necklace for the bride.
However, the best gift award goes to an Animal Welfare NGO named two inseparable horses, Ranbir and Alia. To prevent animal cruelty, Ranalia did not hire a mare for baraat. The animal welfare NGO welcomed their decision, and as a tribute, they had shown this gesture.
Read More- Ranbir Kapoor gets Slammed for his Past Relationships : Past Toh Sabka Hota Hai!
Entertainment Update: One more Celeb wedding on-cards?
As per reports, India international KL Rahul is all set to tie the knot later this year. The Lucknow SuperGiants captain is in a relationship with actor Athiya Shetty. The duo has been dating each other for over three years now and had gone public with their relationship just about a year ago. Since then, Rahul and Athiya have made public appearances and worked together on an ad campaign.
According to a report in  Pinkvilla.com, the marriage is all set for a 2022 'Winter' Wedding. The entertainment website quoted unnamed sources close to the Shettys and reported that preparations for the wedding are already underway. The duo has been giving 'Couple Goals' for quite a while now. While the batsman displays his cricketing skills on the pitch, his ladylove supports, and cheers for him in the stands.
Entertainment update: Mystery no more! Meet Malti Marie Chopra Jonas
Priyanka Chopra Jonas and Nick Jonas' Daughter's Name Revealed 3 Months after the Couple Welcomed Her via Surrogacy.
The couple's little one has been identified as Malti Marie Chopra Jonas, according to her birth certificate obtained by TMZ on Wednesday, April 20.
The name 'Malti' is of Sanskrit origin and means a small fragrant flower or moonlight. Marie is from the Latin Stella Maris, which means Star of the sea. It also has a biblical name, as it is the French version of the name Mary, the mother of Jesus. The document states that Malti was born just after 8 p.m. on January 15 in San Diego, California.
Entertainment update: It is a baby boy!
Actor Kajal Aggarwal and her husband Gautam Kitchlu were blessed with a baby boy on April 19, 2022. The actor has yet to make an official announcement about the news.
Gautam and Kajal got married in an intimate ceremony during the lockdown in 2020. The actor announced her pregnancy on January 8, "I am so excited to meet my little one this year. I couldn't be happier."
Liked this post?
Register at One World News to never miss out on videos, celeb interviews, and best reads.