Kaam Ki Baat Karona
Kaam Ki Baat: How employment has become such an important issue in Bihar politics

Understanding the whole employment politics in Bihar
---
For the first time in the history of Bihar elections, employment has become an important issue in 2020 Assembly elections. People have started questioning the government over the availability of governmental and non-governmental jobs. Caste arithmetic and social upgradation has always been a dominant issue in Bihar elections, but this time employment has become the most-talked about topic for the election.
It all started When RJD's CM candidate Tejashwi Prasad announced to give 10 lakh jobs if the Mahagathbandhan (grand alliance) is voted into power. The scarcity and misery of young people in the state then helped employment become an important issue in the election. Later, the announcement of Tejashwi was followed by Congress and BJP's announcement of jobs. Below is the announcement of interested political parties.
Tejashwi's 10 lakh
Tejashwi Prasad in several rallies has said that he will sanction 10 lakh jobs in the very first cabinet meeting if he wins the election. He reduced this extraordinary number with a simple match saying that there is a provision in the budget for 4.5 lakh jobs that are vacant in the state government's various departments. Rest 5.5 lakh will be developed for the progress of Bihar in education, medicine and police services.
Sushil Modi, Deputy CM and Senior leader of BJP in Bihar reacted to the promise of 10 lakhs after it started resonating across crowds. He said that it would need around Rs 58,000 crore to accommodate 10 lakh jobs which is above the annual budget. He had said that Rs 22,270.95 crore would be required to pay 1.25 lakh doctors, 2.5 lakh para-medical staff. Rs 20,352.66 crore would be needed to pay 2.5 lakh teachers. A sum of Rs 3,604 crore will be required for the recruitment of 95,000 police officers and, Rs 6,406 crore on recruitment of peons and Rs 5,780 crores on recruitment of engineers. All of this adds to Rs 58,415 crore.
He attacked opposition and said if opposition spends this much on salary, how will they meet the requirement of student's scholarships, uniforms, cycles, mid-day meal, expenses on pensions and electricity?
Even the CM Nitish Kumar reacted to the promise of Tejashwi and asked where would he get the money for salaries, "from the same scam for which you are in prison"? To which the former deputy CM counterattacked the CM and asked where is the Rs 30,000 crore budget money, all gone in 60 scams. He said, Nitish spent Rs 500 crore to brighten his face in advertisements and now he makes this laughable comment.
Read more such articles on oneworldnews.com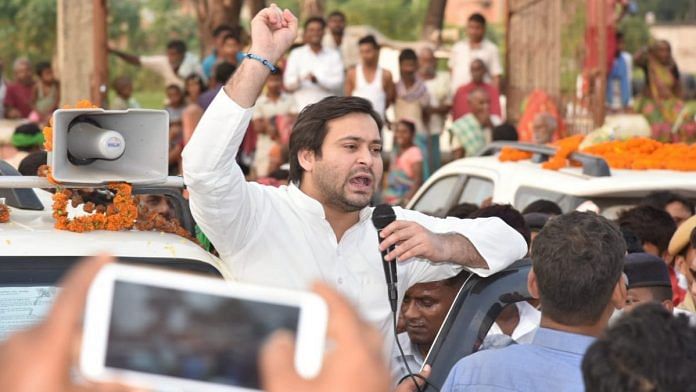 BJP's promise of 19 lakh jobs
Earlier BJP raised the questions regarding Tejashwi's promise of 10 lakh jobs, later they diluted the charge by announcing to create 19 lakh jobs in their manifesto. BJP clarified their promise by saying that the issue is not about giving jobs, rather creating them.
Dr Sanjay Jaiswal, Bihar BJP president, said only 4 lakhs of these 19 lakh jobs would be in the government sector – 1 lakh in teaching and 1 lakh in health. IT sector will contribute 1 lakh jobs and the rest would come from agriculture.
NDA has been claiming that in the tenure of 15 years, they have given 6 lakh jobs to the public of Bihar. Ravi Shankar Prasad, Union Minister claimed that the laying of optical fibre in every Bihar village has created jobs at local levels and setting up of CSC (Common Service Centres) under the IT department of the Centre. All of this has created 2.5 lakh jobs for males and females in Bihar, Said Ravi Shankar Prasad.
The Janata Dal-United, contrary to what Tejashwi claimed, said that only 1 lakh jobs are vacant (not 4.5 lakhs). Of these 1 lakh jobs, 75,000 has been advertised.
Nitish Kumar is also seen claiming during the speeches that during the 15 years of RJD's rule in Bihar, only 95 lakh jobs were created while 6 lakh jobs have been created in the 15 years of Nitish's regime. Of 15 years of RJD's 10 years were combined with Jharkhand too.
Read more: How effective Chirag Paswan strategy would be in upcoming Bihar election?
Cong's '21,000-odd'
Congress who is the third-largest party in terms of the present Assembly seats said that Nitish has put the public health service on a ventilator in the state. They claimed that there are shortages of 71 per cent nurses and 60 per cent doctors in the state. The party said that the Nitish government had submitted to the Supreme Court that only 5,634 of the 19,155 posts of nurses and 5,205 of the 12,206 posts of doctors are filled, without giving the year, in which the report was submitted.
Congress claimed that the grand alliance will fulfil these posts by bypassing Public Service Commission in a special drive. Eligible candidates can come with their educational certificates and after the interview by Director General of Health Services, they will be hired. They also promised to increase PHCs in the state along with the hiring of specialists on "special salary."
Why employment has become the biggest issue in Bihar Election?
As per the data of Periodic Labour Force Survey (PLFS) of 2018-19, the official source of employment statistics in India, the employment rate in Bihar was 10.2 per cent which is way above the national average of 5.8 per cent. In comparison to the 2017-18 data by the Employment Unemployment Surveys (EUS), the predecessor of Periodic Labour Force Survey, Bihar unemployment rate has been going down in comparison to the rest of the country. In the year, 2004-05, the unemployment rate in Bihar was just 0.8 times less than the all-India rate. This ratio has increased since then, 1.6 in 2011-12, 1.2 in 2017-18 and 1.8 in 2018-19.
Only 10 per cent jobs are salaried in Bihar
The unemployment rate does not capture the true pain in the labour market because of the quality of work. For example – If all the managers leave their job and start working as construction workers or farmer, the unemployment rate won't change. That's why it is important to look at the quality of jobs apart from the numbers. Bihar fares low than the national average of salaried jobs people. As per the data of PLFS 2018-18, 23.8 per cent of India's workers had a salaried job. This is just 10.4 per cent in Bihar. The number of salaried job employees has increased from 4.2 per cent in 2004-05 to 10.4 in 2018-19. Still, the numbers are not overwhelming at all.
Biggest outmigration for work in Bihar
Lack of quality and quantity in jobs in the state has forced many people of Bihar to migrate to other states for employment. As per the data from the 2011 census, Bihar had the highest number of migrants who moved out of state for employment or business reasons. A 2018 World Bank paper by Kyoung Yang Kim and Gaurav Nayyar found that migrant remittances in Bihar had a share of 35 per cent in the Bihar's GDP and it positively affected consumption at the household level. Lockdown must have affected the population of Bihar which was dependent on remittances of migrants. It is obvious that a poor job scenario in Bihar has become a topic of debate in the state amid the election, which is taking place, only months after lockdown.
Roushan Nilay, a Hajiipur resident said,"Yes, of course employment is a huge problem here. I myself am a migrant who is working in Noida. Had there been opportunities here, I would have been with my family. Even now I with that I get a job in Patna so that I can stay at home."
Vikas Paswan, a graduate who is looking for work for more than 4 years says, "There is hardly any opportunity here. I have been trying to get into government's job, but there have been very few recruitment announcements. Even when vacancies came, lakhs of Biharis filled the form and I was not able to get the job."
Employment cuts across class and caste lines in Bihar
Bihar politics has been driven by caste fissures for a long time. RJD banks on the support of Yadavs and Muslims, but it is not enough to win the election. By making the employment an issue in the election, Tejashwi is trying to take up an issue which resonates across castes and class boundaries, especially sections which have been a supporter of NDA in the past. The unemployment rate is not caste specific; it has grown sharply among social groups in the state in the last 10 years. Every 5th Bihari who had a graduation degree and was a part of the labour force, was unemployed in Bihar in 2018-19. Even amongst the little educated, Bihar was worse in comparison to national data.
Have a news story, an interesting write-up or simply a suggestion? Write to us at info@oneworldnews.com