ENTERTAINMENT
People Are Nuts: 8 Dumbest Things People Did On Social Media for Fame
Insanely Dumbest Things People Did On Social Media That Did Not Go Well
---
Getting fame would not be easy if Mark Zuckerberg hadn't started with Facebook and encouraged other innovators to come up with more social media platforms. With increasing social media trends, people are flooding social media with absurd and dangerous posts. In 2017, TikTok entered the social media universe and took the situation to even more detrimental levels. The platforms were alleged to encourage people, especially young adults, to follow dangerous and unlawful challenges.
Challenges such as devious licks, Helium huffing, the choking game, fire challenge, skull breaker challenge, and coronavirus challenge led to several deadly and wrongful activities. Below, we have listed the 8 dumbest things people did on social media that resulted in unintended attention.
Photoshoot next to forest fire for social media pose
In a recent incident, a Pakistani TikTok star Humaira Asghar posted a clip of herself in front of a forest fire with the caption: "Fire erupts wherever I am." This comes out amid a severe heatwave across Pakistan when the average temperature has crossed 46 degrees celsius. Humaira faced criticism for posting the video and a case has been registered against her after a complaint was filed by Ijaz ul Hassan, the deputy director of the Islamabad Capital Development Authority.
The video came just weeks after a Pakistani man was arrested in Abbottabad, for deliberately setting fire to a portion of a forest to make a TikTok video.
Baby Dolphin Died Because Tourists Wanted Selfie With Her
https://www.facebook.com/asociacionequinac.org/posts/1486027154779849
A baby dolphin was killed in Mojácar, Almeira by the tourists after they took selfies with the animal. The dolphin was a baby and believed to be separated from its mother. A conversation group Equinac said that 'hundreds of people had mobbed the dolphin and were obsessed with touching and photographing the calf.' In the picture shared on social media, a child was seen holding the dolphin and accidentally covering the orifice from which the dolphin breathes.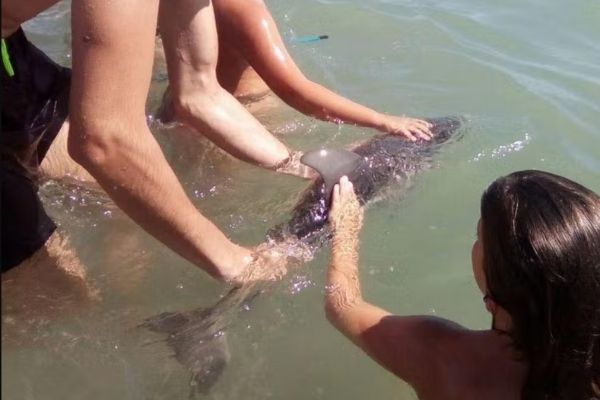 Youtuber Tied A Dog With Balloons And Flew Him
An Indian YouTuber Gaurav Sharma posted a video of him with his dog tied to helium-filled balloons and flying it from his building. However, the pet was caught and rescued by someone on the second floor. Gaurav faced backlashes on social media and deleted the video later. He was arrested after receiving a complaint against him from the animal welfare organization, People for Animals (PFA).
Delhi | YouTuber Gaurav Sharma arrested for cruelty to an animal after he posted a video on social media where he floated up a pet dog in the air by tying hydrogen balloons on its back, risking its life: DCP South Atul Thakur

(Pic-Screengrab of the video) pic.twitter.com/jYHKUjMdG3

— ANI (@ANI) May 27, 2021
Teens Drown A Stray Dog For TikTok Video
ANIMAL ABUSERS ARRESTED!

PETA India worked with Ujjain police to get the teens who abused and drowned a dog in this #TikTok video arrested:

— PETA India (@PetaIndia) May 25, 2020
Two teenagers from Ujjain, Madhya Pradesh tied a stray dog and flung it into a pond and then pelted stone at it for a TikTok video. The video went viral on social media and an FIR was registered against the teens under several sections including Sections 34 and 429 of the IPC and Section 11(1)(a) of The Prevention of Cruelty to Animals (PCA) Act, 1960.
Woman Broke Both Her Legs For A 'Deadly' Yoga Pose
A 23-year-old woman fell from the balcony of her sixth-floor apartment while posing for social media posts of her doing yoga. Though she survived the 80-foot fall, she broke both her legs and fractured her arms, hips, and her head. The doctors reconstructed her legs and said she won't be able to walk for at least three years.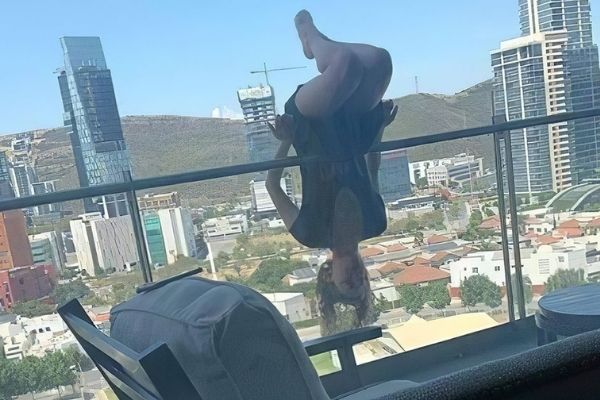 Father Hanged His Son Over The Edge Of A Cliff For the 'Perfect Photograph'
A photo from China circulated widely on social media of a man dangling his son over a steep slope in Beijing. The man posed for the photo to get a 'perfect snap of their trip.' After the photo went viral on social media, the father received anger and criticism for his idiotic act.
One social media user wrote: 'He doesn't deserve to be a father! I feel so sorry for the child to have parents like this.'
Youtuber Arrested For Hurting Religious Sentiments
Gaurav Sharma, who earlier flew a dog from his building, made another objectionable video for his Youtube channel of him shooting inside Nidhivan Raj Temple. The temple is a holy place for Hindus and no one is allowed inside the temple after the sunset as it is believed that Lord Krishna plays Ras-Lila there at the night. The Youtuber was later arrested after a case under section 295A of the IPC and section 66 of the IT Act was registered against him.
Woman Used Gorilla Glue On Her Hair And Ended Up In The Hospital
A woman named Tessica Brown posted a video sharing her ordeal of spraying 'Gorilla Glue' on her hair. She claimed that her hair had been stuck in the same style for a month even after washing them 15 times. Finally, she ended up in the hospital and went through surgery.
Liked this post?
Register at One World News to never miss out on videos, celeb interviews, and best reads.