JOYOUS NEWS
Do you know shape of your sunglasses can reveal a lot of your personality?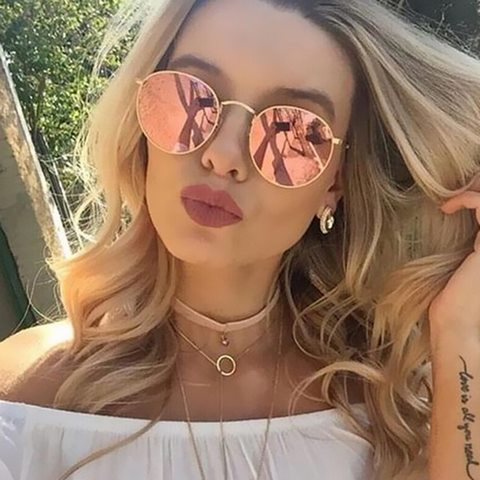 Your sunglasses can reveal some interesting facts about your personality, take a look here!
---
A stunning pair of shades can amplify your look instantly. So ladies be assured that your favorite pair does stand for who you are. You will be wearing shades pretty constantly throughout these summer months, right? Wearing glasses and shades is the new trend. Now times has really changed, even to the extent that we have heard so many people who buy frames without getting a prescription on the lenses. Eyeglass come in a variety of different style and the style that you choose may do more than just complement your face shapes, it may provide insight in regards to your personality too.
Shape
When you chose a pair of glasses. You have a large number of shapes to choose from. Frame of your sunglasses can reveal a lot about your personality. Take look here:
Round frames:
People who wear round frame are often creative and gentle. They stay calm under pressure and care about other people. Round frame suggests peace and an affinity for the romantic things in life.
Wayfarer frames have made a huge come back in recent years. They have lost their dull vibe of years past and become popular with people who care about comfortable in their own skin and who don't care much about what's happening with others.
Big bold sunglasses are suited to big bold personalities. Who choose big bold sunglasses are fashion conscious and courageous. If you are very confident and love to have fun you can try this one
Cat Eye Frame:
Cat eye frame used to be associated mostly with cat ladies, but modern times they are courageous and sophisticated statement. They are usually worn by women who know what they want in life and have a plane for getting it.
Rectangle frames are often chose by those who are quite and intelligent. Rectangle frames are stylish but don't make a strong statement, which make them perfect for those who are not looking to stand out in a crowd. People who wear rectangle frames are content and collected.
Color:
Brightly color glasses are for bold statement. They suggest confidence as well as willingness to have fun. Yellow glasses are fun and blue glasses are cool. Black is a powerful color depending on style of frame.