Kaam Ki Baat
DIGEX Photography Festival 2021 at DPS RK Puram
Participation of over 900 students from close to 200 schools across the nation
---
Delhi Public School R.K. Puram hosted the most awaited annual event, Digex 2021. The digital excellence society or DIGEX served as a medium of self-expression for aspiring photographers. Students from 200 schools across the nation, participated to showcase and compete for their talent in fields such as filmmaking, photo manipulation, photography, and more. Garnering participation of over 900 students the annual Digex fest was hosted virtually due to the restrictions by the corona pandemic.
The event and the members of the club received unwavering and constant support from the Principal, Ms Padma Srinivasan. She wished the participants luck and through her words, encouraged hard work and creativity. This year's event consisted of 7 different categories- Pixelate Junior, Pixelate Senior, Rendered, Surprise, CreADive, Camistic, and Hi-Res.
Pixelate junior- Piexalte junior is an online photography contest that encourages budding photographers. This contest was held for classes IX and X. the participants were expected to be original and give their best while learning more about photography. The entry topic was 'speed', Judged by Mr Virendra Adhikari, a Renowned photographer. This category received large participation of students.
Pixelate Senior- This was an online photography contest mainly for classes XI and XII. This year's topic was 'Distortion'.
This category provides a platform for students to showcase their creativity and skills through their submissions. This category was judged by Mr Vineet Vohra, one of India's top photographers. Mr Vohra is a role model and inspiration for all participants.
Rendered- Rendered is a photo-manipulation category where students make creative art from scratch on a given topic. Rendered is a new addition to the Digex event. The topic was 'Past//Future'. The competitors had to incorporate elements from the future and the past into their entry.
This category was judged by Divyaanshi Chauhan, a former member of the club.
SURPRISE- The surprise category of the event is perhaps the most captivating of them all. Participants do not know what their entry will be, until the time for submission begins. The possibilities can range from components of filmmaking to photography, and more!
This year, students had to submit their entries on 'Light Painting'. t is a type of photography. This category was judged by Veronica Mathur, former president of the Digex Society.
CreADive- CreADive is the On-spot online Advertisement making competition. Students from classes IX-XII can take part to create an endearing visual sequence of 30-40 seconds.
The contest was judged by Vaidurya Nath, the club's alumni. Students had to create an advertisement on the topic 'sugar'.
Camistic- Camistic was the biggest category this year. It is an online 'story-board event with over 200 students taking part in it. Camistic is an extremely interesting category. Here participants have to click around 3-4 pictures in a specific sequence so that they depict a story. Judged by Rahul Bouri, a former member, the topic was 'rewind'.
Hi-RES- Hi-RES is the online short-film-making contest where participants have to create a cinematic masterpiece. They have to formulate a team of 4 students to make in 4-6 minutes film. It is the only category that was not held on the spot. The films were judged by Abhijay Bhandari, an alumnus of the club. All entries were on the topic 'Reversed Roles'.
Preceding the announcement of the results, Ms Padma Shrinivasan, The Principal shared her words with the audience.
The Valedictory then had two astounding performances from the institution's Expressions Theatre Club in collaboration with members of the Digex Society and the Western Dance Society.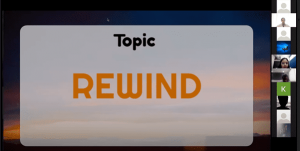 Read More: Fake News Those Were Worth Not Reading
The results of the event are as follows-
Category

School

Participant (s)

Position

Pixelate Senior

Sadhu Vaswani International School for Girls

Nancy Rao

First Position

Heritage Xperiential Learning School

 Ashir Singh

Second Position

ST MARTIN DIOCESEAN SCHOOL

Rabnoor Kapoor

Third Position

Pixelate Junior

Springdales School Pusa Road

Tanisha Singh

First Position

Bharatiya Vidya Bhavan Vidyashram

Samriddhi Gupta

Second Position

Banyan Tree School Lodhi Road

Arohi Sharma

Third Position

Hi-RES

Modern School Barakhamba Road

Ayaan Mehra Hemanya Suri Shruti Singh Ishaan Singh

First Position

Amity International School Saket

Kaveri Arun Sarguni Kaur Khurana Fida Chowdhury Niharika Gopishankar

Second Position

BYB VIDYASHRAM K.M MUNSHI MARG, JAIPUR

Janvi Bhatia Riyanshi Natani Vanishka Agarwal Kanishk Pradhan

Third Position

Camistic

GD GOENKA PUBLIC SCHOOL, VASANT KUNJ

Aishi Aggarwal Parakh Arora Samia Singh Simran Kaur

First Position

Springdales School, Pusa Road

Sonakshi Jain Shrihan Sethi Surabhi Duggal Ishika Trehan

Second Position

Delhi Public School Nerul

Swara Ashok Tanmoy Chakravorty Gauri Patil Soham Halde

Third Position

CreADive

Montfort School

Yashvi Sachdeva

Harjas Kaur

First Position

Summer Fields School

Arul Sharma Deeksha Saini

Second Position

Apeejay School

Hardik

 Pavitr Aggarwal

Third Position

Rendered

Jayshree Periwal International School

Priyanshi Garg

First Position

Air Force Bal Bharti School

Shreyansh Jain

Second Position

Modern School Barakhamba

Raghav Jindal

Third Position

Surprise

The Indian School

Ekveer Sahoo

First Position

Delhi Public School, Vasant Kunj

Rijul Tandon Sanya Sharma

Second Position

Jayshree Periwal International School, Jaipur

Shivansh Goyal Divya Agrawal

Third  Position
Thanks & regards
For further information please contact:
 
ALLIANCES PR 
Poonam Kumar: 7048930696
Liked this post?
Register at One World News to never miss out on videos, celeb interviews, and best reads.