Unfiltered
8 images that truly depict the difference between boss and leader
Are bosses exploiting employees during the lockdown?
---
Most people have bad experiences when it comes to their bosses. A data published on DDI, a global leadership consulting firm says that 57 per cent of the employees leave their job because of their managers (Boss). 14 per cent left multiple jobs because of their boss while 32 per cent seriously considered leaving the job because of the manager. Clearly, the majority of people do not leave organizations, they leave their bosses. It's not the work challenge which compels them to change, but the behaviour of the boss does.
Employees complained about exploitation during the lockdown
Even during the lockdown, we have been told by some of the employees that they are being exploited by their bosses during the new normal work from home due to coronavirus lockdown. People are incurring their manager's tantrums only because there is job insecurity in the market due to the economic slowdown and lack of jobs currently.
Read more: Starting from scratch to earning in cores, here are 4 success stories of Indian women entrepreneurs
An anonymous employee who works in a small firm told us that his manager is taking the wrong advantage of lockdown as he is being asked to work a lot more from home than he used to work while he was going to the office. "My boss sends me work even in the late night and asks me to do it. I couldn't say no even though I am busy spending time with my family or doing some personal work because I fear that the boss can fire me. The boss tells me that you are working from home, you should work 12- 15 hours a day, after all, you are at home." He also said that he couldn't leave his job as he was the only one bringing money into the family. His dad had run out of business because of the lockdown."
We were totally disgusted by the situation this guy is witnessing. We thought of reminding these bosses and managers that a company will be more productive when employees are happy. When a boss understands the challenges of his/her worker, motivates the worker then the company is more likely to be happy with productivity. When an employee is not happy, he/she won't be able to give his 100 per cent which is ultimately the loss of the boss and the company.
Who is a true leader?
A true leader is that person who keeps the interests of its company ahead of its personal agenda and goals. A true leader never lets its follower fall down, he/she always walks up to its junior and keeps them together in the race of becoming better and better day by day. A true leader always understands the challenges of its employees and helps them to overcome them. The true leader will never say I. He/she will always say –WE, meaning the credit will be given to everyone in the team. Also, the true leader will never see injustice happening to its employees. It's very important to appreciate the efforts of workers, be it an assistant or a senior manager and that should be the job of a leader.
To remind these bosses the true meaning of boss and make them understand the difference between a boss and a leader, we have brought 8 amazing images created by yukbisnis.com which truly depicts the difference between a boss and a leader.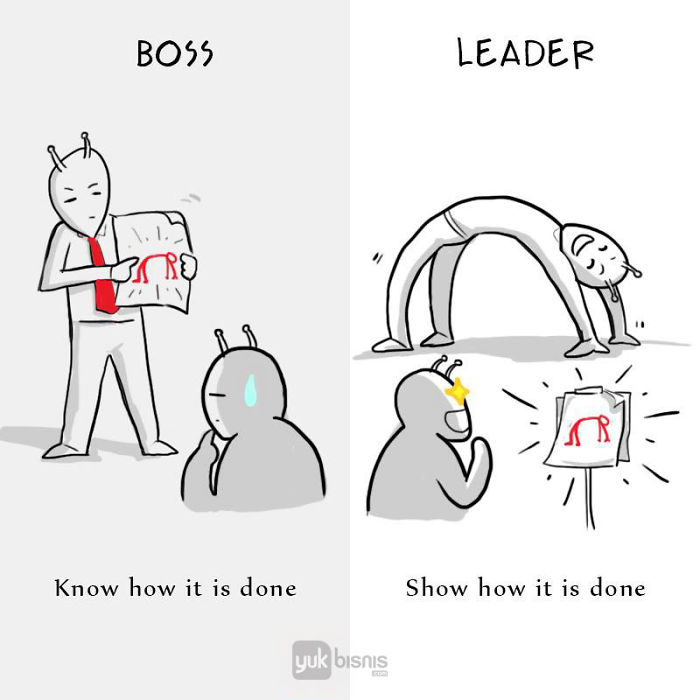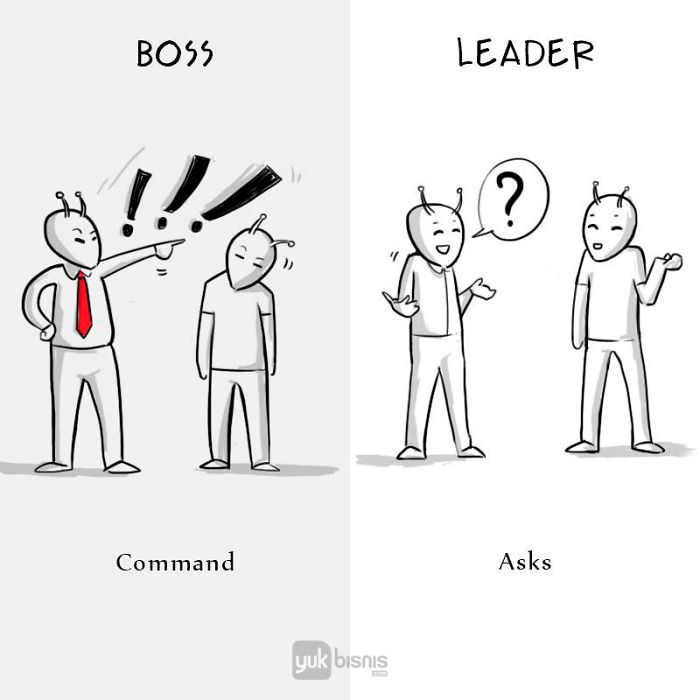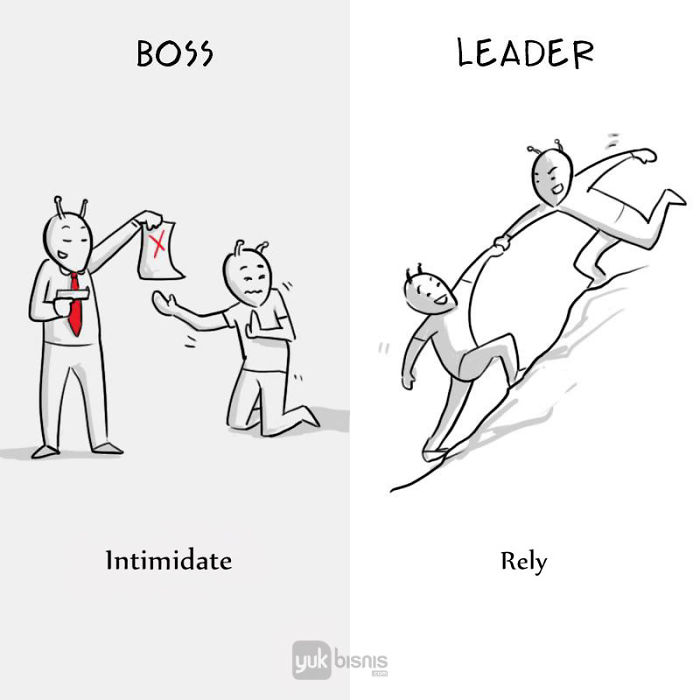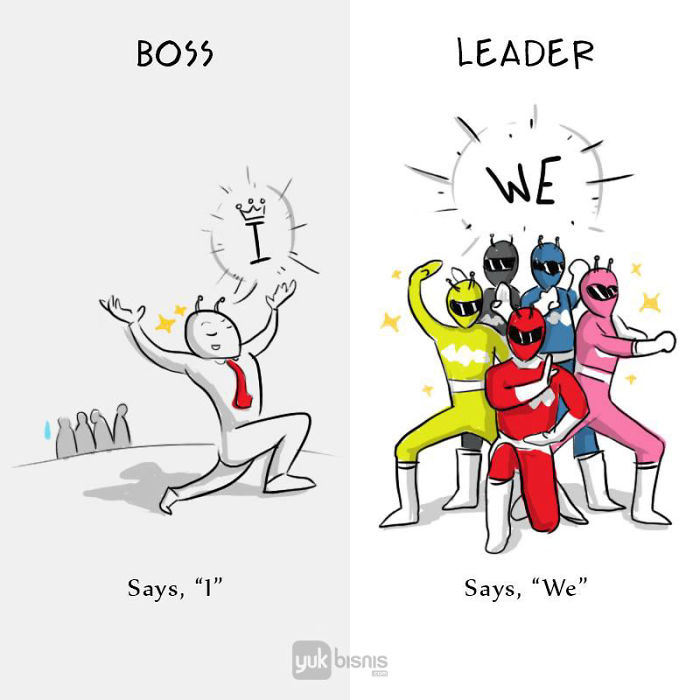 Image Credit: yukbisnis.com
We urge all the managers, bosses and the leaders to be little kind towards their juniors at the time of the pandemic. As this pandemic has brought problems in everyone's life not just in their lives.
Have a news story, an interesting write-up or simply a suggestion? Write to us at info@oneworldnews.com