ENTERTAINMENT
Dhakkad Review : Watch or not to Watch, Twitter is here to help.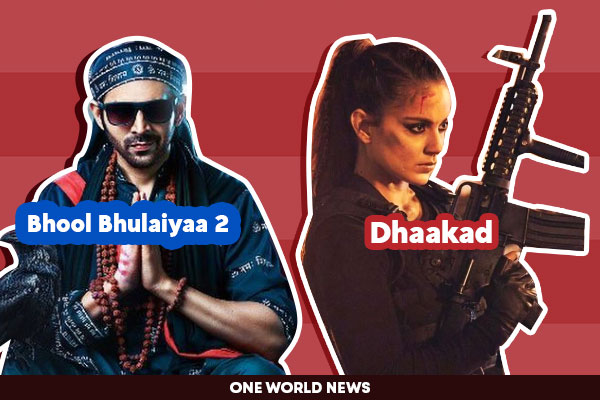 Dhakkad Review: Kangana's Dhakkad clashed with Bhool Bhulaiya 2; netizens ask Konsi Dekhe?
---
Dhakkad Review & Twitter Reaction: Kangana Ranaut's newly released is tussling with Kartik Aryan's Bhool Bhulaiya 2. As both the films are released on exact dates, everybody wants to invest their time and money in a good one.
However, both the movies are from completely different genres. Bhool Bhulaiya 2 is a horror-comedy, whereas Dhakkad is filled with action.
Plot
Dhakkad revolves around Agni, played by Kangana, a highly trained field agent. She is entrusted with a mission to gain intel. She has to eliminate Rudraveer, played by Arjun Rampal, in the process. Rudraveer was on the radar of intelligence agencies for a long time. He is recognized as an arms trafficker.
Reviews by Twitteratis
The trailer of the movie suggested some top-notch action by the female lead. Therefore, Twitterathis also shared their Dhakkad reviews.
A user wrote on Twitter that an excellent action movie is worthy of an even bigger sequel. Kangana Ranaut is FLAWLESS, and Arjun Rampal looks deadly. Script, camerawork, execution; everything is top-notch. But what wins you over is the Hollywood-like screenplay & action sequences. MUST WATCH 4/5
MissMalini also comes up with their review. They wrote, "Dhaakad Review: Kangana Ranaut shines again in this fast-paced action flick. She's played the role of an assassin to the T! Every scene is tailor-made for her, and she delivers and how! This one is yet another addition to her kitty.
Rohit Jaiswal, a celebrated film critic, gave his Dhakkad review. Review – "Dhaakad Rating – 4*/5 Dhaakad is a Solid Spy action film studded with some extraordinary performances by Kangana Ranaut & Arjun Rampal, Raw, fast-paced. In a no-nonsense film, the action begins right away from scene 1…. MUST WATCH…. Dhaakad Review Agni Agayi."
Read More- Bhool Bhulaiyaa 2 Review:  Packed with humour& horror, Kartik -Tabu starrer is complete Entertainer! 
Another Twitter user wrote," Just watched Dhaakad OUTSTANDING!! Kangana Ranaut steals the show with her fantabulous flawless work Arjun Rampal and Divya Dutta are Excellent as villains. Must watch with Friends and Family. 4.5/5″
RJ Vedangee, a Twitter user, shared her review and her suggestion. She wrote," Watched Dhaakad & must say I absolutely loved how Kangana Ranaut did the actions scenes! If only @RazyGhai could have cut down on repetitive so jare lori time & again, it would have been a better watch! Divya Dutta, Arjun Rampal were killer too! 3/5 for sure Dhaakad Review"
However, some people are comparing the actions sequences and screen play to Hollywood. They believe that Kangana is our desi Black Widow. Any if B-won is betting on the Bollywood version of it, Kangana will be a perfect choice for it.
Directed by Razneesh Ghai, 'Dhaakad' is presented by Soham Rockstar Entertainment Pvt Ltd in association with Kamal Mukut, Sohel Maklai Productions, and Asylum Films.
It features Kangana Ranaut as Agent Agni in the lead role with Divya Dutta, Saswata Chatterjee, and Arjun Rampal in supporting roles.
Toh kya hai apka Friday ka Plan, Kangana ka Dhakkad action ya Kartik ki Bhool Bhulaiya?
Liked this post?
Register at One World News to never miss out on videos, celeb interviews, and best reads.