Lifestyle
Best practices for dating as a single parent in 2023
Society needs to understand that there should be no taboo for single parents with dating and love life
---
Breaking up is so hard that we blah blah blah blah. Ok, fine we get it. But are you going to cry for the rest of your life thinking about why you broke up? Life's already hard and you have a child to raise so keep it simple.
You broke up for good because things didn't work out the way you wanted, either because of your partner or because it was you. You can cry over it or accept the fact and move on which is what you should actually do.
So, let's get to the good thing because deep down you know that things will be ok eventually when you'll get out and date again.
But make sure that you are completely READY for this because as a single parent, no matter how exciting dating sounds, it will be completely different this time just because you're good to go, doesn't mean your kids are and as a matter a fact, you have to discuss this with your kids before you start seeing someone to know how you kids actually feel about you meeting someone.
So, you need your kid's blessing first to know the right time for dating.
WHAT QUACKQUACK FOUND ..
SOCIETAL STIGMAS KIDS' REPUTATION ON THE LINE
A recent survey of single parents aged between 28 and 38 years conducted by dating app QuackQuack revealed that 57% of single parents feel they don't have the time to think of dating someone let alone go and meet them in person as they are too swamped with their work and raising kids.
| | |
| --- | --- |
| Single moms confessed to liking someone but never acted on it thinking kids might not be happy. | 41% |
| Single moms never went on a date due to societal stigmas worrying about it might affect their kids' reputations negatively in their schools and colleges. | 38% |
| Single parents admitted that they had been in relationships that finally ended as it affected their kids' mental health, one of the many reasons why they don't want to date again. | 23% |
| Single parents revealed that they have been on dates, and some are in successful long-term relationships. | 39% |
Jaipur-based Divination Practitioner and energy healer Vibha Sharma says if children are exposed to parental dating before even, they're completely ready … this can complicate multiple things including their grief, and delay their ability to feel the healing and actual acceptance of their parent's separation. She shares some thoughts on how dating as a single parent would a big deal.
BE OK WITH IT IF YOU ARE NOT HER FIRST PRIORITY
It will be hard, in the beginning, to understand why you are not her first priority and there will be multiple times that she'll cancel plans or be unavailable for a last-minute rendezvous. Don't take it personally and you won't if you actually love and care for her. You have to understand that she would love nothing more than a romantic evening but if her babysitter canceled on her then she is not at fault. Because the fact is her kids are her first priority.  Also, she already has kids so don't make her look after you, too because there is a lot of pressure from different sources. Make sure not to add additional stress in their life and in fact, try and decrease the workload.
SHOW COMPASSION
Well, you have to understand that single moms are not all divorced women. Today, some women choose to be single mothers by choice even if they don't want a partner, while others might be divorced, widows, or may have left an abusive partnership.
We know dating is not easy re-entering into the world of dating can be a very overwhelming and intimidating experience and things like complicated ex-relationships, past trauma, and body image issues require a lot of your patience and understanding. So, keeping that in mind, most single mothers are looking for a partner who is sensitive to their needs and feelings and can meet them with compassion.
OFFER EMOTIONAL SUPPORT
At this phase, she will be needing more emotional support rather than physical. Everyone is capable of providing physical support and satisfaction but not everyone is capable of offering emotional support.  Offering such kind of help and care will allow her to feel closer to you and more willing to confide in you.
BE HONEST
It is not a new thing as every relationship requires honesty and, in this case, we are talking about dating a single parent which is a huge responsibility. Make sure you're ready for this and tell this to your date on the first day if don't want to mess everything up. The majority of single parents are looking for support, and a partner on their date, not just hook-ups and to get laid. So, don't start if you're ready.
YOU MAY HEAR ABOUT THEIR EX… A LOT
There are chances that the person you're dating has a healthy co-parenting relationship with the father or mother of their children, much like her kids, and they might be a regular topic of conversation. It is obvious because they are part of the children's lives and you may not always hear about them negatively, so be patient and see where 'your' relationship is heading ask them if they really want to do this. Things won't work out if they are emotionally attached to their ex-partners.
DON'T INTERFERE IN PARENTING
Perhaps one of the most important rules of dating a single parent. Unless they are specifically asking you for your advice, or to take an active role, don't even think about parenting their kids. You can discuss with them in private if you have concerns while making it clear that you trust their judgment and authority, and respect their boundaries.
EMBRACE ONLINE DATING BUT DON'T FALL FOR IT
Believe it or but it is a good screening tool. At least first talk to the person you want to date before meeting with him in person.  There are chances you may get good or bad feelings when you speak to the person over the phone and then you can decide as your gut can tell you if something is off, so you have to just listen.
Since single parents are often time-poor, making it hard to spend evenings on dates. So, instead of trying to meet people in person, use online dating from the comfort of your own home, while bouncing a child on your knee.
"Meeting in person is not a bad thing but what is more surprising is that even though when people clarify in their profiles that they are single parents and looking for serious relationships, a lot of men on these sites still approach them for causal relationships perhaps because these individuals cannot see single parents as someone worth committing to a long-term relationship. Also, many men think that single mothers are only good for casual fun without any attachments.  For men, being a divorcee is not seen as a huge issue, but having a child diminishes the "value" of women", Sharma said.
MAKE SURE THE TIME IS RIGHT
What I am trying to tell you here is that time is everything and the right time will never come for dating especially when you have kids to raise but at least, the time shouldn't be bad. We know it's always hard to carve out the time and mental space for dating, but thinking it through might help you get clarity. Remember, it's essential to figure out where dating falls on your priority list and when you will be determined how important dating is to you, your decisions about dating will be crystal clear. Get a clear picture of things like what you don't have time for and that you're not looking for a baby daddy.
MAKE SURE YOUR KIDS MEET YOUR POTENTIAL PARTNER ONLY
At this phase of your life, there is a good chance that you may be vulnerable and may bring the first person you date to your home without thinking it through. It is human nature we fall in love quickly because we crave love without thinking about what is actually best for us and take decisions impulsively and let our guard down.
You don't have to introduce your kids to every partner because by doing this, you may create confusion for your little ones. Remember that your kids will start bonding so be prepared for that because if things didn't work out between you two then it will be another problem.
UNDERSTAND THAT DATING A WOMAN WITH KIDS IS ALWAYS DIFFERENT THAN DATING A PERSON WITHOUT CHILDREN
SOME BENEFITS OF DATING AS A SINGLE MOM
The majority of single mothers are most likely mature women.
A single mother is said to be low maintenance
The majority of single mothers are looking for serious relationships
Single mothers know what they want.
The majority of single mothers have no time for dating drama
The majority of single mothers can show love and affection and are nurturers and the care they show their kids will extend to you.
If single mothers can handle childbirth and raising a child, then they are apt at dealing with conflict or interpersonal relationships.
The majority of single mothers are patients.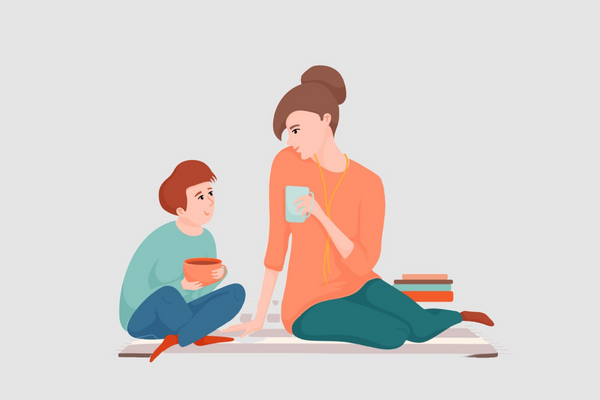 DATING A SINGLE MOTHER CAN ALSO COME WITH MANY DISADVANTAGES TOO
Some single mothers may get dependent on you sooner or later, eventually.
Some may have trust issues due to the failure of past relationships.
The majority of single mothers will prioritize their kids first.
You have to maintain a very good relationship with her kids too.
Scheduling a date night with a single mother could be difficult and can lead nowhere so you have to be very patient.
You may have to deal with her ex being around her kids.
You may or may not be her top priority.
Liked this post?
Register at One World News to never miss out on videos, celeb interviews, and best reads.