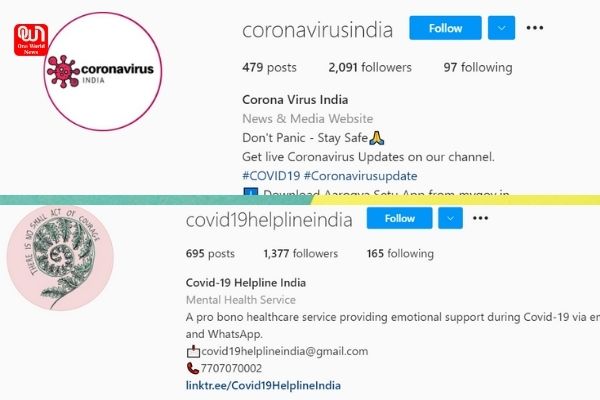 COVID-19 is at its worst in India but these 7 Instagram pages are helping to make things a little better.
---
COVID-19 pandemic has been a testament to the fact that in crisis the world can come together and help each other. Numerous stories of neighbors helping each other, patients helping health workers, and people coming across random acts of kindness have popped all over the world. Social media has been a wonderful tool to spread information and help. Here are 7 Instagram accounts that have been helping the world and India.
Corona Virus India (@coronavirusindia)
This Instagram page gives the latest updates about coronavirus from all over the world and India specifically. The page also fact checks fake messages and posts. Apart from giving regular updates the page also from time to time gives resources and guidelines that are well informed and recommend by experts.
COVID-19 Prevention Network (@preventcovid19)
This is the official account of the COVID-19 Prevention Network – Formed by NIAID/NIH to respond to the global pandemic. This may be an American page but its focus on breaking the myth around treatments and vaccines and encourages people to go get the vaccine. It also answers certain questions around the virus and its vaccine that people may have.
Covid Aid Resources (@covidaidresources)
It is a wonderful page that is doing a great job. It is exactly what it claims to be. A COVID resource. Anyone from anywhere in the country can comment or dm their requirements. The requirements can be COVID-19 medicines, plasma, or oxygen. These requests are posted with the city and widely shared so that anyone who can help will do. Similarly, people who want to help can contact and posts will be created accordingly.
Covid-19 Helpline India (@covid19helplineindia)
This page is a pro bono healthcare service providing emotional support during Covid-19 via email and WhatsApp. Mental health issues have been popping up everywhere. This is obvious as we are social animals and when we suddenly stop socializing or completely change the way we socialize in a matter of months, our minds may not understand and absorb the change. People social-distanced and especially isolating feel alone and distant. It is a grave time and this page helps you tackle these issues all for free.
Read More: We Can't Lose it to COVID Anxiety! How to Deal with COVID Anxiety?
Hemkunt Foundation (@hemkunt_foundation)
Hemkunt Foundation is a nonprofit organization that has been operating for more than 10 years now. The organization has come forward and helped in these desperate times. They have been providing free beds, food, oxygen cylinders, and everything else they can. The organization has been at the forefront of the pandemic making the lives of people a little easier every day. They also have been providing education for homeless children. The organization believes in 'Sarbat da Bhalla: Welfare for all'.
Plasma Donors Delhi (plasmadonors.delhi)
This page helps bring donators of plasma and people who need it together. Nut apart from that, this page helps spread information about hospital bed availability, and requirements, and eligibility criteria for plasma donors. The page tries to help the community in any way it can. Although information about beds or oxygen cylinders is Delhi-specific, anyone from the country can send in requests for donating or receiving plasma of recovered patients.
Dhoondh.com (dhoondh)
Dhoondh is similar to Plasma Donors Delhi as it helps connect COVID patients to plasma donors across India. But apart from that, the page tries to clear up myths around the virus and the vaccine. It also helps to spread more awareness about plasma donation and how that is a simple and risk-free way to help others in need. From time to time the page also posts tips to boost the immune system and tackle the virus.
Have a news story, an interesting write-up or simply a suggestion? Write to us at info@oneworldnews.com