Hot Topics
10 heart breaking images of COVID 19 from all across the globe: You better take it seriously!
If these images don't bring tears in your eyes, you better visit your conscience-doctor
---
COVID-19 continues to bring the countries down on their knees one after another. USA, Spain, Itlay, Iran, France, UK, China, Belgium, Netherlands and many more are worst-hit by the deadly outbreak. Here are 10 heart-breaking images from around the world that capture the brooding reality of the lockdown.
1.
Source: The Wire Marathi
After the lockdown was announced in India, it led to a mass migration of many daily wage workers. One of the sons of those migrants sleeps on the road while they are resting.
2.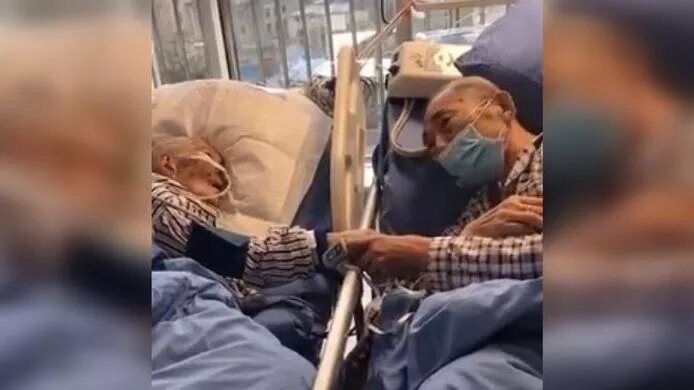 Source: India Today
Elderly couple diagnosed with coronavirus say goodbye to each other lying on the hospital bed and holding each other's hand.
3.
https://twitter.com/Doranimated/status/1243264320110235649
This outbreak is even taking a toll on mental health of doctors. Imagine yourself in their place. Visiting many coronavirus positive people every day, helping them in hospital and after coming home, having fear of infecting your family members.
4.
Source: Twitter
Husband and wife fighting with the deadly virus on frontline together.
5.
Source: Alyssa
A health worker couldn't stop himself seeing his one-year-kid while he was on a break.
6.
Source: mirror.co.uk
It is heart-breaking to see England's youngest coronavirus victim, just 13 years of age, getting buried without the presence of his mother and siblings as they were put in isolation.
7.
Two pictures speak a two thousand words !
Salute to #CoronaWarriors of Indore ! @News18India @CNNnews18 @narendramodi @PMOIndia pic.twitter.com/eUE5FC8IiF

— Manoj Sharma (@ManojSharmaBpl) April 5, 2020
Like the caption in the post says: Two pictures speak a thousand words.
8.
Source: nzherald
How excited you get when you are near your grandparents or how overwhelming they are when they are around you? But this grandmother couldn't touch her new-born grandkid.  She could at least see her though glass, you can see a sigh of relief and love on her face.
9.
The face of a nurse gets marks after wearing a mask for a longer time
10.
Source: The Atlantic
Empty is the new normal!
Have a news story, an interesting write-up or simply a suggestion? Write to us at info@oneworldnews.com