Special Features
Children demand climate action from Vice President, Smriti Irani and other MPs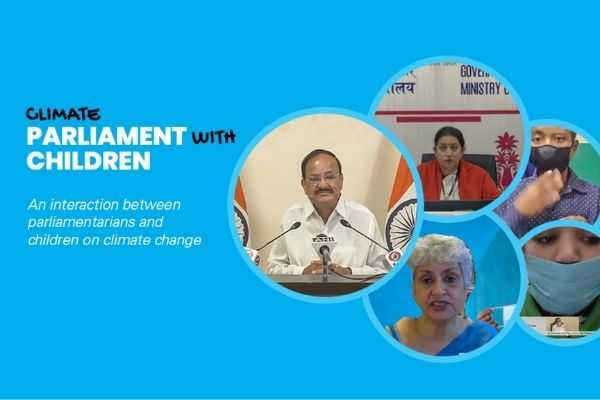 Children Presented eight-point Charter of Demands to the Parliamentarians
---
UNICEF in partnership with the Parliamentarians' Group for Children (PGC) organized a Climate Parliament with Children, in the presence of Hon'ble Vice President Shri M Venkaiah Naidu, Minister, Women and Child Development, Smt. Smriti Irani and 30 Members of Parliament. The climate parliament was held to observe 31 years of the adoption of the Convention on the Rights of the Child (CRC) on November 20, that defined the rights of all children everywhere. 150 children representing children's groups discussed the impact of climate change with the parliamentarians and presented an eight-point Charter of Demands on climate action. Around 7000 children were involved in the process which was supported by Civil Society Organization networks across the country.
Delivering the keynote address, the Vice President Shri Venkaiah Naidu said, "India and the world finds itself at a pivotal juncture – our children are at tremendous risk due to climate change and as policymakers, leaders, upstanding members of the society, parents and grandparents, it is only us, who can come to their rescue. We cannot let apathy jeopardize our children's future."  While looking forward to hearing the perspective of children on these challenges, he said, "Child rights should be interwoven into key national climate change strategies, policies and planning documents. It is our response to climate change that needs to include a child centric approach that can be done through such platforms."
Speaking at the Children's Climate Parliament, Minister, Women and Child Development Smt. Smriti Irani said, "It is wonderful to see such informed representation from children coming together with us to discuss the impact of climate change and working to dedicate ourselves to create an environmentally conscious future." Outlining the efforts of the government, she said, "We pledge to our children that we in our actions are committed to being environmentally responsible and prudent in resource actualization."
Manish Ram, the moderator of the session said, "Though we cannot yet vote, as children we have a voice and want it to be heard. Climate change and disasters impact children, young people and future generations the most as our families, studies, health, work opportunities are affected.  This can have a detrimental impact on entire generations and the country as well.  This Charter of Demands on climate change of, for, and by the children and youth of India and we present it to our peers and adults to prioritize a sustainable environment for all children, now and in the future. As children and young people, we also take the responsibility of actions to be environmentally aware and practice sustainable behaviours."
Vandana Chavan Convenor PGC said, "Child rights should be explicitly integrated into key national climate change and adaptation strategies, policies and planning documents. By including children and young as protagonists of climate policies, we can devise solutions that will be implemented in the years and decades to come. This ownership is essential in transforming such practices into behavioural and social norms."
Dr Yasmin Ali Haque, UNICEF India Representative said, "Millions of children around India are facing difficult times. Today we want to bring into focus the urgency for the pandemic recovery to be child-centric, green and sustainable. Children are among the major stakeholders in the debate on climate change. It is important for them to be a part of the solution to one of the greatest challenges faced by humanity today."
The eight-point Charter of Demands for Climate Action (attached) highlights the need for:  Greener Public Transportation Options; banning single-use plastics; a clean environment; prioritizing afforestation; research  linking climate change and public health; creating greater awareness in schools and communities; stronger enforcement of environmental regulations by local government bodies; bridging the digital divide and building a climate movement
The current pandemic has demonstrated how quickly global risks can multiply and spread, and why resilience and timely actions are important in protecting the world from major threats that the climate change pose. Young people across the world are speaking up about climate risks and the action that governments across the world need to take.
Well-known celebrities expressed solidarity with children and their rights for World Children's Day.
UNICEF Global Goodwill Ambassador, Amitabh Bachchan said, "This World Children's Day join me to reimagine a world where every child survives and thrives, is healthy and immunized. I am proud to be UNICEF's Goodwill Ambassador and a part of this great effort for every child."
Sachin Tendulkar, Regional Ambassador, UNICEF South Asia in conversation with two adolescents from India and Afghanistan said, "The future belongs to children and they play an extremely critical role in protecting the planet. It's not just about having awareness but also how one is able to act on it and today's generation wants to create an impact. The future belongs to you and you will make it happen." https://fb.watch/1TlZPVWwNP/
Ayushmann Khurrana, UNICEF Celebrity Advocate through his video message asked everyone, especially men and boys to end violence against all children. He also urged viewers to support UNICEF in its efforts to end violence. https://fb.watch/1Tm0Yti8s6/
Kareena Kapoor Khan, UNICEF Celebrity Advocate expressed her solidarity with children and the learning crisis brought upon by the Coronavirus pandemic, through her message, "As UNICEF's celebrity advocate, education and making sure that every child has the opportunity to learn is close to my heart. You can contribute too, by supporting UNICEF through your voice, time or money. Join me, to make a difference for every child!" https://fb.watch/1TlXDjUBc8/
Aashna Shroff, Diipa Büller-Khosla and many other digital influencers also lent their social media channels for a kid's takeover to highlight issues faced by children in these times.
Corporates organizations such as SAP and Hindustan Unilever along with the Centre for Responsible Business, FICCI, Global Compact, Impact4Nutrition, MapmyIndia and International Chamber of Commerce supported the focus on children's rights through their platforms. LIXIL extended its partnership with UNICEF India across 6 states to install SATO sanitation products for vulnerable communities.
World Children's Day ended with songs on protecting the environment sung by popular artists, Benny Dayal, Salim-Sulaiman, I.P. Singh, Hariharan, Jonita Gandhi, Khatija Rahman, Shefali Alvares, Anjana Padmanabhan (Indian Idol Junior- Season 1), Alline Vegas, Prajoth D'Sa, Lonnie Park (Grammy Nominee), Armand Hutton (Grammy Nominee), Mariachi Divas De Cindy Shea (2X Grammy Winner), with Ricky Kej (Grammy Winner & Concert Presenter). The virtual concert, 'Reimagine, Be Kind and the SDGs' was live streamed via UNICEF/UN India digital channels and broadcast by several leading media platforms.
Monuments across the country – the Rashtrapati Bhavan (Presidential Palace), Prime Minister's Office (North and South Block), the Parliament House and Qutub Minar, the Legislative Assembly, Raj Bhawan (Governor's House), the Foreign Correspondents' Club in New Delhi, 75 tourism spots in Madhya Pradesh including tribal villages in Jhabua and Dhar, the Clock Tower in Raipur, Chhattisgarh, Khanqah Munemia Qamaria, a prominent Sufi site in Patna, Bihar, Gandhi Mandapin Guwahati, the Chhatrapati Shivaji Terminus, a historic terminal train station and UNESCO World Heritage Site in Mumbai were lit up in blue in solidarity for child rights. 
Have a news story, an interesting write-up or simply a suggestion? Write to us at info@oneworldnews.com