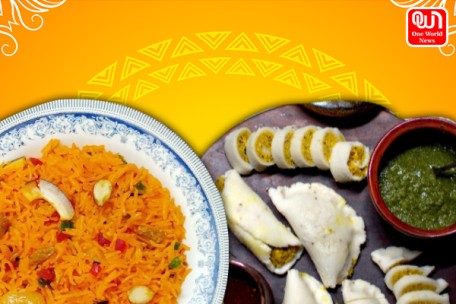 Here are 2 unique Diwali dishes that will enrich your festival with flavour, recipes inside!
---
Diwali is around the corner and so is the festive mood. But festivals are incomplete without sweets, our favourite dishes and a lot of fun.  Therefore, here we bring to you 2 unique Diwali dishes that will enrich your festival with flavour.
Chawal ka Fara
Fara is among those Diwali dishes which is very famous in North India but very few know how it actually tastes. So, here is something special for your guest this DIWALI.
Recipe:
Take 3 cups of rice flour in the bowl, pour it in 1.5 cups of boiling water and mix them well.
You can use a spoon to mix it. Now, knead the dough and keep it aside for 5 minutes.
Now, take the 2 cupped soaked urad dal and grind it without adding water.
Transfer the paste into a bowl and grind ½ cup soaked
Channa dal with 2 green chillies, 1 tablespoon ginger garlic paste, 1 teaspoon cumin seeds, and ½ teaspoon Hing.
Pour it in the same bowl where you had transferred urad dal.
Add ½ teaspoon turmeric powder, ½ teaspoon red chilli powder, salt as per your taste, ½ teaspoon garam masala, and mix everything well.
Now, put ½ cup coriander leaves, and again blend it well. Make ball size dough and flatten & coat with rice flour.
Roll it and cut out small circles using a lid or cookie cutter.
Now, put the stuffing into the circles and fold the sides.
Repeat the process of stuffing with other circles too.
Grease steamer or idly mould with ghee.
Put Fara in the mould and place it in the steamer. Stem the Fara for 12-15 minutes.
Now, it is done. Take them out and enjoy Fara with ghee and amchur chutney. 
Zarda pulao
View this post on Instagram
One recipe that is absolutely nostalgia-driven for many is Zarda Pulao. This touches those little cords that take us to the memory lane of childhood.
The first thing is to heat 5 cups of water in a stockpot and add salt. Because it is a sweet recipe and salt will bring out all the flavour from rice and sugar.
Allow the water to boil on the high flame.
Once the water boils, add ½ teaspoon food-grade colour, that is, yellow or orange. This step is optional, but your Zarda pulao will look fabulous when it is well coloured.
The next ingredient that goes in is 2 cups of rice which should be washed well and soaked in warm water.
Give this mixture a generous stir and allow it to cook till the rice is 90% cooked. Many people like to add either lemon zest or orange zest at this stage. When rice is cooked, transfer this into a strainer and strain it well.
To improve the tempering of the dish, add 4 teaspoons of ghee. Before it begins to heat add a few spices like a 2-inch cinnamon stick, 6 cloves, and 4 green cardamon. Along with this crack and add 1 bay leaf. The ghee will not take more than 15-20 seconds to get aromatic.
Now, add 3 tablespoons sliced dry coconut or copra. We need to sauté this on a medium flame for 30 seconds or till it slightly starts getting golden.
Once that step is achieved, add 10-15 whole cashew nuts or tukda Kaju. It will also have 4 teaspoon raisins. Sauté again for around 30-40 seconds. Ensure that the Kajus get the golden colour this time and raisins swell up like a balloon.
At this stage, we need to lower the flame and add in the precooked rice.
Add 2 cups sugar at this stage itself and ensure that the stirring happens with light hands as we do not want rice grains to break.
You will notice as the sugar starts melting the rice becomes liquidy, coating every grain of rice.
Now, add saffron. You can also add lemon juice to balance the sweetness of zarda pulao.
Allow it to mix well, cook on medium flame and cover it for around 10 minutes till the rice becomes nice, sweet, and sour. Give it a quick stir without breaking grains.
What are you preparing for Diwali? Comment down your unique Diwali dishes recipes.
Liked this post?


Register at One World News to never miss out on videos, celeb interviews, and best reads.