ENTERTAINMENT
Celebrate Sanjay Leela Bhansali's birthday with his celebrated cinema of colours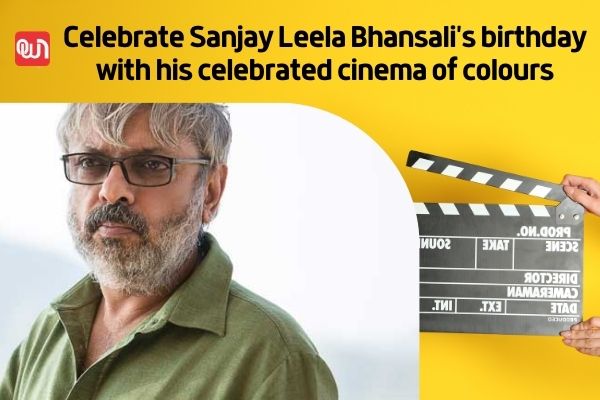 Talk about the Cinematic Colours in Indian Cinema and the films you will think of will be of Bhansali's. Find them here.
---


Sanjay Leela Bhansali, a director, producer, screenwriter, music director, and certainly, one of the very few members of Indian Film Industry who find using colours and symbolism as one of the most interesting parts of their storytelling process. While in other directors, you may find traces where specific importance is given to the colours, for Bhansali, it feels like it is always about colours. And that is perhaps why he is extremely particular about the production design of his films. Being a man who has seen generations of filmmaking, Bhansali is perhaps an old school caption of the empire, who perhaps believe in creating his world instead of going out and shooting in open. And hence, all that he shows in his films is all that he imagines, and I find his imagination full of colours and symbols.
Let's look at a few examples of how has he created meanings from the colours and scenes
1. Black
As the name suggests, the film is black, not literally but emotionally but the filmmaker leaves not a stone unturned to not make you feel the blackness of the protagonist's life. Michelle McNally (Rani Mukherjee) is a deaf and blind woman, has her life filled with darkness. The opening scene of the film suggests this darkness and so did the last scene. The film is made in shades of whites and dark silhouette and that is what makes it beautiful.
Read more: Film Reviewers, you should be checking if you are a film lover
2. Devdas
If you have watched the film already, and if you have, by any chance started thinking of any of the frames from the film, the one thing you will definitely find is the colour 'Red'. Devdas is absolutely in shades of red. It is in the clothing, the makeup, the jewellery, the style, and if it is not there then it is in the set. But there is some red in every frame. perhaps because it is a film, that talks about passionate love.
3. Saawariya
The palette of this film is extremely unique. It uses dark, vibrant colours, deep contrasts, and yet, there is a shine in every frame that makes you feel dreamy. You see dark blues, deep greens and maroon in the frame. You see them shining. And you see the characters being in a sense of sensuality. And then all frames make you feel the beauty of the film.
4. Ram Leela
Ram Leela is an ugly celebration of colours. It is a film in which the festival of colours, Holi, has a symbolic significance as the love of the protagonist shapes with this festival. Where the mood of the scene has been defining by what colour people are wearing, dark or light, but there are always multiple distinct colours in every frame that are creatively designed for the film.
5. Bajirao Mastani
Mastani is shown pure, full of wisdom and hence, she is found in pastel. parallel to her, we see Kanshi, who is Rao's wife and in passionate love with Rao, in pink, magenta and red outfits. The characters, when standing parallel, can be easily identified as different, as opposites but bound for their love for Rao.
6. Padmaavat
An Indian period drama where Bhansali has had all the liberties to show the vibrance of Indian cultures, he didn't happen to have even a moment where he didn't use it. The rani of the film is always seen in bright colours, where her antagonist, who has a toxic attraction towards the rani is seen in his misc – en – scene where he is always established in darker scenes and shades of black and brown.
So, these were a few cinematic marvels and there are so many more. With this, we wish Sanjay Leela Bhansali, a very Happy Birthday and we hope to see more such colours and meanings in his upcoming cinema.
Have a news story, an interesting write-up or simply a suggestion? Write to us at info@oneworldnews.com