ENTERTAINMENT
Can Tenet or Wonder Woman bring audiences to the theatres?
The vacant seats of cinema halls are waiting for audiences for more than 9 months
---
In the pandemic-hit world, almost everything has started to come back on track, but the movie theatres are yet to find their audiences in India. The vacant seats in the cinema halls and the popcorn center outside it are still waiting to welcome the movie bluffs. After the government's approval of opening the cinema halls, many films like PM Narendra Modi, Tanhaji: The Unsung Warrior, Bahubali, and other movies have re-released, but none of them has been able to bring in audiences. But December is going to see some big Hollywood movie releases which are expected to kickstart the box-office.
Despite opening on 15th October, theatres are empty
The first notable theatrical movie to release after the pandemic hit India was Manoj Bajpayee, Fatima Sana Shaikh, and Diljit Dosanjh starring Suraj Pe Mangal Bhari. However, the underwhelming numbers at the box-office tickets disappointed the trade pundits.
However, this week will witness the release of one of the biggest films of the year, Christopher Nolan's Tenet. The Hollywood movie which released in theatres in the United States and other parts of the world earlier saw decent acceptance.
Read more: Is voting the right criteria as chosen by the recently introduced Flyx Filmfare OTT Awards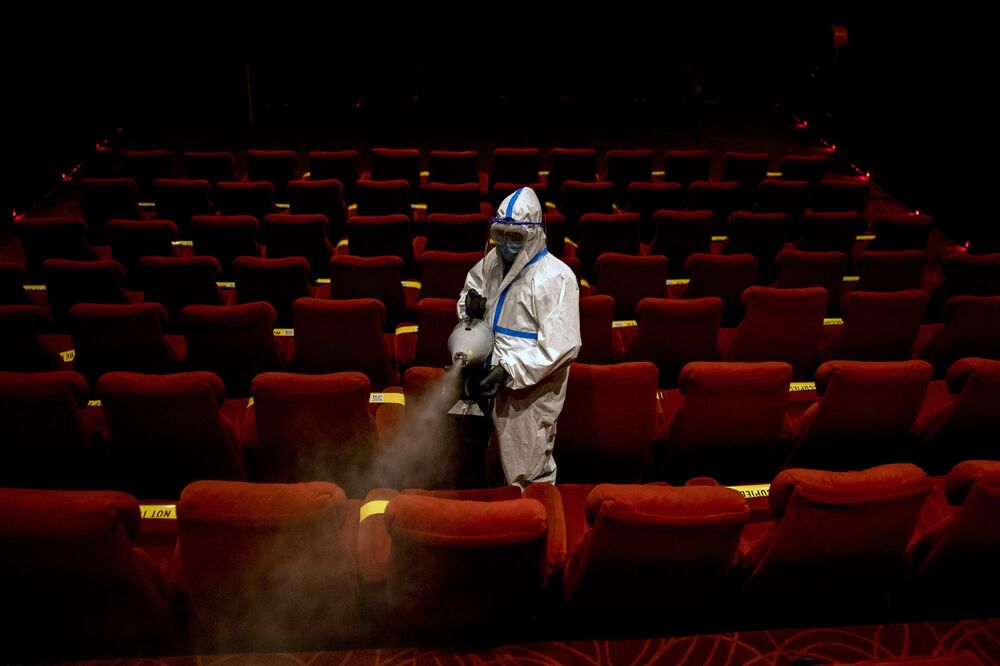 Tenet and Wonder Woman 1984 are two hopes for theatres
The director of the movie, Christopher Nolan has a huge fan following in India due to his hugely successful movies – The Dark Knight trilogy, Inception, The Prestige, Dunkirk, Interstellar and more. This is why Bollywood analysts are expecting the film to do what Suraj Pe Mangal Bhari and other movies could not do.
Tenet, which is to be released on 4th December, has seen a good response in the advance booking. More than 25 thousand tickets have been sold so far. Keeping COVID-19 in mind, these numbers are overwhelming as it exceeds the advance booking of Ajay Devgn's Tanhaji and Tiger Shroff's Baaghi 3. If the movie receives positive feedback, it is expected to put healthy numbers on the box office and may have a good run till the Christmas and New year's weekend.
Another big Hollywood release Wonder Woman 1984 is going to release on 25th November. Looking at the popularity of the movie in India, it is expected to perform well at the Indian box-office. The first movie was a decent hit and had earned more than 25 crores.
Richa Chadha's Shakeela is also expected to bring Indian audiences into theatres. Although the low-budget movie is not expected to earn a big moolah, it will definitely bring some audience.
Our own Entertainment editor, Parul Srivastava thinks that people won't come to theatres despite big releases. She said, "No, keeping the situation in mind, I don't think people will make it to theatres. There isn't a vaccine for COVID-19 yet. A lot of us are skeptical about going to the cinema halls."
Roushan Nilay, a movie enthusiast said "Of course I will go watch the movie and everyone else should too. If political parties can bring thousands of people together in a rally, if crores of people can go to shopping for festivals, if farmers can protest in huge numbers, why can't we go to watch movies. After all, Christopher Nolan is my favorite and I have been waiting for his movie to release for a long time."
Akshay Kumar's most awaited film Sooryavanshi and Ranveer Singh's 83 are two movies, trade analysts are expecting to bomb the box-office. Both the movies were scheduled to release on Diwali and Christmas weekend this year, but they were postponed once again for 2021.
Can people step out to do an unnecessary thing in the time of Coronavirus?
There is no doubt that people are avoiding going outside if not necessary, but when big movies like Tenet or Wonder Woman releases, true fans of the film won't miss it. They will take all the precautions and watch the movie because they have not been able to watch a movie on the big screen for a long time.
Amit Tiwari, who claims that he watched movies almost every weekend before the lockdown, said, "I have not seen a good movie on the big screen for a long time. I am not going to miss this opportunity to watch Tenet. I along with my movie-gang will reach the nearest cinema on Friday or Saturday and will enjoy the masterpiece that Christopher Nolan creates."
Have a news story, an interesting write-up or simply a suggestion? Write to us at info@oneworldnews.com