JOYOUS NEWS
Get Inspired from our Bollywood Fashionistas this Festive Season!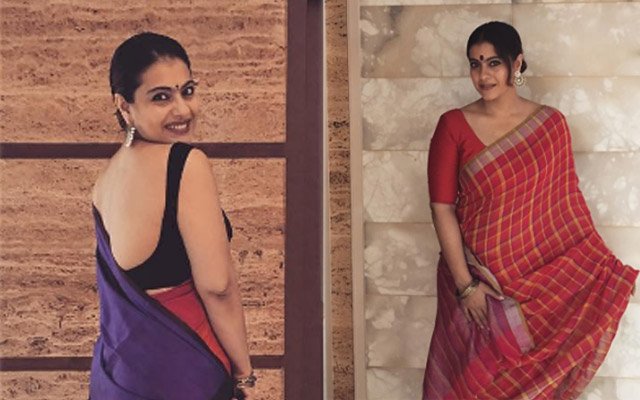 Bollywood Fashionistas Festive Season!
Bollywood Fashionistas Festive Season!: Songs, lights, dance, crackers, food, and lots of energy comes with a festival.
Diwali is round the corner and right before, it comes the navratri that brings durga puja, dandia nights, whIch means family gathering and parties . Therefore, a couple of traditional outfits in the wardrobe become a must-have.
We have handpicked few of the Bollywood styles from our fashionistas that may help you this festive season!
SAREE
The oldest one of all is a 'Saree'. The designs and the styles of Saree gets evolved with the passage of time, and you can drape it up according to your own choice and comfort thus every girl must own a Saree. Kajol shows two styles of saree that you can wear at the Durga Puja.
It is not always important to wear heavy embroidered Saree or clothes at the festivals. You can rock the look by choosing simple clothes and accessorizing it right. Kajol wore this red checked Saree recently at the Durga Puja and completed her traditional look with earrings. We absolutely love the red bindi that completed her look. Even if you're not wearing make-up, a round bindi will work perfectly.
In the second look, she shows the modern version of Saree by choosing to wear a deep back blouse with it. You can even drape it differently by rolling the 'Pallu' (end of the Saree) around the neck and then leaving it at the front. Though she kept the hair and the make-up same as above, she looked undoubtedly sexy here. The colors of the Saree have to festive. Therefore, red goes best at the festivals.
CHURIDAR SUITS
Festivals are not only about night but you have to attend social gatherings or parties even in the daylight. May be you have to go to your relatives for inviting them to your place, or might have to go to the temple for the early morning puja. Wearing dark colored clothes might go wrong under such situations. So, in such cases churidar suits of light colors work best.
Divya Khosla Kumar is wearing a bright pink colored churidar that is ethnic yet trendy. The silver jhumkas compliments her and the braided hair looks fab. Do not overdo the make-up and try to keep it simple with light colored liptick and blush.
A SKIRT AND A TOP
This look is for the girls who cannot handle Saree and doesn't know as what to wear on the festive occasions. Well, here is Shilpa Shetty Kundra helping you out with it.
Just like Shilpa, you can wear a flared skirt with a choli/top. Her dress might look simple but is perfect for the college girls who have to attend dandia nights with friends. Wearing heavy clothes might make yoSSu tired soon. If you're opting for a heavy skirt try to choose a simple top and vice versa and adding a dupatta is totally optional. Just like Shilpa you can add the glam factor by wearing earrings or Jhumkas.
So, flaunt your style statement this festive season!