ENTERTAINMENT
9 Bollywood actors who played mafia queens on screen
Mafia Queens of Bollywood and 9 Times they stunned the Audience!!
---
There is nothing like making a film on real-life characters in Bollywood. This has been happening for decades. At the same time, the audience also likes films based on real events. Through films made on real-life characters, fans get to know those characters closely. In such a situation, when a story is about a mafia, the audience shows a little more interest in the story. So in today's article, we will tell you about some such actresses who have played mafia queens on screen.
1. Alia Bhatt as Gangubai Kathiawadi
Let's talk about Alia Bhatt. These days Alia is busy preparing for the film 'Gangubai Kathiawadi' based on Mumbai gangster Gangubai. Sanjay Leela Bhansali (SLB) is producing this film. This film has been in the news since the time of the announcement of the film. In this film, Alia will play the role of Gangubai, the mistress of many houses. The film is based on famous author Hussain Zaidi's book 'Mafia Queens of Mumbai'. This film will release on 18 February 2022. Alia's look has been revealed from the film, after which everyone is eagerly waiting for this film.
Gangubai aa rahi hai! #AliaBhatt announces that #GangubaiKathiawadi will hit the theatres on February 18, 2022.

Are you excited to watch the film? pic.twitter.com/PVFlchCWvR

— Filmfare (@filmfare) November 15, 2021
2. Shraddha Kapoor as Haseena Parker
She is known as a bubbly and cute actress of Bollywood but she amazed everyone with her performance in powerful role of sister of underworld don Dawood Ibrahim in the film 'Haseena Parker'. In this film, Shraddha played the character of Haseena from the age of 17 to 43 years. Everyone praised Shraddha's performance in the film.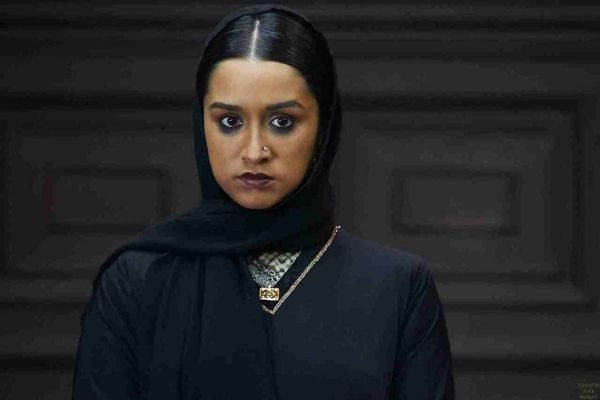 3. Vidya Balan as Begum Jaan
Vidya Balan's name is also taken in the best characters of the mafia. Vidya has always played different characters in her career. She played the role of a brothel owner in the 2017 film Begum Jaan. Let us tell you that Begum Jaan was the official Hindi remake of Srijit Mukherjee's 2015 film 'Rajkahini'.
4. Seema Biswas as Phoolan Devi
Now let's talk about Bollywood's powerful actress Seema Biswas who played the role of Phoolan Devi in ​​the year 1994. Seema Biswas also received the National Award for this film, whose name was 'Bandit Queen'.
5. Shabana Azmi as Rambhi
Another actress dressed as a gangster on screen is none other than Shabana Azmi. Shabana plays the role of Rambha who takes up a gun to avenge her husband's death. Apart from a few cursing, her speech and body language makes 'Godmother' Shabana Azmi one of the most versatile actresses of Bollywood.
6. Nandita Das as Mamta Shekari
In 2003, in the movie 'Supari', Nandita Das played the role of a female don. However, the movie saw a different avatar without guns and arms. The movie has mostly been shot in Canada and also stars Uday Chopra, Rahul Dev, and Irrfan Khan in the lead roles.
She definitely aces the role of mafia queen on screen.
7. Isha Koppikar as Shabri
The film 'Shabri' was released in 2011. It starred Isha Koppikar, Hamari Apni Khallas girl, who played a female gangster. It is the story of a woman who turns into a villain to take revenge on some brutal killers.
8. Sridevi as Durga
The film 'Sherni' was released in 1988. Sridevi played the role of a dacoit and she tried to explore the genre when most of the other actresses were busy doing commercial cinema. Director Harmesh Malhotra also stars Shatrughan Sinha.
9. Neha Dhupia as Munni Madam
In the 2011 film 'Phas Gaya Re Obama', Neha Dhupa played the role of a gangster who hates men. The film was a comedy and did well among the audience. It was well-received by critics and the film was remade in Telugu. She has done the amazing role of mafia queen on screen.
Liked this post?
Register at One World News to never miss out on videos, celeb interviews, and best reads.