Hot Topics
Black Friday Sale 2022: Check out the Best Deals Here!
From the history of Black Friday to Black Friday Sale 2022, here is everything you want to know about it.
---
A day after Thanksgiving, people eagerly wait for Black Friday. The name may be confused with some shady event. Every year the famous Black Friday Sale comes after the weekend of Thanksgiving Day. This year it will start from November 25 and will end on November 30. Black Friday sales see many buyers head to stores or browse through online applications to buy things at a discounted price. We will talk about the history related to the day, but before that, it is vital to know what opportunity is waiting for us on this Black Friday Sale 2022. As per the United States time zone, this day will be observed on November 25.
Retailers like Walmart, Amazon, Best Buy, John Lewis and Target offer great deals on products on a host of items ranging from computers, electronics, Home and Kitchen appliances, books, Clothing range, music, etc., with a range of discounts and offers to attract shoppers in the USA. In India, online shopping websites like, Myntra, Club Factory, Shein, Nykaa, Koovs, Lulu and Sky, Romwe and Knick-Knack-Nook gave some great deals which lured the shoppers quickly.
By now, you must be eager to buy things whenever there are big offers. Black Friday sales bring that kind of offer and discounts but do you know what this sale is about? Who coined the term, and since when is this sale being followed? Well, No worries, we are here for you.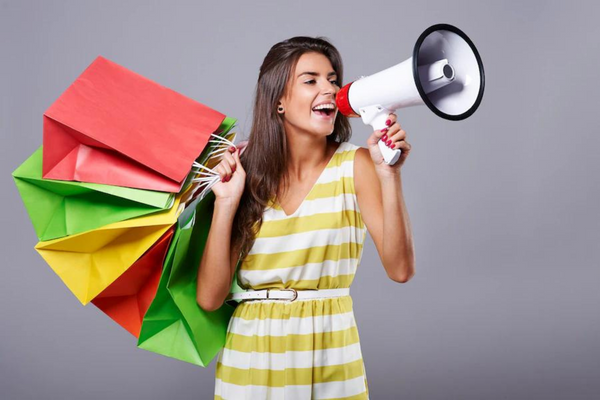 The reason behind the name "Black Friday"
Police officers first coined the 'Black Friday' term in Philadelphia to link Black Friday to the post-Thanksgiving period in the 1950s. A large crowd, including shoppers and tourists, came to the city to watch the Army-Navy game on Friday. The crowd created Chaos, Traffic jams and shoplifting opportunities. The police officers couldn't take the day off work and worked long shifts to control the carnage. They then named that day "Black Friday".
In the 1980s, the "Black Friday" term became common, and retailers linked it to their post-Thanksgiving sales. Today Black Friday sale is one of the world's biggest shopping events of the year. Many shops and online sellers cut their product prices to boost profit and officially kick off the International festive season.
There is another theory behind the day. Although there is no official holiday on this day, it can be considered an informal way to describe a day after Thanksgiving. It is the busiest for Shopaholics, as you will encounter the best sales, deals, offers, and discounts on this day. For retailers, it is the most profitable day of the year. The accountants use the red entries to indicate losses, while the black entries show a profit in their books.
Therefore, it earned the name Black Friday. As per the National Retail Federation of the US, the holiday season, which kicks off with Black Friday, accounts for about 20% of the annual sales for many retailers.
What is Cyber Monday?
While discovering Black Friday, you might have heard of "Cyber Monday", too. This day marks the continuation of sales on Monday after the Black Friday weekend, with exclusive internet-only discounts and deals. This year it was on November 28 2022.
The senior vice president of the National Retail Federation in America, Ellen Davis, first coined the term when she noticed an increase in online sales on the Monday after Thanksgiving.
Best deals on Black Friday Sale 2022
Staples
Their best offers are valid from November 20 to 26. Staples released a 17-page long Black Friday sale sneak pamphlet that gives an insight into the upcoming offers.
Check out the best offers here: Staples Black Friday Deals.
Target
Target released a 70-page advertisement featuring all weekly discounts available from November 20 to 26. The extensive offer includes televisions, kitchen equipment, headphones, toys, and many more. Every Sunday, Target offers more deals, according to the company.
Check out the best offers here: Target Black Friday Deals.
Walmart
Walmart has launched the Deals for the Days event. This month, dozens of bargains on clothes, tech, home, etc., will be released at various intervals. You can easily access online content if you are a Walmart Plus member.
Check out the best offers here: Walmart Black Friday Deals
Amazon
Amazon has been releasing fantastic deals.
Check out the best offers here: Amazon Black Friday Deals.
Flipkart
Most Indian shoppers head towards Flipkart for the best deals. Discounts are available up to 80% also.
Check out the best offers here: Flipkart Black Friday Deals. 
According to Adobe Analytics, Black Friday sales in 2018 reached $6.2 billion. $2 billion was generated only from smartphones. Gradually, Black Friday, which originated in the USA, became popular and spread worldwide. Today, the Black Friday sale is active in big countries like India, France, Brazil, Norway, Germany, and Romania, apart from the USA and UK.
Liked this post?
Register at One World News to never miss out on videos, celeb interviews, and best reads.