Kaam Ki Baat Karona
Kaam Ki Baat: Biggest Diplomatic achievements of India in 2020 that shows India's increasing power
From non-permanent seat to Malabar naval exercise, know all-important diplomatic achievements of Indian in 2020
---
The year 2020 was a challenging one for every country as they fought against the deadly pandemic and the economic consequences of it. Still, every cloud has a silver lining, as India achieved big feats in the field of diplomacy. From building strong India-US ties to winning a temporary seat at UN for two years, we were right on target. As we come closer to the end an eventful year where India achieved big at the global level, let's look at some of the biggest diplomatic wins for India in 2020.
India-US stronger relationship
The United States President Donald Trump visited India in February 2020 where he praised India's relationship with the US and leadership of Prime Minister Narendra Modi. The two countries planned to work together on mental health and counternarcotics. India agreed to buy military equipment worth $3 billion. The US-based oil company ExxonMobil announced a deal with state-owned Indian Oil Corporation. This tour of Trump strengthened India's relationship with the United States which is looking for a trade deal.
Later, in October, India and the US indulged in 2+2 bilateral talks just days before the Presidential election in the United States. This reflected the maturity of bilateral ties of both the countries. India became only the second country to have 2+2 dialogue where External Affairs Minister and Defence Minister of both the country met with each other. BECA (Basic Exchange and Cooperation Agreement), the last of four foundational military agreements, was signed by both countries. It allows the sharing of important geospatial data to boost the accuracy of cruise missiles and Indian drones. Mark T. Esper, US Secretary of Defence, had emphasized the commitment of both the countries to keep the Indo-Pacific region free and open, especially when China is increasing aggression and destabilizing activities.
Read more: Modi wants to leave a legacy behind by constructing a new parliament, Shouldn't he care for the poor first?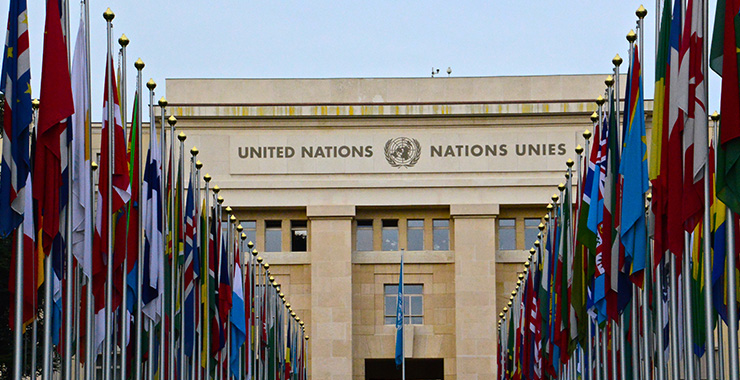 COVID Diplomacy
India's COVID-19 diplomacy was right on target as it enabled the country to emerge as a reliable and responsible international power at a time when many prominent international actors had floundered. India shaped a collective response by dispatching consignments of anti-malarial drug hydroxychloroquine to African, Latin American and Central Asian countries including developed economies like the US, France, Russia and the UK. At the time of a pandemic when countries were hesitant to send anyone anywhere, India sent teams of Indian military doctors to Nepal, Maldives and Kuwait to train health-care professionals.
India sent dispatches of rescue medicines as gifts to neighbouring countries like Nepal, Bhutan, Bangladesh, Seychelles, Mauritius, Afghanistan, Myanmar and some African countries to fight the deadly pandemic.
India beat China to win crucial election to UN commission on women.
India entered the prestigious Commission on the Status of Women (CSW), a body of the UN Economic and Social Council (ECOSOC) by defeating China. The nation became a member of CSW for 4 years starting from 2021. The victory was significant looking at the growing influence of China at the UN and its claim of promoting the activities under the Commission on the Status of Women. India, China and Afghanistan contested the election in which India and Afghanistan won the ballot among 54 members of ECOSOC.
Dr Harsh Vardhan as chairman of WHO executive board
India's Union Health Minister Dr Harsh Vardhan was appointed as the chairman of the WHO (World Health Organization) Executive Board in May. This was a significant win for India as the board is responsible to give effect to the policies and decisions of the Health Assembly, facilitate its work and advise it. The Health Assembly and the Board create a forum for debate on health issues and for addressing concerns raised by the Member States.
India got 184 of 192 seats to win a temporary seat in 2020
One of the biggest achievements, India was elected as non-permanent member in the United Nations Security Council in June. India won unprecedented 184 of the 193 votes to win a two-year term at the UNSC, starting January 2021. India's win was almost certain as it was the endorsed candidate of the Asia-Pacific Group of United Nations member countries. India would look to strengthen its chance for a permanent seat at the UN in a reformed UNSC.
India-Vietnam relationship  
India-Vietnam relationship touched new heights in 2020. India and Vietnam had conducted 17th joint commission in August 2020 to explore new areas for a corporation which included promoting critical exercises like marine sciences, new emerging technologies, renewable energy, civil nuclear energy, space exploration, trade, and science and technology.
The relationship of both countries is crucial as both the countries will be a non-permanent member of UNSC in 2021. Co-ordination between both countries will be important to raise issues of security in South China Sea. Dams on Brahmaputra and Mekong would be common points of convergence. They will also look to explore cooperation with the regional supply chain resilience.
Vietnam's Defence Minister, General Ngi Xuan Lich invited India's Defence Minister Rajanth Singh in November to discuss areas of cooperation in developing capabilities in the defence sector as well as collaboration in military training exercises. Both the countries also want to develop corporation in the field of hydrography, which is critical in understanding marine life as well as exploring possibilities of sulphates and minerals at the surface of the sea. It also plays a vital role in protecting marine life and also in submarine operations in underwater terrain.
Support of Vietnam will be crucial for India for developing understanding with ASEAN nations on capacity building, developing common standards and technical cooperation for maritime information sharing.
India dilutes Pakistan's efforts at UNSC
India defeated Pakistan on several occasions whenever it tried to attack India at the UN Security Council. In September, five permanent and non-permanent members of UNSC- the US, the UK, Germany, Belgium and France blocked an attempt by Pakistan to list two Indian nationals under a UNSC regime targeting international terrorism.
Pakistan had tried to move to list two Indians – Gobinda Patnaik and Angara Appaji- as designated terror operatives under the United Nations Security Council's 1267 Committee for Counterterrorism Sanctions. 5 countries blocked the move as Pakistan was not able to produce evidence to back up its allegations.
Pakistan has time and again accused India of fomenting terrorism inside Pakistan through Afghanistan which India has rejected every time. Earlier in August, UNSC didn't recognize Pakistan's statement of being the victim of cross-border terrorism. In June when Pakistan had sought intervention in the Kashmir issue at the UN and UNSC, UN Secretary-General Antonia Guterres had indicated that Kashmir issue should be solved bilaterally in keeping sync with the Shimla Agreement of 1972.
Malabar Exercise
The Quad countries- India, Australia, the US and Japan participated in second phase Malabar naval exercise in the Northern Arabian sea from November 17 to November 20. It involved two aircraft carriers and a number of frontline warships, maritime aircraft and submarines. This was the first time in more than 12 years that the four countries were participating in such a large naval exercise. Participation of Indian Navy's Vikramaditya carrier battle group and the US Navy's Nimitz (world's largest warship) strike group were one of the major highlights of the naval exercise.
The first phase of 24th Malabar exercise was conducted from November 3-6 in the Bay of Bengal. The coming together of the quad or the Quadrilateral Security Dialogue sent a strong message to China, especially at a time when India and China are involved in a military standoff at the Ladakh border across Line of Actual Control.
Have a news story, an interesting write-up or simply a suggestion? Write to us at info@oneworldnews.com