Hot Topics
#Wednesday Wisdom: How Bigbasket became a big shot in India?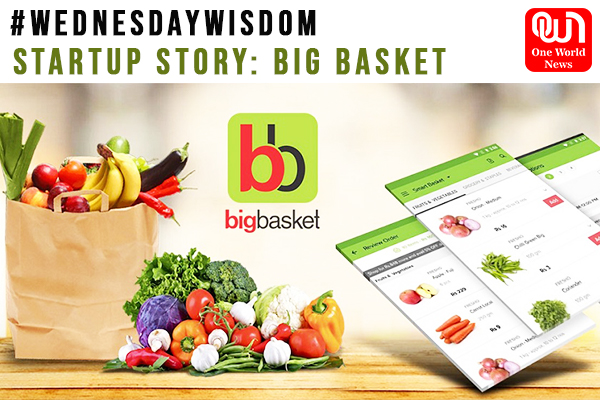 #Wednesday Wisdom: How Bigbasket became a big shot in India?
---
Whenever we talk about startups, we imagine people behind it would be young with more passion than experience.  Bigbasket's story is different as people behind this mega online grocery shopping are veterans with loads of experience. The dotcom bust veterans who are mostly north of 50, with their experience of success and failures have turned the seven-year-old startup into India's biggest e-grocer. Big Basket faces competition from Amazon Pantry, Flipkart supermart, Grofers and brick-and-mortar backed chains operated under the nation's biggest conglomerates.
The online grocery shopping and online supermarket deliver everyday cooking essentials like oil, vegetables, pulses, fragrant basmati rice and 18,000 other items, from peanut butter to laundry detergent to more than ten million customers in about 32 cities. Main targets of the company are upwardly young Indians who don't want to get in traffic and drudgery of the supermarket or local grocery store.
Big Basket led by Alibaba that invested $300 in early 2018 and another $50 million in the following year, has an estimated valuation of around $2.3 million.  This is more than twofold jump from last reported valuation of $950 million. The Bengaluru based company has raised a total of $150 million which equals to almost Rs 1,000 crores in Indian rupees in this round. The new and existing investors are Alibaba, the Seoul-based financial group Mirae Asset, CDC Group, Sands Capital, Helion Venture, Bessemer Venture, and IFC.
Groceries account to almost half of the almost $1 trillion retail markets in India and founders of Big Basket Hari Menon (56), V S Sudhakar (58), Abhinay Choudhari (47), Vipul Parekh (53) and V S Ramesh (62) learning from experience were very aware of the numbers in the market. They didn't expand too quickly or used discounts to bring shoppers.
How was Bigbasket founded?
The five members founded the parent company Supermarket Grocery Supplies Pvt, in December 2011 in the Indiranagar, Bengaluru.  Their first attempt was in 1999 when they started Fabmart.com to sell groceries, toys and books online.  There were no payment gateways at those times, people didn't have smartphones, and internet user base was more hyped than reality.  Pages on website browsers used to take 50 seconds to open the website.
It didn't take a lot of time for founders to understand that their product was well ahead of its time and the world along with India wasn't ready for online shopping.  The Fabmart.com was then merged to brick & mortar grocery chain before getting acquired by another conglomerate.
All the founders were approached to regroup in 2011 for an online grocery. People suggested them to keep a distance from perishable products in a country which is so obsessed with freshness of the fruits, vegetables and dairy products. But the timing was right as startup culture was booming, smartphones were becoming a thing, broadband was becoming affordable and most importantly online payment was in place. The founders started pitching the concepts and in the second attempt. Ascent Capital, private equity put up $10 million to start the venture.
It was difficult for Bigbasket in the beginning as there was no infrastructure in India
India being the developing country lacks a cooling infrastructure (chill rooms, walk-in-freezers, refrigerated trucks) which makes it challenging to deliver fresh foods in India. This prevented the company to buy products directly from farms. In the first year, founders visited wholesale fruits and vegetable market early morning at 3:30 am. They also picked other items from the wholesale market at a low cost. The company then put their own warehouses and a fleet of trucks. This helped the Bigbasket in sourcing the food more cheaply and eventually in 2016, it led them to launch express delivery (90-minutes delivery service for eggs, milk, bread and emergency supplies).
Bigbasket in those days had competition from LocalBanya, PepperTap and Grofers (the only who is standing currently). In the fight to stay ahead, Bigbasket needed to invest a good chunk of money in technology.  Here technology relates to inventory-optimizing algorithms, web-connected and temperature-controlled trucks.  This needed investment which came from Helion Venture Partners & Zodius Capital Advisors ($35 million), Bessemer Venture Partners ($15 million) and Dubai-based Abraaj Group ($150 million). The Bangalore-based startup reached to eight large Indian cities by mid-2016.
Read more: Story of BYJU's, From a classroom to millions online
Association with Shah Rukh Khan helped the company to reach small cities
To reach masses and small cities, the company recruited Bollywood star Shah Rukh Khan as their Brand Ambassador.  Different TV commercials were aired featuring Bollywood King Khan. The company worked on their quality of services by adapting the local condition and poaching right truck drivers, packers, and delivery boys.  They trained the sourcing team for quality specifications of the products.
A user-friendly app- experience (customized software automatically guide users to destinations), on-time delivery, discounts, refunds, satisfactory customer support and a wide variety of products helped them to become the biggest online grocery shopping startup in India.
Have a news story, an interesting write-up or simply a suggestion? Write to us at info@oneworldnews.com